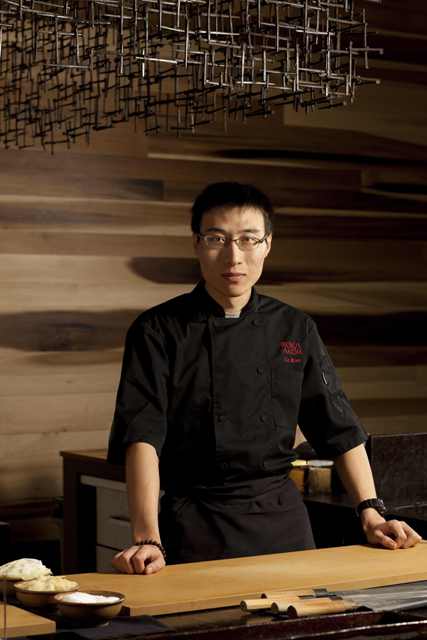 Say hello to Chef Ce Bian of Scottsdale's Roka Akor.
How did you get into the dining realm? 
The passion for the restaurant world is deep-seated in me thanks to my family owning a restaurant when I was a child in China. This early exposure of observing the ins and outs of the industry ultimately led me to follow my dream of becoming a chef. My first full experience in a kitchen was during my schooling in London, when I was looking for a job to help support myself. I stumbled upon Chef John Torode of Smiths of Smithfield in London's meat market. He had an incredible team behind him, which launched my career.
Scottsdale is chock-full of amazing dining. How do you set Roka Akor apart from the rest? 
The Scottsdale restaurant scene is full of talented chefs and creative concepts, which was part of our thought process in opening a Roka Akor here. We wanted to be a part of such a booming scene and were grateful for the opportunity to expand the restaurant to a community that excepted us so readily. The Robata Grill at the heart of Roka Akor stands out as something truly unique. Our use of charcoal and wood, rather than gas, really brings out robust flavors in the dishes we serve. At the restaurant, we also pride ourselves with the use of fresh ingredients, partnering with local purveyors, and running a business with a passion. We encourage our employees to love and be proud of what they do.
What do you consider the restaurant's can't-miss dish?  
Our wagyu beef is top quality. The care we put into each cut can't be replicated at any other restaurant and the marbleization of the meat is something to be savored. With the addition of the tiered Robata Grill, the beef is cooked to perfection.
What is the Omakase experience?
Omakase, or "to entrust the chef," is a great way to sample a number of our dishes. We include many of our signature items along with a variety of sushi, tempura, grilled seafood, and steak. Guests get to relax and experience a robust selection of food that they may not have otherwise tried. As a chef, I get to use my expertise on what are the freshest and most seasonally conscious options while allowing guests to experience Roka Akor at its finest. For Scottsdale, we have an exclusive Omakase happy hour tasting menu. Guests can sample some of our menu items at a smaller level. It's great for after work when you don't want a full meal with a drink.
What is the most rewarding part of your career? Most challenging? 
The most rewarding part of my career has been seeing many young, talented chefs flourish while on the team at Roka Akor. There is no end to the pride I feel when I see a young chef being built up and producing amazing dishes for the restaurant. We've had long-time employees who have gone from dishwasher to executive. To see that in-house growth in a company has been a huge reward and insight into how Roka Akor runs a kitchen. The most challenging has been building a work-life balance. Mental wellness is such an important aspect of being part of any business, and I am grateful to have found my balance under Roka Akor.
What are your hopes for the restaurant long-term?
I hope the restaurant continues to grow. It has been wonderful hearing people say how much they enjoy Roka Akor! To have such an incredible reputation amongst repeat guests, and to have them recommend us to their friends and colleagues, is truly the greatest gift. Looking forward to years ahead, I would love to see us continue to grow while maintaining the Roka Akor standard as we share our approach to the dining experience in even more cities. That would be the ultimate dream come true.