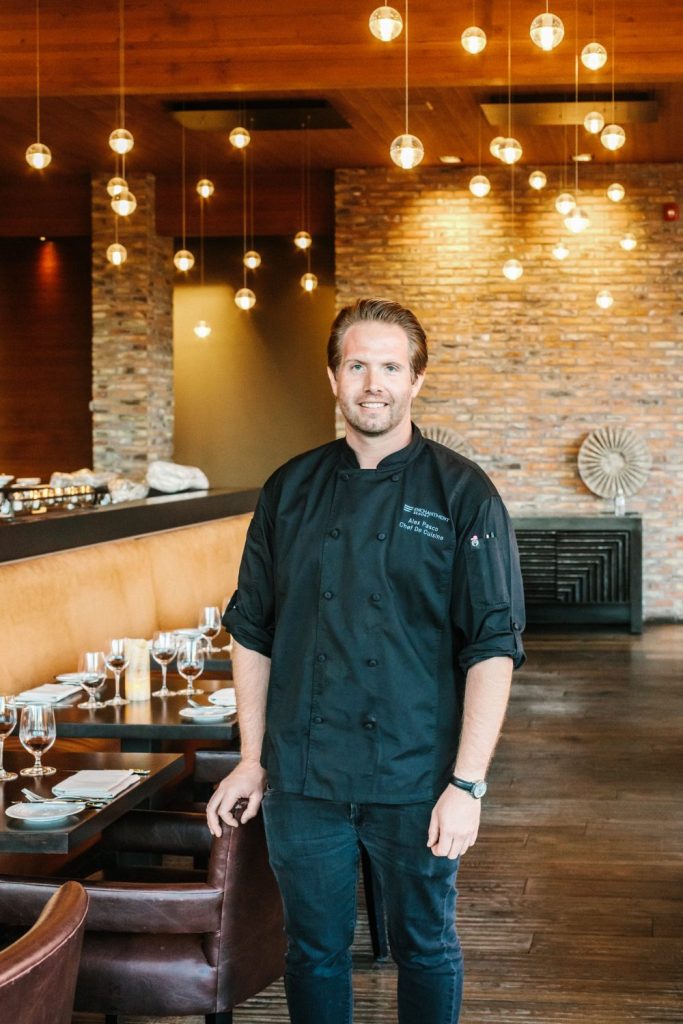 Alex Pasco of Enchantment Resort on his passion for foraging, how he ended up on the culinary path and his hope for the future of the Sedona dining destination.
How did you get into the dining realm?
Honestly, it was a bit of a quarter-life crisis for me. I was graduating from college in 2008, in the middle of the recession, and the law school track I was on didn't really appeal to me anymore. I couldn't find work and a friend mentioned he was thinking about culinary school. I had always enjoyed cooking and throwing dinner parties and figured it was a solid skill to have regardless of success in the field. In hindsight, I was a bit naïve going into it, but I am so happy I did.
Northern Arizona has some amazing dining right now. How do you set Enchantment Resort apart from the rest?
It really is exciting to be in the industry in Arizona right now. Chefs across the state are really defining cuisine for Arizona in way that hasn't been done in the past. We are stepping up and committing to locally sourced ingredients in a way that is almost hyper-local: foraging, our garden, local growers. I literally drive to pick up the produce, eggs and flowers directly. Our cuisine is inspired by Native American ingredients and that really defines a much more unique experience. We use ingredients that still only grow in the wild, that aren't representative of European influences on our country, that have grown in Arizona for generations.
You have a passion for foraging. What exactly is foraging and how have you incorporated that into your menus?
I love foraging and, during late spring and summer, I spend most of my weekends out and around Arizona. Finding and harvesting wild ingredients is a fun challenge and involves a lot a learning, but it gives our guests a chance to experience some truly unique dishes. It is very important that when you forage you aren't taking advantage of resources and so I limit the quantities of ingredients I forage. This means many of the ingredients I forage simply end up in features, but have often inspired other opportunities for farmers I work with to grow some of the ingredients for us.
Enchantment is known as a wellness destination in many ways. How does that affect your menus?
Having been the chef at Mii amo, a destination spa, for almost four years, eating well in a way that respects your body will always be an important part of my food. I always want to have plenty of options for vegetarian and vegan guests that are thoughtful and delicious. Focusing more of our dishes around the plants and grains we are using as opposed the proteins is really more my style.
What do you consider the restaurant's can't-miss dish?
There are a few I always recommend, but my number one choice would be our Mormon tea smoked duck breast with a poached local duck egg on a corn silk nest, wild rice, spring onions and baby squash. The smoke duck is beautifully balanced with a kind of floral sweetness and note of citrus to keep the smoke from becoming to overpowering.
What is the most rewarding part of your career? Most challenging?
The most rewarding part of my career has been the relationships I have built with many of my guests who keep coming back. Seeing how happy they are and how much they enjoy the food really makes the long hours of our team more than worth it. The most challenging aspect has been finding a way to access all of the special ingredients that exist in Arizona, but are rarely seen on a dinner plate. As much as I enjoy foraging, I can't feed a thousand people a week through just my foraging, even when the dish only uses that ingredient a small focal point.
What are your hopes for the restaurant long-term?
I hope that as our team continues to grow and develop, and we continue to deepen our relationships with local growers, our menu will continue to change. I hope to continue bringing the most seasonal and special ingredients Arizona has to offer to our guests in ways that are truly memorable, and ultimately, unlike any other meal.