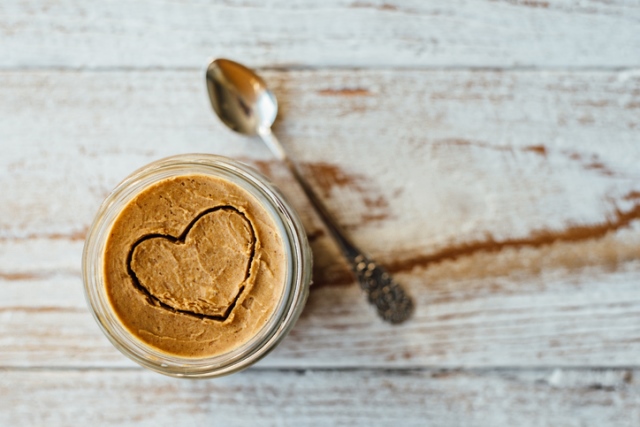 March marks National Peanut Month, with March 1, tomorrow, being National Peanut Butter Lover's Day. Since we know you're going to feel a bit nutty, here are nine spots to get your PB fix around town.
Chanpen Thai Cuisine: Pa-Nang Curry Coconut milk, peanut sauce (made with creamy peanut butter), red chili and basil are combined and mixed with your choice of meat to create a flavorful main course.
Peanut Butter Americano: Cinnamon Honey & Choco Blanco Peanut Butter Americano is a Phoenix-based company that specializes in all-natural nut butters with a purpose. Fan favorites include the Cinnamon Honey and Choco Blanco (white chocolate peanut butter).
Rehab Burger Therapy: PBJ & Bacon Burger Freak your mouth out with a ridiculously delicious flavor combination featuring peanut butter, grape jelly, bacon and Sriracha sauce
Kneaders Bakery & Cafe: Peanut Butter Cookie Mouthwatering homemade peanut butter cookie features crushed Reese's Peanut Butter Cups on top and is baked fresh daily​.
Oregano's Pizza Bistro: The Original Pizza Cookie Arizona's favorite slightly baked cookie comes in the classic combination of peanut butter and chocolate. The flavor duo is topped with three scoops of vanilla bean ice cream to seal the deal.
Sprinkles: Peanut Butter Chip This chocolate chip-studded cake is made with all-natural peanut butter and topped with decadently rich peanut butter frosting and sweet milk chocolate sprinkles.
Sleepy Dog Brewing: Peanut Butter Stout Sleepy Dog Brewing paired the flavors of rich chocolate and creamy peanut butter with its smooth milk stout.
The Arrogant Butcher: Peanut Butter Cup Dig into chocolate gelato surrounded by warm peanut butter mouse with two soft peanut butter cookies.
Short Leash Hot Dogs: Bear Hot Dog The famous Bear hot dog combines peanut butter, smoked Gouda, bacon, barbecue sauce and Cracker Jacks. –Lisa Cardinale