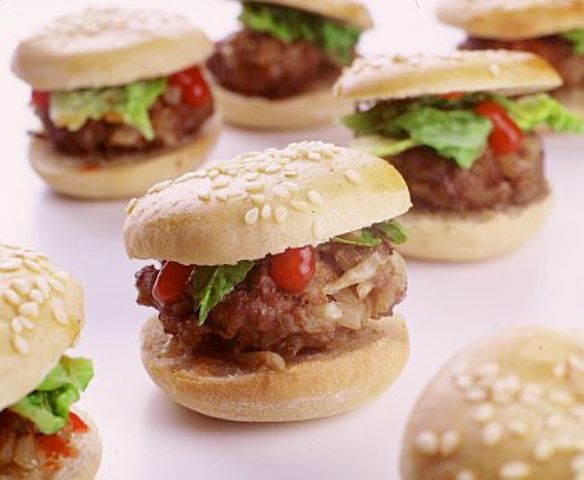 During the month of August, Gilbert's Liberty Market will feature a different–and delish–burger in celebration of Burger Daze. Even if you're not a red meat fan, there will still be plenty of patties for you to enjoy (think ostrich and salmon). Here's the mmm-inducing lineup:
Sun 1 The Travis Burger – Mustard infused patty, sauteed onions and jalapenos – aka "animal style" – with melted Jack
Mon 2 Guacamole Bacon Cheeseburger – Guacamole, Pepper Jack Cheese and Bacon
Tues 3 The Joe Burger – Joe's Real BBQ Sauce, melted Cheddar and pickles
Wed 4 Wasabi Burger– Crispy Slaw and Wasabi Aioli
Thur 5 Teriyaki Burger– Grilled pineapple, swiss cheese and teriyaki sauce
Fri 6 The Greek – Roasted red peppers, roasted red onions and feta cheese
Sat 7 The Californian– Avocado, swiss, sprouts, tomatoes
Sun 8 Weekender– Choice of cheese, Liberty potatoes, bacon, sunnyside up egg
Mon 9 Patty Melt– Rye bread, swiss cheese and caramelized onions
Tues 10 Po'boy– Crab cakes, French Bread, Tabasco aioli, lettuce, tomato
Wed 11 Meatballer – Meatball Patty, provolone served with marinara
Thur 12 Sliders – 3 slider patties with optional cheese
Fri 13 The Salmon Burger– Chopped salmon, dill cream cheese, capers and tapenade
Sat 14 Sloppy Joe Burger – Topped with Liberty Joe, shredded cheddar, diced onions, pickles
Sun 15 Volcano – Spicy, Pepperoni and mozzarella
Mon 16 Buffalo Wing Burger – Hot Sauce, Blue Cheese and diced celery with a side of ranch
Tues 17 BLT Burger – Bacon, Lettuce and Tomato
Wed 18 Bison Burger – Crispy onions and sharp cheddar
Thur 19 Turkey Burger – Flavorful, house made turkey burger
Fri 20 The Beiruit Burger– Burger w bulgur+arabic spices, tahini/yogurt sauce, pickled onions, dry cured black olives
Sat 21 Roasted Chile Burger– Roasted Anaheim chiles, queso fresco and roasted poblano aioli
Sun 22 Palermo Burger– Eggplant parmesan and marinara
Mon 23 Pesto – Pesto, arugula, mozzarella
Tues 24 Ahi Tuna– Sesame encrusted Ahi Tuna, apple, cabbage slaw and an apple curry sauce
Wed 25 Hurricane– Lettuce, bacon, cheddar, pepper jack, pablano aioli
Thur 26 Ostrich Burger
Fri 27 Thai Burger – Ground chicken, peanut sauce, marinated cucumbers and slaw
Sat 28 Cordon Bleu Burger– Ground chicken, ham, swiss cheese
Sun 29 American Kobe Burger – The Tower Burger made with American Kobe beef
Mon 30 Butter Burger – Infused with a garlic compound butter
Tues 31 Tater Tot Burger – Topped with tater tots and melted cheese
Any guest that eats 10 different burgers gets a $25 gift card. If they eat all 31 varieties, they get a $100 gift card. All a guest must do is keep all receipts and turn them in the first week of September for verification. www.libertymarket.com.