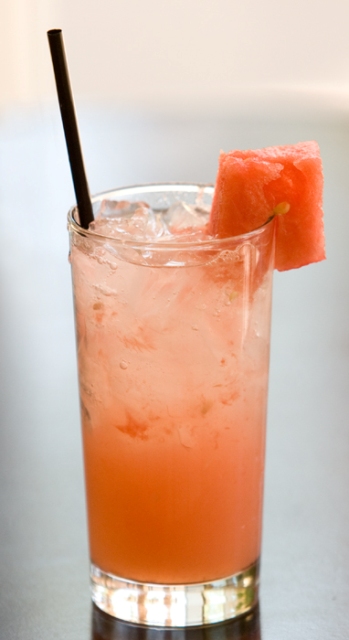 Batter up! In honor of today's highly anticipated 82nd MLB All-Star Game, Phoenix restaurant, District American Kitchen & Wine Bar, is celebrating with specials that are delicious, wallet-friendly and all in the spirit of the game. Through today, fans of America's favorite past time are invited to the Downtown Phoenix restaurant to enjoy ballgames or baseball-themed movies as well as live entertainment come nighttime, starting at 5 p.m. District American Kitchen & Wine Bar is also offering up some tasty baseball-inspired menu items, including hot dogs with artisan toppings and homemade apple pie Pop-Tarts. (Guests can even create your own dog from an assortment of delicious toppings.) Hot dogs and apple pie? Doesn't get much more "baseball" than that.
Another homerun for District guests are specially priced $3 microbrews and $5 cocktails, including these baseball-inspired tasty concoctions.
Home Run Water Melon Cooler (pictured)
1 ½ oz Bacardi Dragon Berry Rum
1 ½ oz Watermelon Puree
½ oz Simple Syrup
½ oz Lemon Juice
Serve on the rocks or frozen. Serve in a high ball glass.
Grand Slam Peach Margarita
1 ½ oz Tequila
½ oz Triple Sec
1 oz Peach Puree
1 oz Sweet and Sour
Shake well. Serve on the rocks or frozen. Offer salt. Serve in a rocks glass.
Ball Park Cotton Candy Martini
1 ½ oz Bacardi Dragon Berry Rum
½ oz Blue Curacao
½ oz Lemon Juice
One bag of cotton candy
Place a fluff of cotton candy inside a martini glass. Shake well and pour over the fluff of cotton candy. Serve in a martini glass.
For reservations, call 602.817.5400  or visit http://www.districtrestaurant.com./