The Scottsdale Resort at McCormick Ranch has given its three Presidential Suites a makeover after completing an entire architectural, decor and soft goods renovation. The new look is part of the resort's continued $11 million renovation which kicked off in September 2015 to transform the entire property.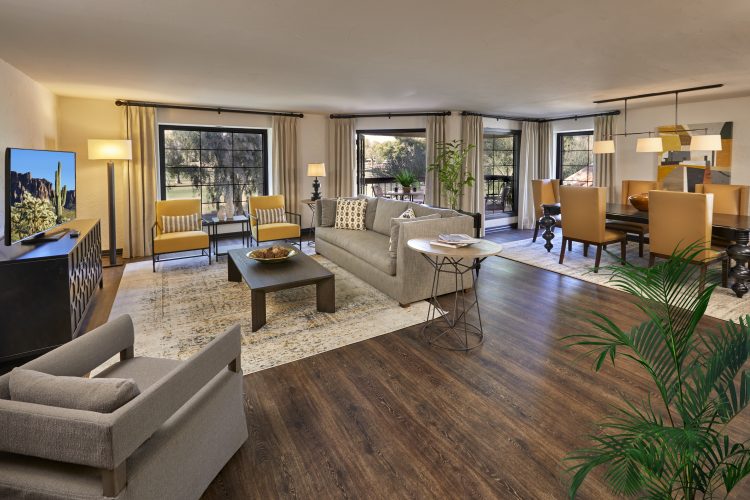 The 1,375-square-foot suites received a major redesign which totaled $150,000. The new look includes an open concept with a modern Spanish flair. Some of the features include new textiles, bedding, furniture, original artwork and a brightened color scheme in blue, grey, burnt orange, black and white. Each suite features a separate living room and bedroom with a king size bed, powder bath and guest bathroom, dining room with seating for eight, and wet bar along with floor-to-ceiling windows and balcony to take advantage of the dramatic golf course views of McCormick Ranch Golf Club.
The three suites are named after historical Scottsdale figures and located on the first, second and third floors of the McCormick Building which was recently renovated in 2015.
The Settler's Suite: Named after the city of Scottsdale's founder Winfield Scott
The Founders Suite: Named after Anne and Fowler McCormick who built a ranch in the 1950s on the land where The Scottsdale Resort sits today
The Architect Suite: Named after Architect Bennie Gonzales who designed the resort's original building and interior decor when it opened in 1976
The Presidential Suites are priced at $850 nightly, any day of week or time of year.
For more information, visit: thescottsdaleresort.com