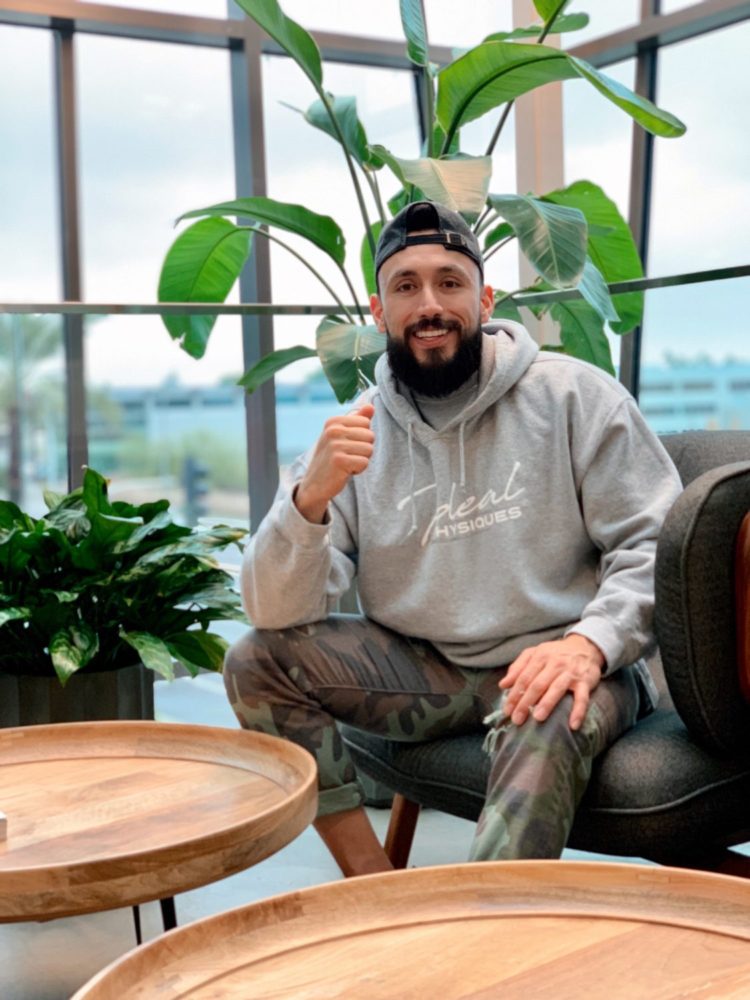 Name: Rodrigo Castillo
Age: 28
Title: Founder of Ideal Physiques LLC
Married/Single: Single
Kids: None
City you live in: Scottsdale
A typical day in my life includes:
waking up early (3:00am) to have a productive morning. I make my bed, shower, read a self-development book for an hour, and I'm at the office by 5am! Some might find it a little excessive, but during these early morning hours is when I really get to focus without any distractions, since most people are still asleep! I believe a leader should lead by example, which is why I always wake up earlier than my team. Making sure everyone is on the same page and motivated for a productive day is so important to me, so I always make sure to send out a daily message that sets the tone for the day. No matter what craziness the day brings, I always make time to fit in an hour workout into my routine. Of course, none of this would be possible without my daily dose of caffeine!
I was born…
in Bellingham, WA.
My favorite thing about Arizona…
is how diverse this state is! If I want to snowboard, I can drive up north to Flagstaff. If I want to go hiking, I can check out Sedona. If I want to go cliff jumping, I can go to Canyon Lake! It has a little piece of everything for outdoor adventure.
I'm listening to…
Ray Dalio's "Life Lessons" on Youtube.
My family…
is the driving force behind everything that I do. I'm the oldest of 5 boys (men now), and these "kids" watch everything that I do. From an early age, I realized that I was their role model and it was my responsibility to show them a completely different path from what most people in our neighborhood took. Now three of us have graduated with multiple degrees from ASU, one is one semester away from doing the same, and the youngest is getting ready to outdo the rest of us. I can literally go on forever about my family, but I will sum it up by saying this; my family is my WHY.
If I could have dinner with anyone, it would be…
an even tie between Ray Dalio and Bill Gates.
One thing I cannot live without…
is a goal or a purpose that is much bigger than me. At the moment, that purpose is helping my team achieve their own personal goals.
When I was younger, I wanted to be…
a professional basketball player. I literally dedicated all my free time to practice and I joined multiple camps and club teams with big dreams of being a professional baller. Unfortunately, my dreams were crushed by a devastating knee injury. Not long after I discovered a new passion for fitness/bodybuilding and the rest is history!
I'm inspired by…
meaningful relationships and seeing my ideas/visions become a reality.
The one person who motivates me is…
my father. I witnessed that man work harder than anyone I've ever known. His 3am mornings, late work nights, and "lead by example" mentality have definitely rubbed off on me! Even though we grew up with very little, he always made sure he provided us with an opportunity that he never had. His sacrifice is the reason why I never take anything for granted, and he's the reason I am where I am today.
If I could change anything in the world, it would be…
my mother's sickness.
The perfect day would be…
a day with no phone calls, no cell phones, no emails, and a peaceful, sunny adventure outdoors.
My first job was…
actually my first "business" when I was 9 years old! Without my parents' knowing, I would secretly go door-to-door promoting my "yard cleaning business" in and around my neighborhood. But as any 9-year-old boy would do, I forgot to take into account that there are no leaves to rake in the middle of winter/summer! And when my parents eventually found my hidden shoebox of cash, I was forced to shut down operations.
My favorite escape…
is an empty basketball gym, a set of headphones and losing myself in the feeling that I get from shooting/dribbling a basketball.
My life…
will one day be turned into a book that inspires thousands of people.
I'm currently working on…
helping people exactly like you reach their 2020 goals through a 60-day Transformation Challenge. We have a new challenge that starts every single month, and  I'm even giving money away to the winner of each challenge. My team and I are also working in a huge project that's geared towards helping children in the spectrum. I am so passionate about this project and I can't wait to share it with the world once we're ready!
Always… 
make choices with a higher purpose that are congruent with your goals.
Never…
judge. You never know what battles/struggles people are going through.
Favorite Quote…
I don't have one specific favorite quote but one that comes to mind a lot is: "I just want to be right—I don't care if the right answer comes from me." – Ray Dalio
Biggest Dream…
build a life that I can share with my loved ones.
My Pet Peeve(s)…
when people are late!