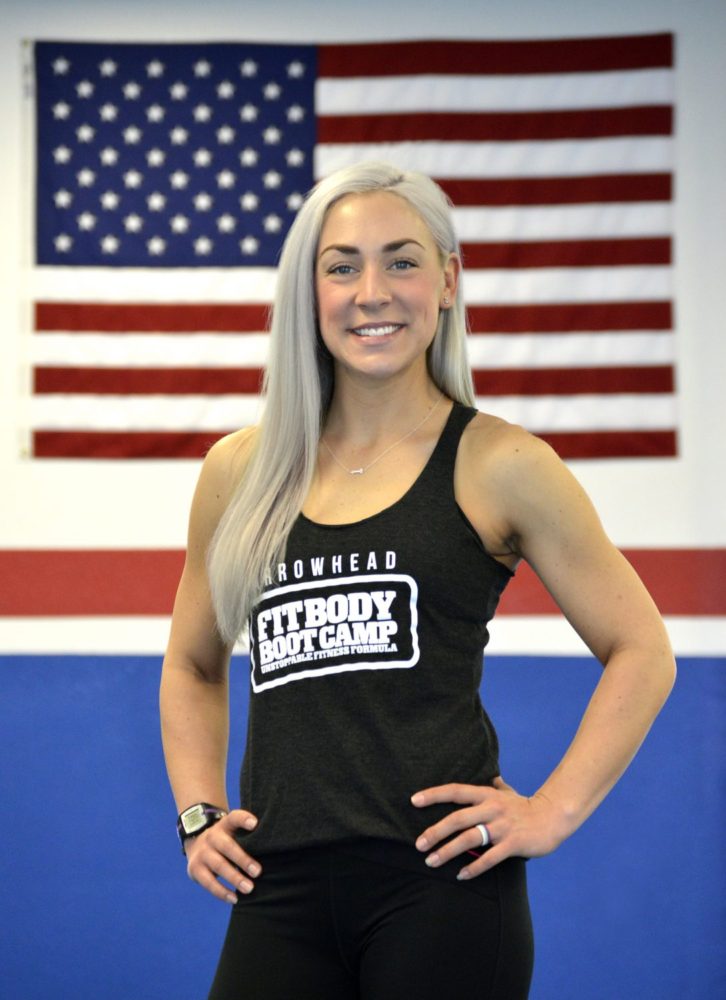 Name: Kelly Sullens
Age: 32 
Title: Owner, Head Coach, ACE GFI at Arrowhead Fit Body Boot Camp
Married/Single: Married!
Kids: None at the moment (but certainly having fun trying!)
City you live in: Peoria, AZ
A typical day in my life includes… 
working out, focusing on how to better my team, my business and our processes and ending the day Netflix and Chillin' with my husband.
I was born… 
in Columbus, Ohio at The Ohio State University Hospital (go Buckeyes!).
My favorite thing about Arizona… 
the ability to own my own business, GREAT people, good food, LOTS of things to do, cost effective and you can practically do whatever you want. Within reason of course. And yes, I actually like the heat!
I'm listening to… 
BTS (sad, but true). I was clearly living under a rock before and didn't know they even existed until the Billboard Music Awards. Since then, I've been listening to their super catchy tunes basically every day. On repeat. 
My family… 
consists of my husband Thomas, our Weimaraner Zeva, my tuxedo cat Luci and my FITFAM of course! We are all active, love to explore new places, travel as much as we can and have a passion for impacting our community in as many ways as possible!
If I could have dinner with anyone, it would be… 
I'd have to say that I would want to have dinner with my Dad. He passed away when I was only 12 and it would mean the world to me to just have one more opportunity to see him again.
One thing I cannot live without… 
a glass of good wine. Yep, I said it.
When I was younger, I wanted to be… 
haha, this changed pretty frequently but I think the two main professions were a famous singer and a veterinarian.
I'm inspired by… 
our #ArrowheadFitFam. They're ALL hard working individuals who don't let anything stop them from reaching their goals.
The one person who motivates me is… 
I don't have just one person that motivates me since I absorb motivation in different ways from many different people and in all different aspects of my life.
If I could change anything in the world, it would be… 
for people to be less sensitive, less PC, more caring and understanding and GETTING RID OF FAST FOOD.
The perfect day would be… 
sleeping in, working out, having a healthy and yummy breakfast (it's my favorite meal of the day!) and then doing WHATEVER I WANTED.
My first job was… 
I worked at a veterinary hospital as someone who worked in the "back of the house". I gave the boarded animals baths and cleaned our their kennels. As soon as I was bit by a cat while trying to give it a bath, the whole "I want to be a veterinarian" thing went out the window. So did the job!
My favorite escape…
SLEEPING and working out…but mainly sleeping. I could make sleeping a sport!
My life… 
is finally fulfilling! I feel as though I'm making an impact within our community through health and fitness, and that my life has purpose. Prior to owning my own business, I felt trapped by "the man".
I'm currently working on… 
my Precision Nutrition certification. Exercising is only one piece of the pie to living a happy, healthy life.
Always… 
stay positive, optimistic, workout regularly and have confidence in who you are. Everyone is unique in their own right and should embrace what makes you, YOU!
Never… 
keep things inside and bottled up. It only leads to repressed emotions later on. We only have one life to live and I believe that we should live it to its fullest potential!
Favorite Quote…
I don't have a favorite quote actually. One that resonates with me right now is: "the only BS I need in my life is breakfast and squats."
Biggest Dream… 
being financially free (not having to stress about the financial future of my family) and having the ability to travel at the drop of a hat to anywhere in the world.
My Pet Peeve(s)… 
this is definitely the question of the day because I have MANY pet peeves. Amongst things like slow drivers, passive aggressive attitudes, people who are constantly negative and know-it-alls, my biggest pet peeve is someone or something waking me up RIGHT before my alarm goes off. Let me just say that it doesn't get my day started out on the right foot. Never mess with a girl and her REM sleep, LOL!
More about Kelly…
Kelly is an Ohio-born, CA raised, AZ resident that is HAPPY to have the opportunity to inspire and motivate a community of people through health and fitness. She and her husband moved to AZ from CA two years ago, dropping their day jobs and selling their home, to pursue their dream of owning their own business, making an impact and bringing people together. They now own a fitness boot camp called Arrowhead Fit Body Boot Camp in north Glendale, AZ, and will be celebrating two wonderful years of business in September.
Click here to order a Trendsetters reprint.