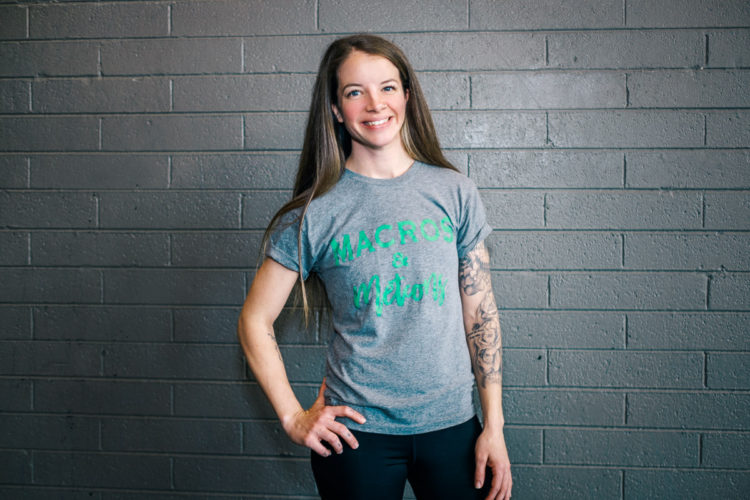 Name: Caitlin Barth
Age: 30!
Title: Founder of Macros & Metcons, Mother of Doggos
Married/Single: married
Kids: 2 dogs (and an insane cat)
City you live in: Scottsdale
A typical day in my life includes…
coaching at CrossFit PHX, checking in with my nutrition clients, reading/listening to books, working out, and I've been trying to get outside more! I've started walking/running to the gym and it's been awesome with the beautiful weather.
I was born…
in Maryland! I went to 7 different schools before 7th grade – we moved around quite a bit. Arizona has been home for 18 years now and I love it.
My favorite thing about Arizona…
the weather and the fact that my family is here – we're super close so it's nice that they're just a 20 minute drive from me.
I'm listening to…
Billie Eilish – she is just too cool.
My family…
is very tight-knit and has taught me so many lessons. My mom taught me that no one can MAKE me feel any way, that I choose my own reactions, and my dad taught me to always be humble. I still hold on to those lessons and try to live that every day.
If I could have dinner with anyone, it would be…
my gut reaction is Prince! There are so many answers to this one.
One thing I cannot live without…
this is a tough one! I need a few minutes of silence each day so probably that.
When I was younger, I wanted to be…
a rockstar! You can still find me at karaoke bars singing my face off. I even tried out for The Voice!
I'm inspired by…
kindness, humility and work ethic.
The one person who motivates me is…
my husband! I mean there are a lot of motivating people in my life who I look up to but he has a tireless work ethic and a huge heart.
If I could change anything in the world, it would be…
I won't get on my soapbox here, but more kindness, to people and animals.
The perfect day would be…
waking up by a beach somewhere with my husband, getting a hard training session in and then just enjoying amazing food and drinks.
My first job was…
American Eagle when I was 16 for a holiday season. One day I showed up to work and they told me my season was done! Whoops!
My favorite escape…
anywhere I can drink beer in a bathing suit.
My life…
has taken so many twists and turns, I can't wait to see what happens next. I remember out of college wanting to be this badass marketing woman, and now here I am, working for myself in a totally different field. I have embraced what life has thrown at me!
I'm currently working on…
training for my first Olympic weightlifting competition!
Always…
be kind.
Never…
take life for granted.
Favorite Quote…
"Never, never be afraid to do what's right, especially if the well-being of a person or animal is at stake. Society's punishments are small compared to the wounds we inflict on our soul when we look the other way."
Biggest Dream…
to have an animal sanctuary.
My Pet Peeve(s)…
intolerance, ignorance and when I can hear people chewing or they're talking with their mouth full – yuck.