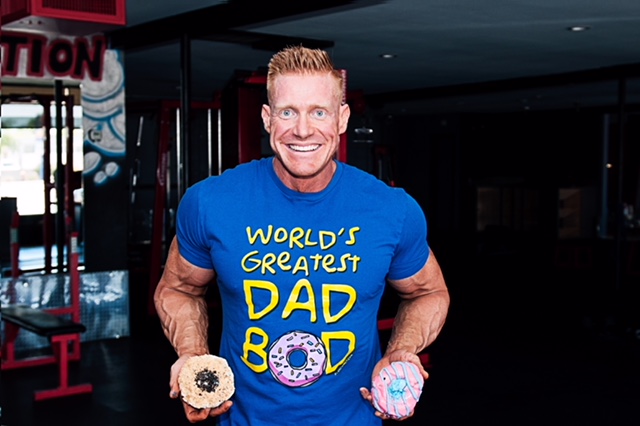 Name: Brandon Budlong
Title: 
Age: 35
Married/Single: Married (Heidi Budlong) Together 15; Years Married 9 Years
Kids: 2 Daughters (Keira 5 / Keilani 4) Both are going to give me a heart attack when I am older!
City you live in: Gilbert, AZ
A typical day in my life includes…
wake up do my daily routine of morning detox drinks, then feed my massive dogs (1 German Shepard, 1 Labrador) and then my two princesses. I get ready for work (regional sales manager) or hop on a plane to go see accounts. Pretty much from 8-5 is seeing clients and eat (I eat 6-8 times a day). Come home, hangout with the good ole wife and kids, then go crush some iron at the gym.  After an extremely long day I hang out with the wife while doing some hardcore binge watching on Netflix!
I was born…
in Phoenix, AZ.  I am a true AZ native!!!
My favorite thing about Arizona…
the people.  I have met and gained so many new friendships in my time here in AZ.  You also cannot go wrong with the amazing food and the beautiful scenery!
I'm listening to…
EDM Fist Pumping and Shuffling to the early morning.
My family…
is my support system, my life, my everything.
If I could have dinner with anyone, it would be…
Arnold Schwarzenegger. Not because of his movie career but because of his knowledge in business and bodybuilding.
One thing I cannot live without…
the gym. Yes, I have meathead problems.
When I was younger, I wanted to be…
a professional athlete. That never happened because I had too many concussions and I suck.
I'm inspired by…
positivity. Anyone who has a positive outlook on life inspires me to be a better person.
The one person who motivates me is…
it's not just one person. My family and friends are what motivates me. They are the ones that lift me up when I am down, and they are the ones that push me past my breaking point to be the best that I can!
If I could change anything in the world, it would be…
bullying and negativity. People do not know how much what people say can affect them for the rest of their lives. Stop bullying and spread the positivity!
The perfect day would be…
my family and my close friends on a paradise island living it up stress free, surrounded by amazing food all day.
My first job was…
I worked at Harkins Theatres and it was awesome! Free Movies all day every day! It only fueled my nerdiness.
My favorite escape…
is Comicon (Nerdfest). When you cosplay a character, you immerse yourself into that character. You forget about all your problems and issues.  You focus on that character. When you are that character, people/kids think you are that character and it brings happiness to that individual which is one of the most rewarding things you can do.
My life…
challenges me every day, but I am ready and waiting to conquer the day.
I'm currently working on…
myself. Trying to be a better husband, father and person as well as trying to spread more positivity!
Always…
give anything you do, everything you got!
Never…
quit or stop trying.
Favorite Quote…
"If you ain't first, you're last" – Ricky Bobby (Talladega Nights, Will Farrell).
Biggest Dream… 
would be that my daughters have the best life imaginable. Also, that my wife and I can travel without a care in the world.
My Pet Peeve(s)…
when people ask for advice and do not follow through with it.