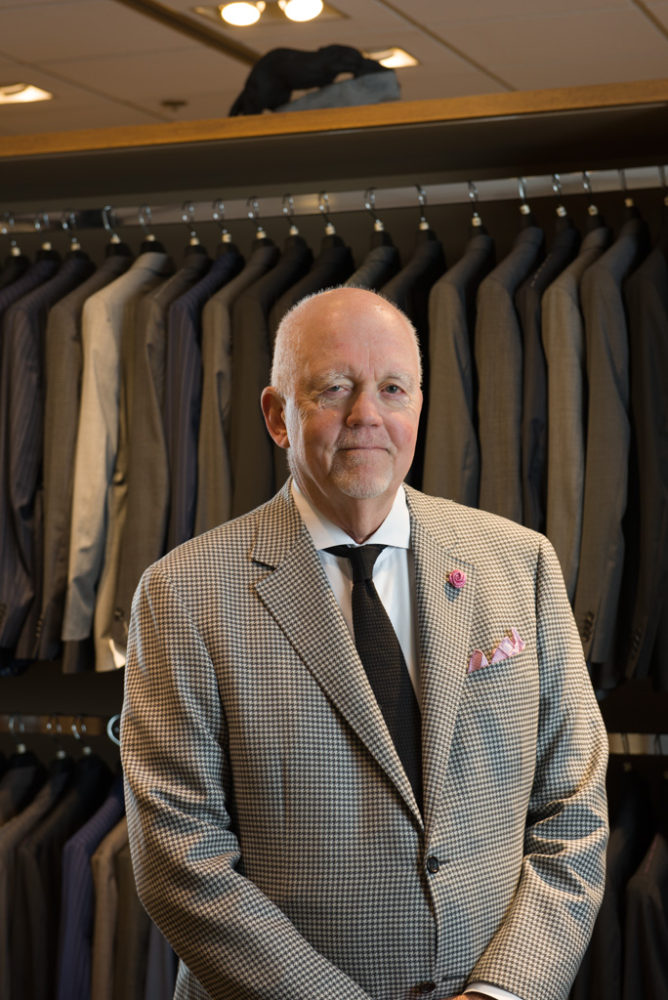 Name: Tom Allen
Tom on Social Media
Age: 69
Title: Clothing Director at The Clotherie
The Clotherie on Social Media
Married/Single: Married 45 years to Norma Allen of Northern Trust
Kids: 4 (Ben, Makenzie, Peter, Kate)
City you live in: Scottsdale
My day is like…
very unpredictable. Working in retail, everyday is different. But that is what I love about the job. I am able to meet new people who become lifelong customers and share my passion for The Clotherie with each customer that enters our shop.
I was born…
in Tucson, Arizona.
My favorite thing about Arizona…
is that I am able to golf nearly every single day of the year. We are fortunate enough to average almost 300 days of sunshine here in the Valley, and I take advantage of that as often as I'm able to.
I'm listening to…
John Hiatt, Wilco, The Shins, and Rodney Crowell.
My family…
is absolutely the most important thing to me.
If I could have dinner with anyone, it would be…
with my family. I have been married to my wife, Norma, for 45 years and we have four beautiful children: Ben, Makenzie, Peter and Kate. Nothing makes me happier than sitting down for a great meal with my entire family.
One thing I cannot live without…
is golf. It is one of my favorite escapes.
When I was younger, I wanted to be…
a centerfielder for the New York Yankees. Despite being born in Arizona, I am a Yankees fan because of the rich baseball tradition over there in the Bronx.
I'm inspired by…
Greg Eveloff still to this day. Eveloff is The Clotherie's late owner who helped guide the men's luxury apparel store into a fashion powerhouse specializing in European styles and unmatched service. Eveloff also oversaw the growth of The Clotherie into Arizona's most awarded men's clothing boutique.
The one person who motivates me is…
my wife, Norma.
If I could change anything in the world, it would be…
that people would be tolerant and kind. We only have one life to live, and I think we should spend it being grateful for what we have.
The perfect day would be…
36 holes of golf at Hobble Creek Golf Course in Springville, Utah. If you couldn't tell, I really enjoy golfing!
My first job was…
in a pool hall.
My favorite escape…
is being outdoors. There are so many beautiful mountains to hike and golf courses to play around the Valley, so friends and family are bound to find me somewhere outside.
My life…
is good. I have a wonderful family and a job that I am passionate about.
I'm currently working on…
trunk shows at The Clotherie. We are hosting a series of five trunk shows in October and December that will feature top national and international designers Robert Jensen Neckwear, Canali, Eton, Robert Comstock and ALBERTO.
Always…
looking to laugh. The saying goes that humor is the best medicine, so I choose to spend my days laughing with those I care most about.
Never…
smoke or drink.
Favorite Quote…
"I don't want to belong to any club that will accept me as a member" – Groucho Marx
Biggest Dream…
health and happiness for my kids and grandkids.
My Pet Peeve(s)…
people who hate because of race, creed, color, sexuality or religion.
Click here to order a Trendsetters reprint.