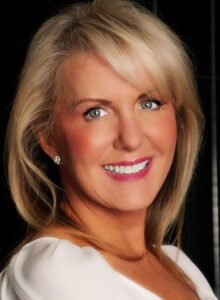 Name:  Tess Loo
Age:  Ageless
Title:  Multi-Media Artist
Married/Single:  Oh so very single
Kids:  1 teenage blossom
Live:  With passion
Meet Tess Loo, lead stylist for My Sister's Closet, My Sister's Attic and Well Suited for men.  Tess has been immersed in the world of fashion ever since she was a young girl.  Tess is quoted saying, "I am not an average woman-I believe in integrity, compassion, elegance and I strive to be my best each day. Why be ordinary when you can be extra-ordinary."  Read how this stylish Phoenician answered these 20 questions.
I was born…
in the wrong country. I was hoping for Paris, France and ended up in Ochlatree County, Texas.
My favorite thing about Arizona…
the 52 fake cactus in Paradise Valley or the 52,000 fake boobs out in Scottsdale on a Saturday night.
I'm listening to…
Kyle Unfug dish the GBG.
My family…
means the world to me.
If I could have dinner with anyone, it would be…
a party with Coco Chanel, Frida Kahlo, Andy Warhol, Diana Vreeland and Rachel Bananas Zoe. Frank Sinatra would sing and Thomas Keller would chef.
One thing I cannot live without…
my Burt's Bee champagne lip gloss.
When I was younger, I wanted to be…
married to Dean Martin.
I'm inspired by…
life, everything about it everyday. Every darn day!!
The one person who motivates me is…
my kiddo. She keeps me real, fresh, bad language free, she makes sure my blouses are buttoned to my neck, doesn't let me wear capri's or fit flops, makes sure I know all the hot boy bands, and keeps me striving to be my best each day. After all I am a housekeeper, driver, short order cook, money manager and role model. Actions speak louder then words.
If I could change anything in the world, it would be…
to make people kinder.
The perfect day would be…
today.
My first job was…
designing clothes for Barbie, polishing her convertible, arranging dates with Ken and cleaning her house.
My favorite escape…
la playa.
My life…
is like the tide of the ocean. Each day it ebbs and flows always leaving a new pattern on the sand.
I'm currently working on…
a painting, a new double chocolate chip cookie recipe, a look book for My Sister's Closet, my yoga, organizing my closet, a new My Sister's Closet in California, meditating, finding my voice, a new My Sister's Attic, a how to dress professional presentation, and finding a boyfriend….
Always…                 
reach for the stars and then be one.
Never…                  
go to sleep angry.
Favorite Quote…
"To thine own self be true"- Unknown
Biggest Dream…
Help women stand in their own power.
My Pet Peeve(s)…
are dishonesty, dishonesty, dishonesty, OH and people that dress so poorly when flying. Well maybe people that go anywhere dressed poorly. Best foot forward people.