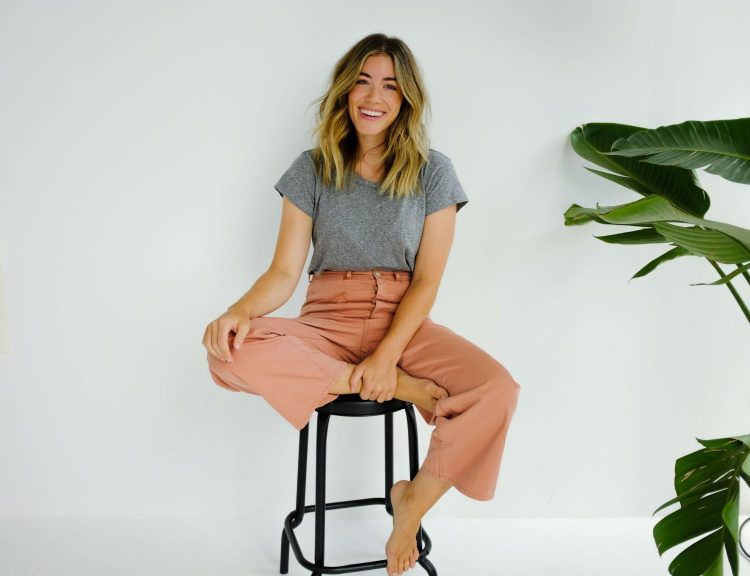 Name: Stacie Lang
Age: 29
Title: Founder of Shop Suunday and Alice + Ames.
Married/Single: I've been married to Geoff for 10 years this November! He's the best husband, coolest Dad, and the most fun 'colleague' I could ask for. Can't say enough good things about the guy 🙂
Kids: Three girls; Ivy (8), Lola (6) + Frances (3).
City you live in: Gilbert
A typical day in my life includes…
each day is so different from the last with all the random responsibilities that come with my job, but a few things are constant, and that's getting the girls off to school, chipping away at my scribbly to-do list, baking something at some point in the day, and just trying to finish up any pressing work before the girls get back from school. Some days that means I'm shooting in our studio, some days that means I'm in my PJ's on my laptop, and some days I'm organizing inventory at our warehouse. I think all the different looking work days really helps keep me from getting too burned out.
I was born…
and raised in AZ.
My favorite thing about Arizona…
nothing beats the Arizona winters! Of course, we have to earn them, but that makes them even better. From November until about May, our family can typically only be found outside until bedtime… most likely with no shoes on. Another favorite perk of living in Arizona? The amazing food! When someone asks for restaurant recommendations in the valley, I don't even know where to start.
I'm listening to…
currently on rotation is the new Death Cab album, lots of Michael Nau, Andy Shauf, Whitney, and Hiss Golden Messenger. But ask me again next week.
My family…
I'm the youngest of six kids, so my childhood was really fun (and loud!). Aside from one sister in California and one in Washington (who I still manage to talk to every day), we're all still really close. And also still loud.
If I could have dinner with anyone, it would be…
can it be a dinner party? Because if I have to choose between Paul McCartney, Tina Fey, Kristen + Dax, Bill Murray, Thom Yorke, Zach Galifianakis, Oprah, and Jimmy Fallon, I'll be a mess. Oh, and I totally understand if this is asking too much, but can I bring a 'plus one'? Geoff would probably want to get in on this night.
One thing I cannot live without…
caffeine.
When I was younger, I wanted to be…
since probably 2nd grade, I always told people I wanted to be a photographer when I grew up. I attended EVIT in high school and later enrolled in some college classes where I fell even harder for film and portrait photography. Geoff and I combined my passion for photography with his interest in all things tech, and we actually started our own wedding + event photography business for the first 6 years of our marriage. Not quite National Geographic like I had hoped, but the next best thing, right? 😉
I'm inspired by…
travel! Our family loves to travel as much as possible in the summers, and there's nothing like being exposed to brand new places and people. An alternate answer would be music, art, and movies.
If I could change anything in the world, it would be…
less hate, more good.
The perfect day would be…
no alarm clock, nothing scheduled besides maybe a lazy bike ride and great Mexican food at some point in the day. Probably ice cream too.
My first job was…
my very first job was as a server at Wildflower Bread Company. I worked there for about 2 days, where I quickly learned that I'm not awesome at working for other people or being told what to do for that matter. I resigned, turned in my embroidered purple polo and never looked back.
My favorite escape…
going on night runs and listening to good music uninterrupted is my therapy!
I'm currently working on…
both Suunday and Alice + Ames' SS19 collections, as well as organizing our 2nd annual dinner and gathering for local business owners and creatives.
Always…
lost. Not like, on a deep level, I'm just really bad at directions.
Never…
on time. Because like I said, I'm always lost.
Favorite Quote…
"Work hard and be nice to people."
Biggest Dream…
to raise confident, kind, happy girls. That's really it.  
My Pet Peeve(s)…
I like to think that I don't get too worked up very easily by what others are doing, but I guess I get bothered when I see people litter. Or when they don't return their shopping carts. Or are rude to waiters. Shoot, on second thought, maybe I am easily peeved.
Meet Stacie 
Friday, August 31 at her
 Phoenix pop-up for the launch of 
Suunday
's AW18 collection! The special event will take place at PHX General, 5538 N 7th St #120, Phoenix, AZ 85014 
from 5 – 8 pm. 
Born from the inspiration of calm Sunday afternoons, Suunday features simple, ethically-crafted, high-quality pieces inspired by nature. Each collection pairs earthy colors with easy, comfortable silhouettes that can be dressed up or down. The brand is already a favorite amongst prominent bloggers like 
@Newdarlings
, 
@SarahShermanSamuel
, and 
@amandajanejones
. Every collection that Stacie launches is small, but thoughtfully curated, timeless and versatile pieces every woman will love and treasure for years to come.