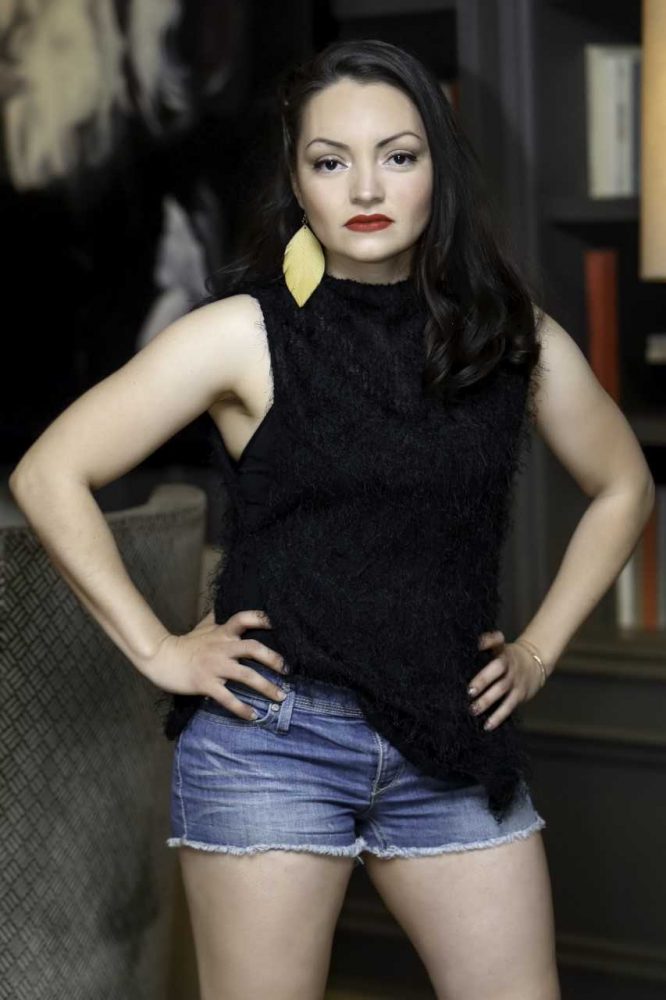 Tickets for the must-attend fashion event of the season can be found here.
Name: Amanda Casarez
Age: 34
Title: Fashion Designer /Artist
Married/Single: Really? Who wants to know?
Kids: Yes! I'm a mom! My minis are my inspiration for many things, I am relentless because of them.
City you live in: St. Louis, baby!
A typical day in my life includes…
fashion designer during the day, bartender at night. As if that wasn't enough, I'm also a student at WashU working on my master's…very little sleep and a whole lot of coffee!
I was born…
in Kennewick, WA but raised in Cali and Mexico.
My favorite thing about Arizona…
is the people I've met in this fashion adventure I call life.
I'm listening to…
music is life! Can't function without it. Really feeling Khalid and NF right now, but I have to say Latin music is my got-to, Maluma, Becky G, Natti Natasha…I can keep going!
My family…
is small. My mother is my rock, very supportive of my goals (I say goals and not dreams). Never have they looked at me and thought I was crazy (which I think all entrepreneurs are… why else would we do this to ourselves?).
If I could have dinner with anyone, it would be…
Frida Kahlo, she's my idol! Fierce, unapologetic and creative genius!
One thing I cannot live without…
more like 2 things: coffee and sour gummy bears. I like my coffee how I like myself; dark, bitter, and too hot for you! haha
When I was younger, I wanted to be…
a fashion designer of course. I eat, sleep and breathe fashion! I've been sewing/designing since I was 12 thanks to my mom.
I'm inspired by…
many things, but in the end, fashion is my art and my art is a reflection of myself and what is going on inside of me. I don't talk feelings but I sure do 'wear' them.
The one person who motivates me is…
if I keep you close, you motivate me in ways you will never know and I'll probably never tell you!
My personal style is…
tomboy chic with a little grunge.
If I could change anything in the world, it would be…
the ever increasing hate amongst us: live and let live! "You never really understand a person until you consider things from his point of view… until you climb into his skin and walk around in it" – A. Finch (To Kill a Mockingbird)
The perfect day would include…
coffee, a book by the water and 8 hours of sleep would be lovely!
My first job…
was when I was 16 as a sales associate at a jewelry store…sooo boring!
My favorite escape…
running, it silences the mind!
My life…
its chaotic, but I love it! Will definitely have my own Lifetime movie in the near future!
I'm currently working on…
aside from my S/S'19 line that will debut at PHXFW, I'm also working with Macy's, my line is being sold at Fashion Mall Las Vegas. As well as working on my MA in Visual Arts at WashU STL.
I can't wait for Phoenix Fashion Week because…
I can't wait to show my growth and refocus as both a designer and as a brand, PHX be ready!
Always…
cut-offs, red lipstick and Chanel.
Never…
wedges…sooo not cute!
Favorite Quote…
"Las únicas mujeres que valen realmente la pena, son aquellas que si quieren la luna, se la bajan ellas mismas" – F. Kahlo.
Biggest Dream…
I prefer to use 'goals' instead of 'dreams.' Amanda Casarez will be an international brand.
My Pet Peeve(s)…
models please; no eating, no sitting, no drinking and no garments on the floor.
More about Amanda Casarez…
Amanda Casarez is a St. Louis based label with a high-fashion and street chic twist, an ultra modern aesthetic with standout detailing, yet effortlessly cool styling, and a borrowed-from-the-boys-attitude. The brand's ethos, to create a wardrobe that focuses on a woman's complete life: modern, premium quality pieces with the inimitable ease of streetwear, making sure our everyday muse can live her life in every piece we make. Clothing that embodies a feminine, strong, confident woman, inside and out. The brand's design philosophy is easy…Effortlessly Cool.
Amanda Casarez will be showing her designer collection during Phoenix Fashion Week at Talking Stick Resort October 18 – 20, 2018. You can see her before the main event though at Phoenix Fashion Week's Designer Preview Fashion Show & Sample Sale on August 3. Grab your tickets for this exclusive, must-attend fashion event of the season here.
Phoenix Fashion Week is the leading fashion industry event in the Southwest bridging the gap between national and international designers, premier retailers and top fashion media garnering global exposure for Arizona's fashion industry.
Through educational fashion seminars, year-round fashion events, and charitable partnerships, Phoenix Fashion Week is gaining rapid acclaim for its community-service efforts and for infusing world-class innovation into the Southwest. For more information visit phoenixfashionweek.com and follow Phoenix Fashion Week on Instagram, Facebook, and Twitter.