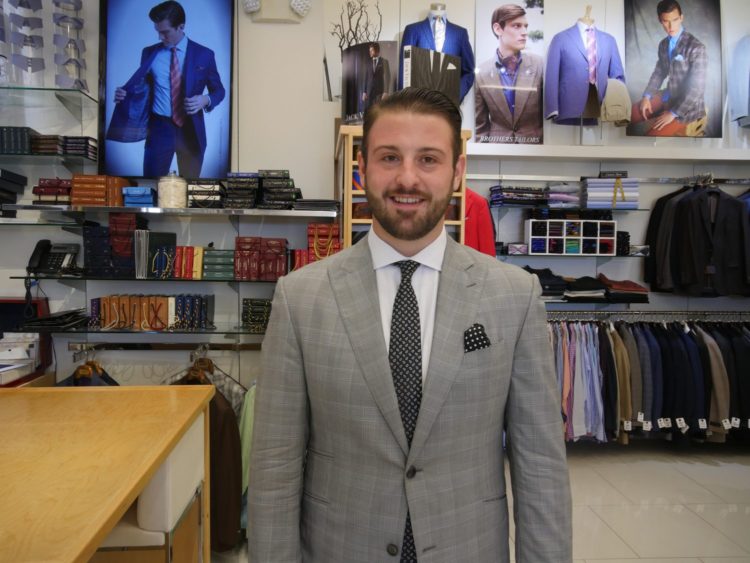 Name: Pete Zistas
Age: 26
Title: Master Clothier, General Manager
Married/ Single; Not Married/ Not Single ☺
Kids: 0
City: Scottsdale
A typical day in my life includes…
taking over the world…one suit at a time.
I was born in…
Eastern Europe/ Albania. This is where the heritage for clothing comes form.
My favorite thing about Arizona is…
Arizona is a phenomenal place because it's a new western city that provides a great lifestyle. It attracts business professionals from around the country and this makes the valley feel like a city that's growing
I'm listening to…
upbeat house music that promotes positivity and energy mixed in with a little Jay-Z. We play house music at the store all day long. I think of it as a musical energy drink!
My family…
resembles "My Big Fat Greek Wedding!" Although some of the points in the movie are strictly for humor others are very representative of what my family is like day in day out.
If I could have dinner with anyone it would be…
Tom Ford. I'm really fascinated by his concepts and designs. He's always moving the ball forward and pushing the envelope. I'd love to have a bottle of Cabernet with him and chat it up. Unfortunately he doesn't drink anymore.
One thing I cannot live without…
my phone would be the easy answer because most of my business is facilitated through my phone. The personal answer is Bluetooth wireless headphones. I'm super OCD and I hate having a cord connected to my phone or device. Gotta have my beats!
When I was younger I wanted to be…
an investment banker. I soon realized how awful my life would be and I decided to pursue something more modest.
I'm inspired by…
Andrew Ramroop of Maurice Sedwell in Savile Row. He is the most magical Bespoke tailor alive today. His designs are nothing short of magnificent. My father had the pleasure of learning from him in his academy. I attempt to emulate some of his designs because I admire them so much.
The one person that motivates me is…
my father. Nothing is ever good enough so I am always trying to improve and be better. There is no final destination, rather an evolving path on the continuous road of growth.
If I could change anything in the world…
it would be the casual culture we are now in. I would like to go back to the days everyone wore suits and dresses. The world would be so much better.
The perfect day would be…
Driving amongst the vineyards of Napa Valley in a convertible wearing my favorite sport coat and a linen shirt on a perfect sunny day.
My first job was…
a server at Islands Bar & Grill ☺
My favorite escape is…
San Diego by far because it's just a hop skip and a jump away. Also, its great place to wear a sport coat.
My life…
is amazing because I get to share my passion with the valley's elite business people. I love providing confidence to gentlemen by adding things to their wardrobe that allows people to perceive them differently.
I'm currently working on…
Phoenix Fashion Week! This is the first year Brothers Tailors is going to be participating in the October event. Couldn't be any more excited to showcase our stuff on the runway.
Always…
dress British, think Yiddish!
Never…
be under dressed!
Favorite Quote…
"Failure to prepare is preparing to fail".
Biggest Dream…
to be the best Clothier in the USA.
Biggest Pet Peeve…
inefficient, lazy, incompetent people!
***
Brothers Tailors will be showcasing their fall fashion designs on the runway at Phoenix Fashion Week. Their runway show, "Fun, Fall, Formal" will debut on October 14 at the Talking Stick Resort. The tailored suits will demonstrate why Brothers Tailors is the valley's premiere custom clothier. For tickets click here.