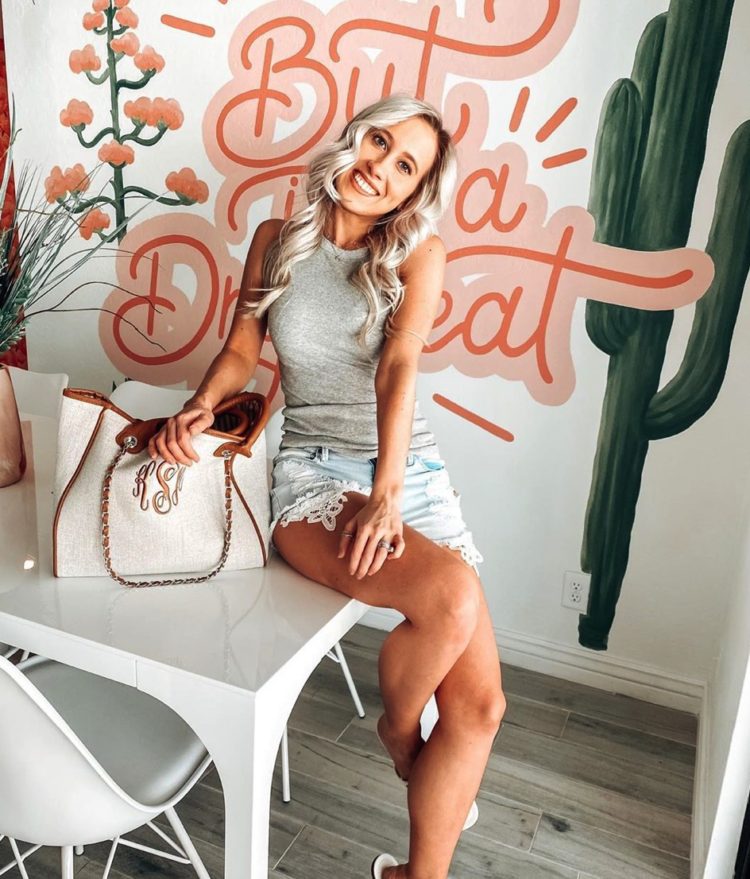 Name: Kate Kerby
Age: 27
Title: Owner and Fashion Blogger of Desertstyleblog
Married/Single: engaged
Kids: none
City you live in: Downtown Phoenix
A typical day in my life includes…
I wake up, drink coffee, work on my blog, and my social media. It is something that brings me so much joy! I love setting up for my work for the day at local coffee shops and getting things done! I will spend my evening with my fiancé and my Yorkie, Maya Mae. She is the light of our lives and keeps us on our toes! I call a few of my best friends and check in with them daily. Quality time is my love language. I truly feel like I am living my best life today.
I was born…
in Orlando, FL.
My favorite thing about Arizona…
I love the weather! There is always sunshine and a place to sit outside and enjoy my coffee and brunch with friends. I love that we get long summers and I can lay out by the pool (with my sunscreen of course).
I'm listening to…
I love all genres of music including country, hip hop, and alternative. You name it and I probably like it! I also love listening to podcasts daily. There are so many good ones. "Off the Vine", "The Morning Toast", and the "Rise" podcast by Rachel Hollis are some of my favorites.
My family…
I love my soon to be in-laws! I would say I have a great relationship with them, and I am grateful for how supportive they are to my fiancé and I. My immediate family is braving the New York weather… I am a true Arizona girl at heart.
If I could have dinner with anyone, it would be…
Kaitlyn Bristowe, I am a Bachelor/Bachelorette fan. She was my all-time favorite and no one puts together a better podcast then her! She is sarcastic, sassy, funny, and authentically her.
One thing I cannot live without…
COFFEE! Without a doubt. I thrive when I am caffeinated. It is a must-have! First, I drink the coffee then I do all the things!
When I was younger, I wanted to be…
a pageant girl! I loved doing pageants and being the center of attention. I loved being on stage!
I'm inspired by…
people who overcome difficult situations and seasons in their life. I love watching people grow even when it is painful. I have experienced many forms of pain and many difficult seasons in my life. I love to share my experience with people so that they know that whatever they are going through, they are never alone.
The one person who motivates me is…
my fiancé, he has worked so hard the last 3 years finishing law school and his drive and commitment have helped me with my own personal goals and motivation to continue to become the best version of myself.
If I could change anything in the world, it would be…
addiction. I would want to help the sick and the suffering in all forms.
The perfect day would be…
a day at the spa getting a facial, shopping, and brunch with a girlfriend!
My first job was…
a cashier at a grocery store!
My favorite escape…
Newport Beach, CA. I love the beach, it fills up my cup!
My life…
is blessed. I get to marry the man of my dreams in September. I am grateful for the life I get to live today, and I truly feel lucky.
I'm currently working on…
content for Desertstyleblog.
Always…
treat everyone with respect, kindness, and compassion.
Never…
judge a book by its cover. You never know what somebody has to offer.
Favorite Quote…
"In order to be irreplaceable one must always be different." – Coco Chanel
Biggest Dream…
I want to be a successful fashion blogger and thrive in all aspects of it!
My Pet Peeve(s)…
nail biting and people who are rude!