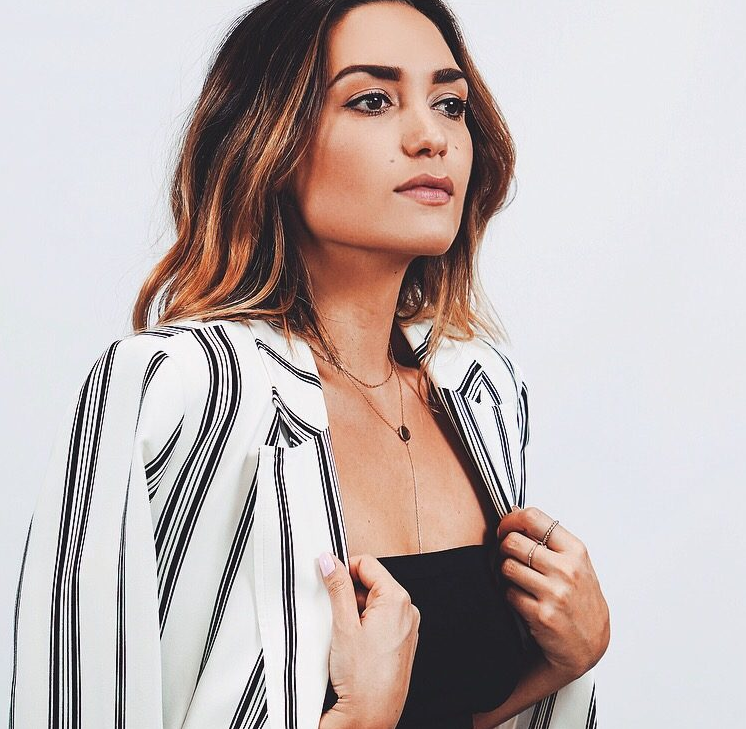 Name: Ellyse Nichole
Age: 27
Title: Designer, Creative Director, Wardrobe Stylist, Vintage Guru
Married/Single: In a committed relationship
Kids: not yet
City you live in: Scottsdale
A typical day in my life includes…
I usually start my day at Pure Barre, then I gulp iced coffee while answering emails and catching up on any computer work. Since every day is different for me, I then assess what appointments I may have that day. Some days include home styling visits where I organize and go through a client's wardrobe. Others I may be creating jewelry or working on set as a wardrobe stylist for a photo shoot. I may also be working on a recent interior design project or simply driving from place to place sourcing and pulling for various clients, projects and upcoming shoots.
I was born… In Arizona but have been living elsewhere for the past 7 years, Colorado, LA and New York City
My favorite thing about Arizona…
the ever-astonishing sunsets.
I'm listening to…
a constant revolving door of new and old music. Anything from Barbara Streisand and the Rolling Stones to Disclosure, Florence and the Machine and The Weekend.
My family…
is the most supportive, loving and giving souls I've had the pleasure to grow with. I would not be where I am today without them.
If I could have dinner with anyone, it would be…
my grandma Katy. She passed away when I was young but she was such a creative genius. I remember we would sit for hours and she would draw dolls for me and I would clothe and accessorize them. She instilled the creative juice in me.
One thing I cannot live without…
experiences. I would rather have an adventure than a purchased gift. There is nothing better in the world than spending time with loved ones doing unique and memorable experiences. It could be as simple as a spontaneous picnic or an adventurous road trip. I am all about the experiences!
When I was younger, I wanted to be…
a designer/Inventor AND the first female president.
I'm inspired by…
oh so many people. But one constant will always be my mother. She has managed to create a reputation for herself that is nothing but extraordinary. She instilled in me the importance of creating relationships and building business from them. Any person that I come in contact with that knows her only sings her praises. As a female executive, she has managed to transform the traditional culture of a predominantly male environment to an ever-evolving culture where all people are accepted and respected. Not only is she a wonderful coworker, but a friend, confidant, daughter, sibling, wife and mother. I try to emulate her courage and passion in my own life.
If I could change anything in the world, it would be…
female body image. Unfortunately we live in a society where our personal best doesn't always feel the best. As someone who has worked in the fashion world for nearly a decade, I have seen the triumphs and pitfalls of body image. When I first moved back from Arizona I had the opportunity to meet the founder of a non-profit called Circles of Change. COC encourages positive and empowering visions of self worth and awareness. This movement of changing the conversation from body bashing and constant comparison t uplifting and reinforcing messages is something I resonate with to the core.
The perfect day would be…
starting my day with some type of exercise. Making a delicious, homemade breakfast (my boyfriend and I have become quite the chefs… however he is the sous chef), packing up a cooler and some clothing and hitting the road for an adventurous road trip. My road trip buddy and I would stop along the way and photograph the scenery, grab a local lunch and frolic around our destination. My day would end with another delicious home cooked meal eaten outside with a glass of red wine while watching the sunset. Um, someone please sign me up for this tomorrow (boyfriend, hint, hint)
My first job was…
working at one of those "assemble your meals and bring them home" places.
My favorite escape…
I am a nomad at heart so escaping to new scenery always makes my heart and soul happy. From the beach to the mountains and everything in between, I long for travel.
My life…
feels extremely blessed. I have had the opportunity to live in some very magical places while cultivating and growing my craft. Without the support of my family and friends I would not have had the guts to go out on my own in business. I am a firm believer that everything happens for a reason. Every setback and turn in your life brings you to where you are supposed to be. If you would have told me two years ago that I would be back in Arizona I would say you are out of your mind. But when job opportunities presented themselves here in Arizona I took the leap. Here I have grown my business, made wonderful connections, reunited with my fabulous parents and met the love of my life. Life is pretty spectacular.
I'm currently working on…
about 15 projects at once. I sometimes catch myself juggling a few too many things at once and need to take a step back and assess what it is that I truly want to work on. Right now I am most excited about some new partnerships with magazines and creating content for them. I have come to the conclusion that I am at my personal best when I am working as a creative director. Whether it be for a personal client or a large company, I love executing vision from beginning to end. Everything from the model and her posing, to the lighting and set design, hair and makeup, and of course wardrobe and jewels.
Always…
be aware that you do not know everything and be vulnerable to ask and accept help.
Never…
assume you know someone's entire story before you get the opportunity to read the table of contents (I just came up with that little diddy, but I think it should be on a t-shirt).
Favorite Quote…
"Be who you are and say what you want because those who mind don't matter and those who matter don't mind" – Dr Sues
Biggest Dream…
to live a full and happy life surrounded by my fabulous friends, family and partner in crime, Sam. I hope to continue to grow as a person while developing a business that others feel inspired and empowered by. I strive to remain humble, engaging and open to anything that life throws my way.
My Pet Peeve(s)…
when people don't follow through on their word. In my opinion, when we commit to something we should follow through. It is the easiest and most appreciated gift we can give others.
More about Ellyse…
As a kid growing up in Phoenix, Arizona, I began styling since the moment I started playing dress-up. I began her career at the Fashion Institute of Design and Merchandising in Los Angeles, where I worked to refine my craft, doing work with styling, interior design, visual displays and eventually creating my own jewelry line.
Throughout my career, I have had the opportunity to work with some wonderful brands in the largest fashion hubs such as Free People, Urban Outfitters, Anthropologie, Topshop, Nordstrom as well as numerous PR agencies and Showrooms to create cohesive brand identities. I have also worked as a wardrobe stylist for many years producing editorials for some fantastic publications. Through photo shoots, social media, creative direction, design and overall content, I strive to continuously push myself to grow as a creative.
After recently relocating to Arizona from New York City and Los Angeles my hopes were to create a unique voice and help develop the fashion community in Arizona.
I think style is one of the most influential and important elements to a person's self. Everyone has style, no matter if intentional or not. It is my job to help people realize their potential and showcase it to the world. Although every day is different in my line of work, If I had to pick one thing to do everyday for the rest of my life, it would be working with women and making them feel good about themselves.