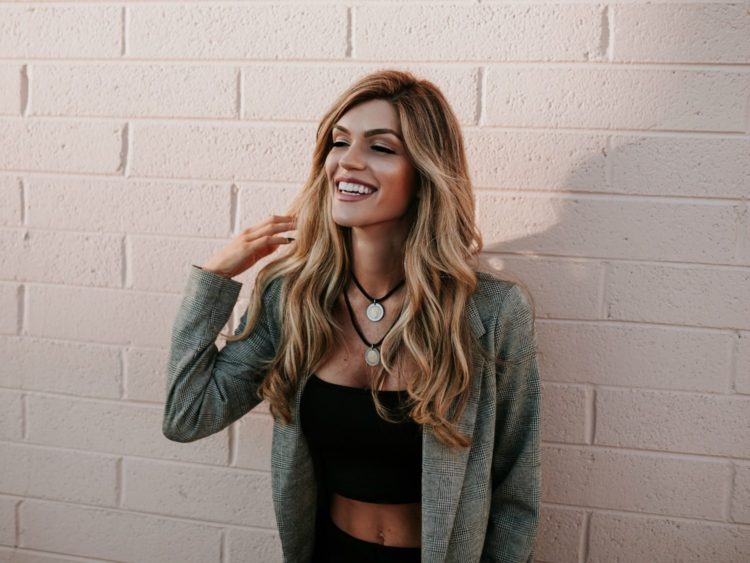 Name: Chelsea Nordstrom Alexander
Age: 29
Title: Influencer Talent Agent / Social Media Manager / Style Blogger
Married/Single: married
Kids: not yet 😉
City you live in: Scottsdale
A typical day in my life includes…
I usually get woken up pretty aggressively by my dog kicking me in the face or laying across my nose and mouth until I am unable to breathe and have to come up for air (I swear this is how I'm going to die!) haha. Most of the day you can find me working. I currently scour social media looking for Influencers to recruit, organize campaigns, and manage several Instagram accounts. In my down time I try to focus my energy in the world I am most passionate about, fashion. I'm constantly looking into the latest trends and styling shoots to feature them on my own account as often as I can. At the end of a typical day it's all about spending quality time with my husband since we both keep ourselves pretty busy.
I was born…
the summer of 89' in Phoenix, AZ. I like to refer to myself (and my style) as a 90s kid, desert child.
My favorite thing about Arizona…
after living in Denver for the past 4 years, I have a newfound appreciation for being back in Arizona. I'm grateful for lots of free parking, minimal traffic, one level homes with backyards and pools, never ending sunshine, and above all the beautiful desert landscape!
I'm listening to…
for some reason this comes as a surprise to a lot of people but most of the time I'm listening to hip hop. The early 2000s is my go-to!
My family…
is small and mostly made up of a couple close friends and animals. I believe in choosing who you call family.
If I could have dinner with anyone, it would be…
my husbands late mother. I never got to meet her, and there's so much I would want to sit down and talk with her about!
One thing I cannot live without…
dogs! I like them better than people if I'm being honest 😉
When I was younger, I wanted to be…
it was always changing! Truth be told I'm actually still kind of that way.
I'm inspired by…
I've always been most inspired by my mom. As a single mom with two kids and no help, I always wonder how she did it. Her evident hustle taught me how to be a strong and independent woman. I will forever be grateful for the lessons she taught me, they are certainly what shaped me to be the person I am today.
The one person who motivates me is…
I'm extremely blessed to not have just one, but two best friends that constantly motivate me. My husband and my girl Jaime are my soundboards. They both know me better than anyone and it is their advice that I take most to heart.
If I could change anything in the world, it would be…
EQUALITY .
The perfect day would be…
my mind automatically goes to a sunny day on the beach full of golden retriever puppies, music and my closest friends and family.
My first job was…
I never know if I should say the pizza place that I got paid under the table at because I was legally too young to work there, lol…otherwise it was as a hostess at a Mexican restaurant.
My favorite escape…
growing up in AZ, a California road trip has always been my escape. I have so many amazing memories from various trips that as soon as I cross that line and smell that ocean air I always feel a sense of peace and happiness.
My life…
is above and beyond what I ever imagined for myself.
I'm currently working on…
becoming an expert on things fashion, social media and Arizona.
Always…
trust your gut.
Never…
look back.
Favorite Quote…
that's really hard! There's a lot, but I tend to favor those about character. Maya Angelou has a lot of good ones…
"I don't trust people who don't love themselves and tell me, 'I love you.'… There is an African saying which is: Be careful when a naked person offers you a shirt."
Biggest Dream…
have a family of my own, find success in my career and build an empire with my guy.
My Pet Peeve(s)…
my number one is obnoxious or loud chewing.