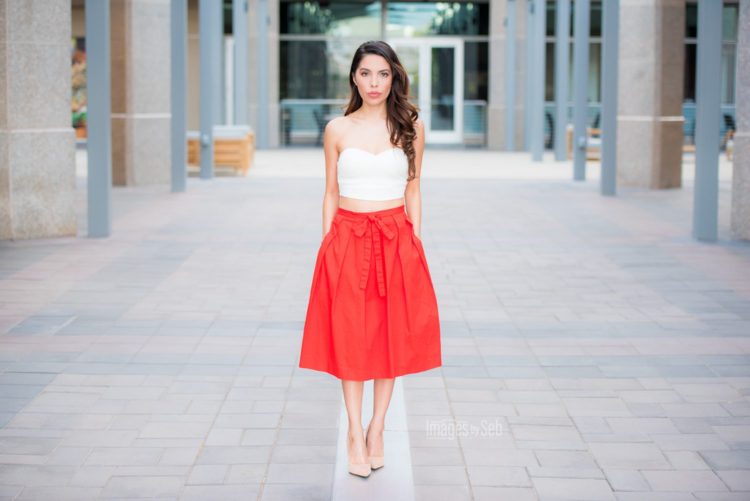 Name: Beth Yohanny
Age: 30
Title: Fashion stylist and Blogger
Married/Single: neither, lol!
Kids: Two; Summer is 9 & Travie is 4!
City you live in: North Phoenix
A typical day in my life includes…
it's really hard to narrow this down because everyday is different. I usually take Summer to school every morning by 7 and work from home on emails, social media, projects, etc. And yes, Travie is along for the ride until his dad gets home from work. I usually have photoshoots scheduled during the week, networking events, shopping appointments, and more. I love staying busy!
I was born…
in Mexicali, Baja California! I moved to the states when I was just a baby! I don't have much family there but I visit every chance I get.
My favorite thing about Arizona…
I honestly LOVE the weather! Of course I wish we had a beach, lol, but I love how long our warm weather lasts throughout the year. Mostly because I love wearing dresses!
I'm listening to…
lots of country music! My mom forced it upon me as a kid and now it's mostly what I listen to. Country music just puts me in the best mood! Some of my favorites are Blake Shelton, Jason Aldean, Keith Urban, Thomas Rhett and of course Garth Brooks.
My family…
I am the oldest of 6; I have two sisters and three brothers. We are a crazy, bickering bunch when we're together but I love them so much! They are the best aunties and uncles to my babies. Fun fact: My youngest brother is 12!
If I could have dinner with anyone, it would be…
Malala Yousafzai. Not only did I read her book but have been following everything she does and she is just an admirable girl! She is so wise and has endured so much. I would love to meet her!
One thing I cannot live without…
snacks! I honestly stay snacking! I wish I could say that all the snacks in my purse are due to the fact that I'm a mom but they're all mine, lol. I snack whether I'm blogging, hanging out, poolside, at an event…you name it. And by snacks I mean shortbread cookies, spicy garlic edamame or avocado toast. I also want to blame this habit on the fact that I'm always running around like a maniac!
When I was younger, I wanted to be…
I really wanted to be a doctor and a foster mom! My hopes of becoming a doctor diminished when I realized how terrified I was of needles…it's pretty bad. But I've always wanted to care for other children. That's still something I hope to do at some point in my life and my desire to do it has only grown deeper since becoming a mother. So many littles that don't have even the basic necessities. It's something that really tugs at my heart. I also wanted to be an archeologist; I am fascinated with history and prehistory!
I'm inspired by…
HUMBLE AND GIVING WOMEN. Those two qualities to me are so POWERFUL. We all go through this roller coaster we call life and I have experienced people handle their highs in different ways. But those that have taken their momentum and used it to help others and set good examples really inspire me to be the same in those aspects. The fashion industry can be pretty hectic and crazy and it's so nice to come across women that are all about empowerment!
The one person who motivates me is…
my mom. We've always had a tough relationship to say the least but I admire her. She has been through a lot in her life and has always come out on top and provided for my siblings and I. She is a dedicated woman and ALWAYS achieves her goals!
If I could change anything in the world, it would be…
hunger. I am a documentary junkie and I stay up to date reading articles about these INSANE situations in other countries and sometimes in our country (U.S.) about people who don't even have clean water to drink! That is so insane to me. For example I watched a documentary about a village in Africa where the children and women there have nothing to eat and so they make these circle shaped mud "cookies", not only eat them themselves but also sell them. I am a happy person but these situations are very real and I am looking forward to the day and I can help.
The perfect day would be…
on the beach with unlimited tacos and Mexican desserts!
My first job was…
at Target! I was 19 and living in Lynchburg, Virginia. I honestly loved it! But I'll have to admit; I spent 99% of my paycheck there, lol. Not much has changed…I still love Target!
My favorite escape…
is hanging with my kiddos! They are just so much fun to hang with. Summer is in this stage where she wants to sing ALL the time and Travie wants to do everything she does (his hero) and I can't sing but I love to, lol. In all honesty when life gets hectic and stressful they are the one thing that never is. So it's easy for me to turn to them and have fun whether we're singing, getting creative with Legos or having a wrestling match.
My life…
is crazy and sort of all over the place schedule wise but I wouldn't have it any other way. Except maybe have more than 24 hours in a day lol. I love the career choice I've made and am learning so much everyday about myself. The more you push yourself the more you achieve. I truly think it's so important to remember that! You have to push yourself harder than anyone else and it's not always easy so be sure to be honest with yourself and hold yourself accountable! Besides that, I couldn't have asked for a better partner in life than Travis. He works tirelessly to provide for our children and cares for them while I'm off living my dreams. Not everyone has that kind of support so I know how lucky I am!
I'm currently working on…
a fashion show! My wonderful friend and fellow stylist, Weezy from Weezy'z Playhouse, is organizing a fashion show and I'm so excited she has asked me to be a part of it. We partnered up with 9 The Gallery for this show that will consist of six stylists, including myself. Each stylist will be working with a local artist provided by 9 The Gallery and we will create some fun looks for our models! So definitely be on the lookout for updates on the show, tickets will be on sale very soon! Some of the amazing people and organizations that are involved include Brian from Phoenix Fashion Week, Shannon Campbell (stylist), Goodwill Arizona, The Pearce Family Foundation, Urban Eye and many others. Besides that, I am focusing on taking new clients to style! I am also working with Goodwill on a few different projects. But I won't get carried away with that. You guys can catch details for any of these on my social media.
Always…
give love and kind words!
Never…
demean someone else because they aren't doing what you are.
Favorite Quote…
"If you worry about every tiny criticism, you won't get up in the morning." Definitely one of my faves! I think it is so important to believe in yourself and what you bring to the table, ALWAYS.
Biggest Dream…
is to be a business owner and travel the world to help people. To see my children grow up to be good, humble and kind human beings.
My Pet Peeve(s)…
inconsiderate people. From not covering your mouth when you sneeze to not paying attention to others feelings. Can't stand it. Check yourself. ALWAYS.