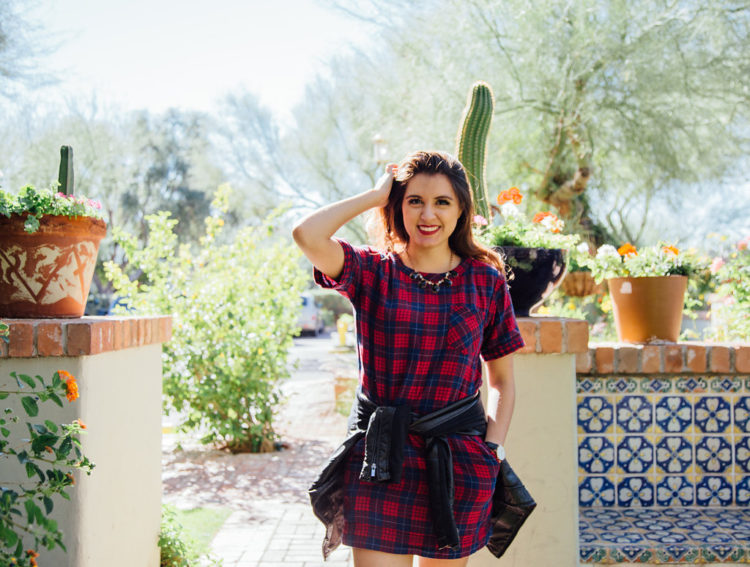 Name: Avi Valencia
Age: 24
Title: Fashion Blogger and Office Manager at Bloguettes
Married/Single: Secretly dating Mr. Darcy of Pride and Prejudice… in other words, single.
Kids: Does my cat Jack count as my child? No, I don't have have any.
City you live in: Scottsdale, Arizona
A typical day in my life includes…
I wake up around 6:30 am and get ready to go the office and then have a huge breakfast. I'm a breakfast person and I love taking my time to sit down and enjoy it. I arrive at work at 8:00 am and immediately need to check out my agenda and start writing down my to-do list of the day. Days can be very different. One day it can be a photo shoot, other day I can do errands and another day I can just sit down doing graphics. Then it hits 5 o'clock and I go home to relax before going to Pure Barre. I thinks it's very important to workout and maintain a healthy lifestyle. After that, I go home, check my blog emails, do some social media and watch netflix or read a book before going to bed.
I was born…
in a small town in Mexico next to the border of California. It's called Mexicali.
My favorite thing about Arizona…
the lifestyle is amazing. There's a lot to do here. Good food, pretty landscapes, sunshine, is close to home, is sunny. Just everything.
I'm listening to…
Classical music. I love listening to classical music while I'm blogging or writing. It inspires me.
My family…
For a mexican family, mine is a small one but very close. We used to travel everywhere together before I moved to Scottsdale.
If I could have dinner with anyone, it would be…
Audrey Hepburn. I would love to chat with her and learn how to be more humble. I'm a huge fan of her so I would love to know her more and also I'd like her to teach me her style.
One thing I cannot live without…
my lipstick. If you'd go into my purse and take out everything from it, you would find different colors of lipsticks. Red lips are my beauty obsession.
When I was younger, I wanted to be…
a lawyer. So I could defend and save innocent people.
I'm inspired by…
movies, books and almost everything beautiful. I'm a very visual person. Everything that is pretty will be inspiring me. From a picture, to going out and walking around and reading a book.
The one person who motivates me is…
I don't have anyone in specific. I have been incredibly lucky to have amazing friends, family and inspirational people on my life!
If I could change anything in the world, it would be…
kindness. I wish people were kinder and tried to help each other out. I feel people are getting more selfish and we're losing our values.
The perfect day would be…
coffee in the morning, traveling somewhere new with my dear ones, dancing, and enjoying every single minute of it.
My first job was…
at a movie theater. I really love movies and this was my only way to be closer to the movie industry. I was the girl who sold tickets. It was fun and I really love to smile and chat with people.
My favorite escape…
the bookstore! I can be there for hours, wandering around, looking at book covers.
My life…
is full of pretty things, fairy tales, books, and Disney Movies .
Always…
Follow your dreams. Don't be scared. Believe me, I'm a scaredy cat but you need to follow your gut and go for it.
Never…
imply I know salsa dancing because I'm latin. I don't and I hate it.
Favorite Quote…
I believe in pink. I believe that laughing is the best calorie burner. I believe in kissing, kissing a lot. I believe in being strong when everything seems to be going wrong. I believe that happy girls are the prettiest girls. I believe that tomorrow is another day and I believe in miracles. -Audrey Hepburn
My Pet Peeve(s)…
smoking. I hate people who smoke. It's the worst.