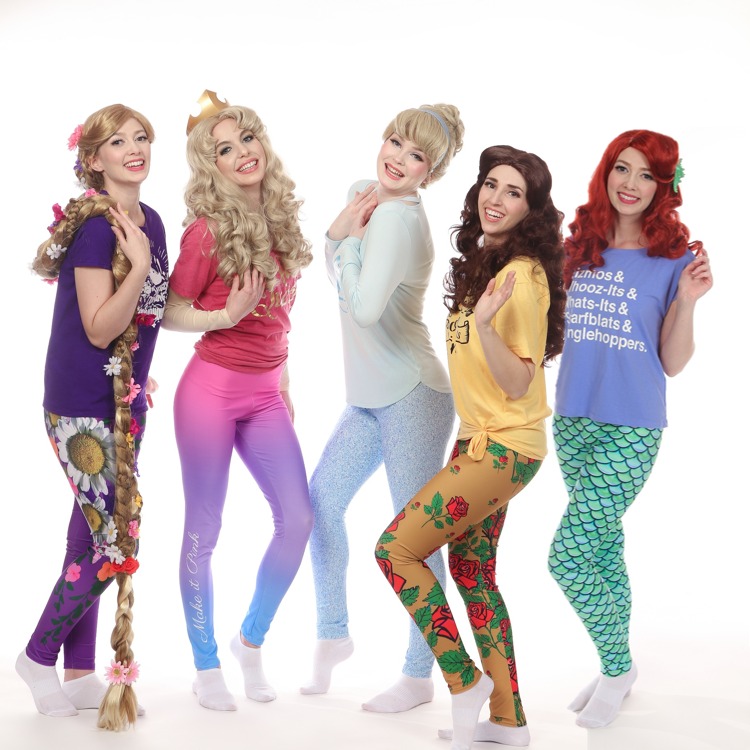 Name: Jenna Workman of Fair Maidens & Masks
Twitter: www.twitter.com/maidensandmasks
Facebook: www.facebook.com/characterparties
Instagram: www.instagram.com/fairmaidensandmasks
Website: www.fairmaidensandmasks.com
Age: 34 going on 24.
Title: "Fairy Godmother" (Owner)
Married/Single: Married to my Prince Charming for 10 years
Kids: We have 2 little princesses, the oldest (7) is poised and reserved like Elsa, and our youngest (4) is silly and wild like Anna.
City you live in: Phoenix, Arizona but we go back and forth to Tucson to visit my parents and siblings every other weekend.
A typical day in my life includes… Running a 5-star character company that provides live princesses, superheroes, and swimming mermaids for birthday parties and events. I recruit, audition, train, and schedule performers to portray our various characters. A typical day is I wake up and get my kids ready for school. After I drop them off, I start planning my social media posts, check emails, and respond to leads. Then I groom the wigs, repair/clean costumes, and the party supplies meant for the upcoming parties. I'm answering phone calls and emails throughout the day and scheduling bookings. Then I travel all over the Phoenix Metroplex (Gilbert to Surprise and everywhere in-between) to meet performers to hand them their costumes before picking my kids up from their after-school care.
I was born… in Tucson, AZ. Yes I'm a true Arizona local.
My favorite thing about Arizona… Our sunsets!!
I'm listening to… the "Oldies" as my teenage performers like to refer to my 90's Pop music. lol
My family… is everything! Our day revolves around Disney and fairytales. My girls love to sing Disney songs at the top of their lungs and pretend-fight like superheroes all day long. My husband and I bend-over-backward to keep the magic alive for them… This innocent and magical stage of their life only lasts for so long!
If I could have dinner with anyone, it would be… My grandmother, Tita, who passed away 2 years ago at 94. She just seemed to have life all figured out. She was the most energetic, engaging, positive, and funny person I knew. My Tita was our family's matriarch and the "passer-downer" of our cultural Mexican traditions. I would love to spend more time with her.
One thing I cannot live without… Sweets! Particularly Blue Bell Ice Cream, Yum!
When I was younger, I wanted to be… a Princess! Duh! I may be too old now to be a stereotypical princess (at least for my company's standards) but I get to live this dream as "Fairy Godmother" to my very own princess and superhero business, thus making other children's dreams come true! Occasionally, I'm able to sneak my way into one of our photoshoots and be a princess for a day… Can you find which princess is me in the photos?
I'm inspired by… Walt Disney. I'm just in awe with his creative imagination and what he's been able to accomplish in his lifetime.
The one person who motivates me is… My children motivate me every day to keep our standards high. If a character is not authentic or engaging enough for my own children, then I won't use them for other people's children as well… Not every performer who applies makes the cut!
If I could change anything in the world, it would be… to bring wonderment, innocence, and goodness to a sometimes hostile and abusive world.
The perfect day would be… first, hiking up one of our many beautiful desert peaks with my mom and daughter right after a spring rain, then reading a good book on the sands of the Amalfi Coast (blissfully alone, sorry kids! lol). After resting I would take my kids to explore a castle in Portugal and we would try to find fairy homes in the lush garden. I would end the day with drinking wine and eating from a gourmet charcuterie board at an Italian vineyard with my husband while watching the sunset.
My first job was… hostess at Sakura, a Teppanyaki Restaurant
My favorite escape… Sunset walks and reading historical romance novels
My life… is a dream! I thank God every day for the blessings He gave me.
I'm currently working on… "Magic Mirror" Virtual Chats with a character to reach children stuck in their home/tower all day like Rapunzel due to Covid-19. Very excited about this offering as we can now reach children from around the world vs. just in Arizona!
Always… be positive and grateful. Life can get us down and sometimes we have to bear big crosses, but our attitudes can mean the difference between living a life full of joy and happiness, or a life full of depression and misery.
Never… Say Never.
Favorite Quote… "Do unto others as you would have them do unto you." -Matthew 7:12
Biggest Dream… My children growing up to live long, productive and fulfilling lives.
My Pet Peeve(s)… Negative-Nancies! We all need to B—- sometimes (excuse my un-princessy language) … but seriously, attitude is everything!