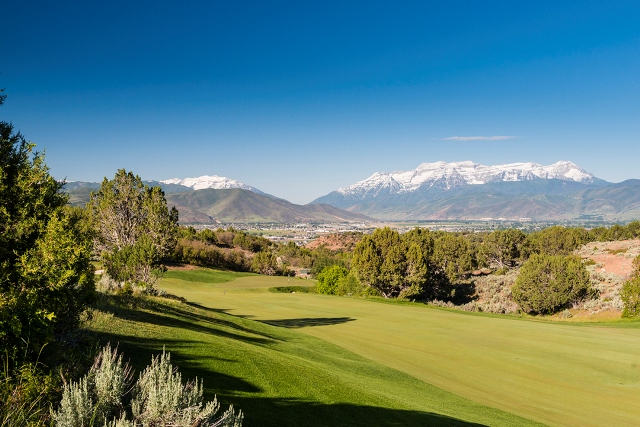 With year-round adventures and a charming small-town feel, Red Ledges is a paradise in Park City for the likes of Fortune 500 CEOs, growing families and everyone in between.
As Arizona settles into triple-digit temperatures, it is impossible not to daydream about the cool temps and mountain air that is awaiting us at Park City's Red Ledges, the ultimate second-home escape that is reachable by a quick hour-and-a-half flight from Phoenix. "At 7,000 feet above sea level, Park City is very temperate in the summer," says Bill Houghton, vice president of sales and marketing. "The Heber Valley and Red Ledges are over a mile up and with the easy direct flights and short drive, you can get to the cool fast. Unlike other mountain destinations, there isn't an arduous trek to get there. "
The Life
Making your second home at Red Ledges means access to best-in-the-world mountain biking, fly fishing, hiking, golf and much more. An outdoor enthusiast's dream, Red Ledges offers equestrian programs for both novices and expert riders, scenic hiking and biking trails via the Wasatch Mountain area and a Jack Nicklaus Signature course that was named "Best New Private Course in America" by Golf Magazine in 2009. 2016 even marked the opening of Nicklaus' first-ever 12-hole Signature Golf Park, allowing members of all ages and abilities to enjoy the green at Red Ledges.
Other fitness pursuits include picking up a racquet at The Cliff Drysdale Tennis School at Red Ledges, the first high-altitude tennis school offered by U.S., and hitting the water at the Swim & Fitness Club.
Once Park City is blanketed in pristine powder, on-site winter activities include dog sledding, cross-country skiing and snow shoeing. Park City is home to the largest ski resort in the world, after all.
Feel like getting away for the day? "You can get to Park City, Deer Valley, Soldier Hollow and Sundance in 20 to 30 minutes, but get away from the crowds when fun time turns to relaxing time," Houghton says.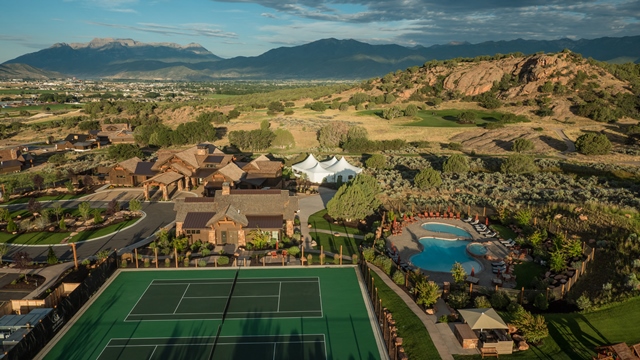 And Living There…
Throughout its 2,000 acres, Red Ledges offers a variety of ways to call the area home, including planned neighborhoods of custom homes, club cabins, luxe cottages, mountain villas and estate homesites. The homes exude a "modern mountain" feel and aesthetic and are designed with the picturesque surrounding nature in mind. And the desirable dwellings, of course, are situated to maximize views of the Wasatch Mountains.
Red Ledges had a record real estate sales year in 2017 (it's 10th anniversary year), and followed that up with a record first quarter. "We've been fortunate to benefit from the popularity of Park City as a second-home destination," says Houghton. "Folks looking for a four-season escape with fun all around have found it here, and the construction activity has never been stronger." Offering a diverse range of homes, cabins, villas and homesites where a dream home can be built, Red Ledges is poised to continue its decade of success as one of the best destination communities in the Rockies.