I personally believe that hiring a trainer or a gym that hosts group classes is the way to go. I think it holds you more accountable and pushes you harder. But, that's just me. Some people prefer to workout alone or at home and that is totally fine! Most people who workout at home don't have as much equipment as a normal gym. If you plan to workout at home forever then you should eventually invest into yourself and your home gym. You probably don't want to break the bank right at the beginning so here are a few tips on how to build and inexpensive home gym.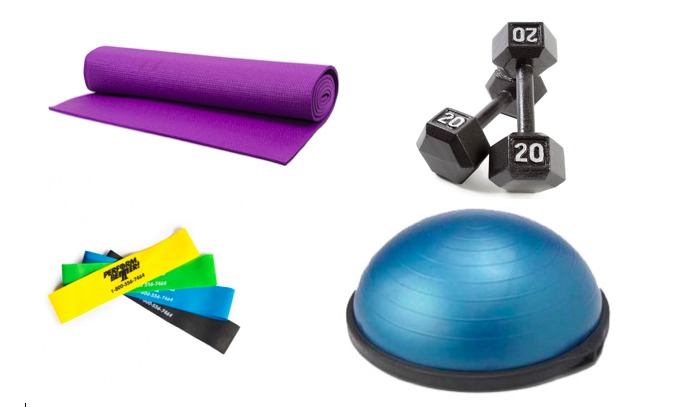 Before buying any equipment, use your body! Your body is one of your best exercise tools. You can take it anywhere and put it to work on the spot. Do some research and find the best body weight exercises that only require a little space.
The first piece of equipment that I would buy is a yoga mat. They are fairly inexpensive and you can purchase them at most stores like target, walmart or dicks sporting goods. Unlike the rest of the equipment that I will reccomend, this wont make your workouts harder. It will make them easier! This will help you with most of the body weight exercises. Especially if you have to workout in your living room or garage.
The next piece of equipment that I would buy is a set of dumbbells. I would purchase one set of light to medium size weights. Eventually you will want to have a whole arsenal of different weights for different types of exercises. You can usually purchase these for about one dollar per pound.
One of my favorite pieces of equipment is the mini band. They are the size of a dollar bill so they wont be taking much space and they are really cheap. You can buy all different resistances levels which can help switch up your workouts.
Last is a bosu ball. This is a little more expensive than the other pieces of equipment so I would save this one for last. Once you are ready to buy it I would look at stores that sell gently used exercise equipment so that it is a little bit cheaper. This is one of my favorite pieces of equipment because you get so much bang for your buck. You can do cardio, strength and balance exercises.
Now run to the store or hop on amazon, start building your home gym and get to work!
Madison Murray is a certified personal trainer, a group fitness instructor, a certified sports and exercise nutrition coach and a certified functional strength coach. For more information head to www.madfitaz.com or check her out on instagram at @mmmadisonmurray