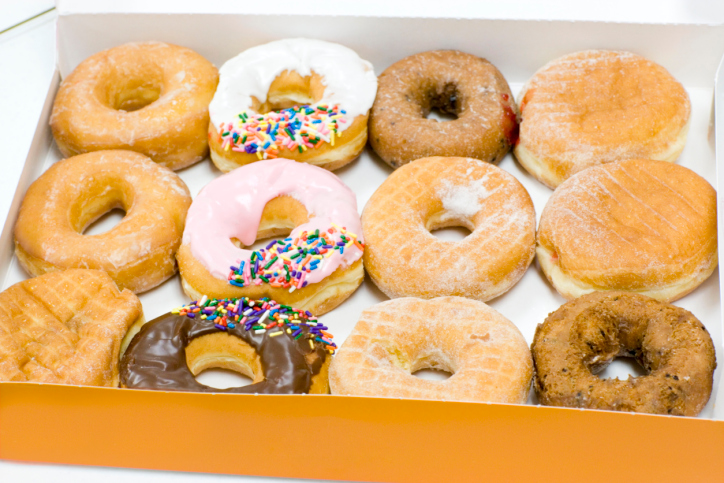 Do you have a Halloween sugar hangover today? Every year I fall victim to the Twix-M&Ms-KitKat temptation and go to bed with a tummy ache. I'm no match for fun size chocolate. But this year I wasn't going to let the tiny treats beat me: I ate a healthy, balanced dinner so I wasn't starving come trick-or-treat time and drank plenty of water so as not confuse dehydration with candy-coated desire. My downfall: My kids' loot, cascades of candy that kept calling my name. I succumbed to the peanut buttery charms of Butterfinger first… and then caved to the Hershey's bar… and finally Snickers. But today I'm back on track and ready to kick my sugar cravings to the curb. Kapow!
To help banish those bonbon urges, I went to Certified Holistic Health Coach Michele Rusinko. Here are her sugar-shirking tips:
What are the best ways to conquer sugar cravings?
Hydrate. Sugar cravings can be a sign of dehydration. Drink plenty of water… you'll also help flush toxins out of your body.
Exercise daily. While exercise increases your energy and reduces stress, it can also help balance blood sugar levels. Aim for 30 minutes of exercise such as walking daily.
Cinnamon as a flavor enhancer. Cinnamon may help reduce blood sugar. It can be sprinkled into your favorite smoothies or used when roasting sweet vegetables such as acorn squash.
Eat seasonal sweet vegetables or fruits. Nothing is sweeter than roasting winter squashes like acorn, butternut or spaghetti. Carrots, beets and apples are also in season and delicious roasted, juiced or put into your favorite smoothie.
High cacao dark chocolate. Replace white or milk chocolate with dark chocolate (it has less sugar). Choosing chocolate containing 70% or higher cacao may contribute to improved cardiovascular health.

Sleep tight. You may crave sweets if you're tired. Aim for 7-8 hours of good quality sleep each night.
To Learn more:
Join Michele for a healthy cooking demo on Wednesday, November 7 at 12:00PM at Whole Foods Market at Raintree & 101. It's free! To reserve your place, please email sprnt.marketing@wholefoods.com