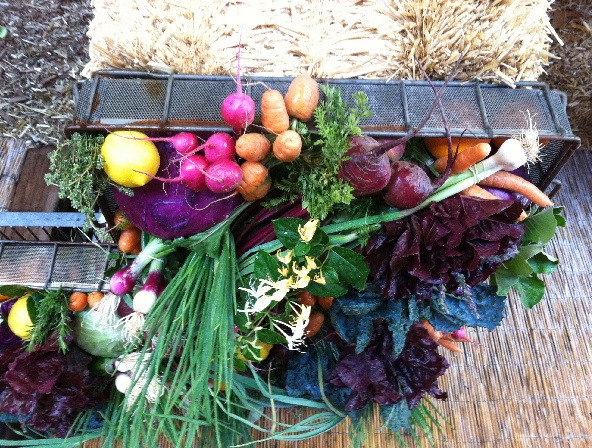 I LOVE winning free stuff – Love it! Love it! Love it! And my bet is you do too. That's why I'm hosting the first ever @AZFoothillsFit twitter contest (Cheers all around!).  And the prize is a goodie: A Winter CSA Membership from Maya's Farm ($300 value).
Now, you may be wondering what the heck is a CSA membership? Well, it's the gift that keeps on giving. Each week, starting January 12-March 30, you get a bag of fresh, naturally grown, hand-picked goodies from Maya's farm, a seven-acre plot nestled up to South Mountain. That's 12 weeks of seasonal produce, eggs, fresh herbs, flowers—they even have cooking classes—all packed and ready to pick up in Maya's trademark burlap bag (you get to keep the bag too!). And there are plenty of pickup sites, from the Phoenix Public Market to Ahwatukee.
As a Maya's CSA member myself, I can tell you this: Getting flowers every week is just the icing on the (healthy) cake. I now eat way more veggies, I've learned to cook up greens in creative ways and I crave arugula (no joke!). Even better, Maya's Farm is now the only small farm certified organic CSA in the valley. See, the best things in life are free!
How To Enter
*Follow me on Twitter @AZFoothillsFit.
*Tweet this message: I just entered to win a winter CSA membership from @MayasFarm, courtesy of @AZFoothillsFit http://ow.ly/g1dGj #FEELTHEBURN

Details
Deadline: December 19, 2012 (don't worry, I'll remind you). The winner will be selected at random on Thursday December 20, 2012. To claim the prize, you'll need to fill out and submit a membership form to Maya's Farm by December 28, 2012. And while you're at it, make Maya's day and join @MayasFarm too!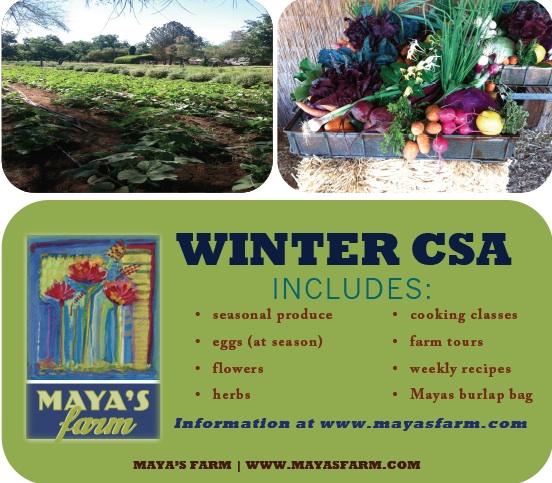 To learn more
Maya's Farm