Confession: I can't have fun-sized chocolate bars within 100 feet of me. I've already eaten 10, and I just bought my Halloween candy yesterday. Yikes! If you can't be trusted around chocolate (like me) or just want to have a healthier Halloween for you and the kiddos, follow these healthy tips from Sarah Jones, Nutrition Counselor for Mountainside Fitness Scottsdale.
Healthier Trick-or-Treating by Sarah Jones
It's that time of year again…Halloween! A holiday that seems to bring out the kid in people of all ages with crazy costumes, pumpkin carving, dress-up parties, trick-or-treating, and, of course, lots of candy. But celebrating Halloween doesn't have to be centered around sugary treats. Here are some tips to keep your Halloween a healthy and less indulgent one:
1. Start the night on a healthy note: focus on making sure you and your kids eat a healthy dinner before the big night out, that way you'll be fueled with nutrient-dense first, so you don't overeat treats later.
2. Try handing out some non-food options: Temporary tattoos, glow in the dark bracelets, festive pencils, erasers or small plastic spiders, skeletons and ghosts – none of these cause cavities!

3. Think outside the candy box: Opt for healthier, non-candy options like 100% fruit leathers, mini water bottles, mini boxes of raisins, trail mix or snack size packs of pretzels and popcorn.
4. Give out candy, just healthier versions: Check out Trader Joe's and Whole Foods Market for healthier options. Look for treats sweetened with 100% cane sugar or rice syrup, not high fructose corn syrup. I love these Yum Earth Organic Pops made with real fruit juice (100% daily vitamin C!).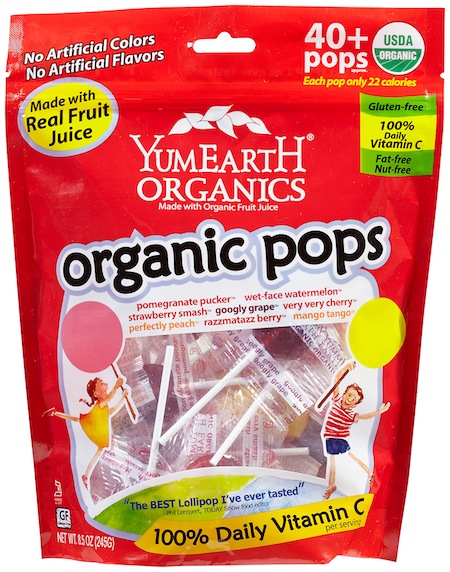 5. Shift the focus away from treats: Throwing a Halloween shindig? Fill the table with alternatives to sugary food items, like mandarin oranges, popcorn, pretzels, animal crackers, carrot sticks with dip, and apples with peanut butter.
6. Make Halloween about activities: Plan games like bobbing for apples, Halloween crafts, making scary masks and costume contests.