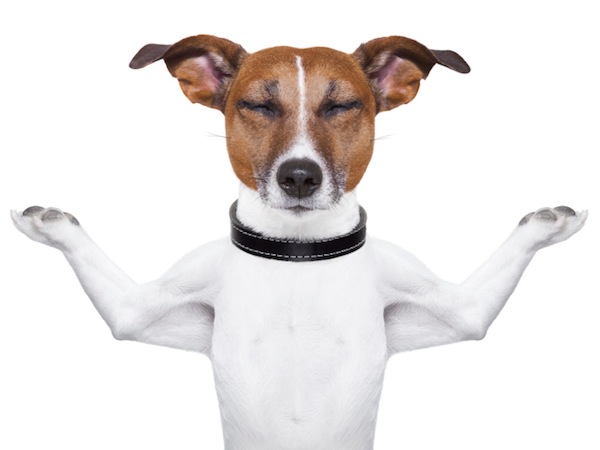 I'm on spring break at Hotel Terra in Jackson Hole with some serious dog lovers. Many of our dinner conversations have turned towards their pets… and they bust out photos just like I show off images of my kiddos. I get it. I grew up with a beagle and will always share that love. Part of loving our pets is looking after them. Yes, taking Fido for a walk or a hike does you both a world of good (studies show that dog-owners walk almost twice as much), but making sure man's best friend gets plenty of exercise is only one piece of the health puzzle. Sound familiar?
To help us keep sparky looking and feeling good, veterinarian and healthy lifestyle blogger Kristi Snyder is here to help. As well as being a veterinarian, Kristi's the proud mother of 2 dogs – so she more than gets it. Here are her top 5 tips to improve your dog's health using natural products you already have at home.
1) Fish oils – We all know the many benefits of omega-3s for our own health, but did you know they're good for your pup too?  Supplementing your pet's diet with omega-3 fatty acids can help promote skin and coat health (which is especially important for dogs who suffer from allergies), as well as improve overall heart health and immune function. Studies have shown that essential fatty acids have indirect anti-inflammatory affects which may also aid in the comfort of pets with arthritis. My general recommendation is 500 mg daily for dogs under 50 pounds (larger dogs may take 1000 mg per day), but be sure to check with your veterinarian for your pet's specific needs.
2) Carrots – Did your pet get a less than stellar report card in the weight department at the last trip to the vet? Try replacing half of his or her daily treats with baby carrots. My dogs absolutely love baby carrots, so much in fact that I can't even snack on carrots at home without them reminding me that it's 'their' treat. Not only do carrots provide a healthy (and tasty!) low-cal treat alternative for dogs who need to lose a few pounds, but the extra crunch is good for their teeth too!
3) Pumpkin – Have a few cans of pumpkin left over from Thanksgiving? Why not share with your pup! Adding a tablespoon or two to meals can keep your furry friend regular while helping to prevent constipation and anal gland issues. The fiber content in pumpkin can also help overweight pets feel more full without adding a ton of calories. If your pet needs to scale back on his or her weight, I usually recommend replacing 1/4 cup of dry food with a tablespoon of pumpkin – just be sure to use natural, canned pumpkin puree and not pumpkin pie filling which contains extra sugar and other unwanted ingredients.
4) Yogurt – Did you know yogurt can provide natural probiotic effects for your pet just like it does for you? A daily serving of yogurt can help maintain the healthy bacteria in your dog's gut. When adding yogurt to your pet's diet, just remember that low fat, plain Greek is best (nothing with added sugar). And there's no need to overdo it – just a dollop will do.
4) Vinegar – We all have a jar of white distilled vinegar hanging around the kitchen somewhere that we pull out occasionally for cleaning and dying Easter eggs, right? A one-part vinegar to four-parts water solution can also make a homemade ear cleanser in a pinch – great for rinsing out your pet's ears after a bath or an unexpected dip in the pool.
To learn more
Kristi blogs about food, fitness and finding a daily balance at Life Sprinkles