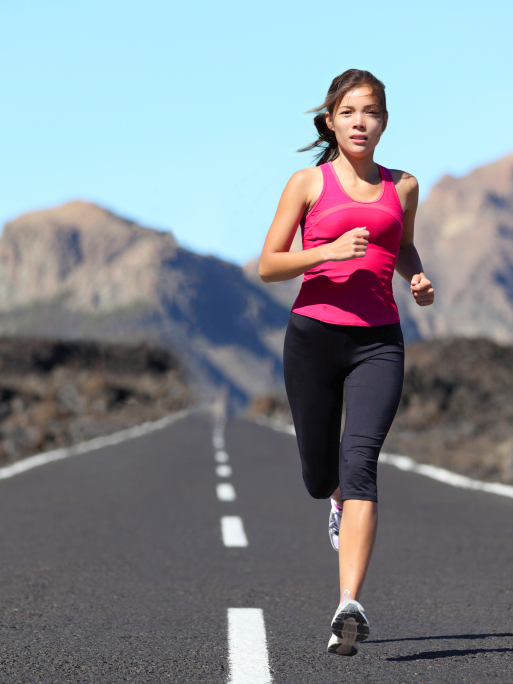 I went running today at 7000 feet. It was my first training run for the PF Chang's, my first time hitting the pavement in 2 years, and my first time ever running in Taos, New Mexico — and it went way better than expected. HAPPY CLAPS!
I had a lot working against me. It was a frigid 25 degrees F, so cold that I could see my breath. I'd had a few cocktails the night before which is never a recipe for running success. And then there was the altitude, a far cry from Phoenix which barely hovers above sea level.  Thankfully, I also had a few things working in my favor, starting with the scenery. The picturesque ski town just had their first snowfall, so not only did I have mountains to gawk at, but snow-topped ones at that. Plus, running on vacation is somehow inherently easier, like standing in lineup at Disneyland versus the bank. I also had a secret weapon up my sleeve. The night before I'd hit up the Oxygen Bar at El Monte Sagrado, my swank wilderness escape. Their Living Spa, an eco-friendly place of pampering, has an O2 bar to aid the elevation challenged, and I'd happily sucked back 30 minutes worth of oxygen.
An oxygen bar works a lot like a booze bar: You take a seat, although mine was more throne-like than bar stool, pick your potion (I chose orange-flavored oxygen) and take long sips (through your nose, not your mouth). Not only is oxygen said to cure altitude sickness and hangovers, but some proponents claim it can increase energy and alertness and even reduce stress. No wonder they pump it through the casinos in Vegas.
Well, I got the same benefits after my 30-minute trot through Taos. After my run I felt more alert, more energized and less stressed. Talk about a mountain high! Can't wait for my next run!
BTW To help keep us all motivated, I'm going to do a once-a-week running post, so keep checking back.
How's your half-marathon training going? Leave a comment and let me know….
To learn more
Click here for all the free run clubs in Phoenix