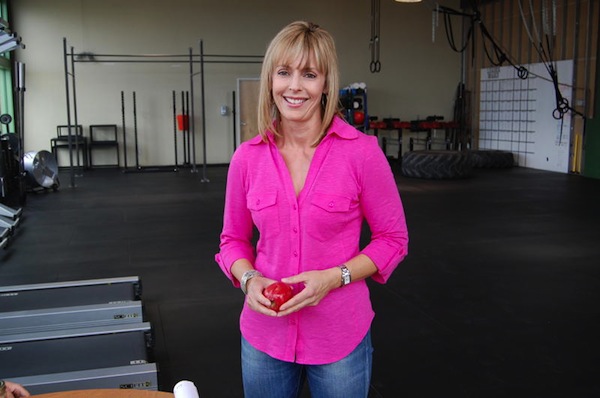 Some people have the key to health and happiness figured out. Kim Flores is one of them. As the owner of CoreCrossFit in downtown Phoenix, she gets to combine her passion for fitness and give back to the community (CoreCrossFit hosts an outreach program for inner-city kids that provides fitness and nutrition coaching). So how does she coach herself? By finding The Livable Zone…
Finding a healthy balance
Making and sustaining lifestyle changes, especially in the areas of fitness and nutrition, can be difficult.  It's even harder when you attempt to make big sweeping changes that take the fun out of eating or physical activity. I believe in a concept we call The Livable Zone. When you exist in The Livable Zone, you engage in healthy eating, but you include feel-good foods that still provide essential vitamins and minerals. Including these foods helps to leave you feeling satisfied and happy, and minimizes cravings.
Like most people, I love to eat breads, nuts and chocolate. Eating them makes me happy. The problem is that I have sensitivity to the gluten in bread, and too many nuts and chocolates contribute to unnecessary weight gain. I've learned to make healthier substitutions. I typically start my day with a slice of brown rice gluten-free bread from Trader Joe's, and load it up with a healthy serving of almond butter with sea salt from Sprouts. I also keep a couple different kinds of dark chocolate in the house. Every evening after the kids are in bed and I start to wind down, I allow myself one or two pieces. These foods taste great and are nutritious. Eating them helps to minimize cravings and, most important, they help me stay in The Livable Zone!
The Livable Zone concept applies to exercise as well. Engaging in physical activities that get you moving is what is truly important. Many people fail to maintain a new fitness program because they include activities that, for them, are not fun. It's hard to make long-term change and reach your goals if your fitness program includes working out in a gym when being in the gym makes you uncomfortable.
A couple of months ago, I was struggling with my workouts and having trouble getting motivated to get into the gym. We'd recently started offering a new program called Core Camp for participants in our Weight Loss Challenge program. It's based on high intensity interval training. I substituted Core Camp classes for my typical training. I'm still active, maintaining my fitness and having fun with my exercise – I am in The Livable Zone!

GIVEAWAY ALERT!
Win a one-month membership at Amenzone Fitness – either at the North Scottsdale location or the new Fountain hills location opening at the end of the month. All you have to do is leave a comment below telling us your healthiest habit. The winner will be selected Monday April 1st and notified by email. Can't wait to hear about your healthy habits!