Hibernation season is officially over, which means its time to recharge our bodies and reboot our taste buds with lighter fare. So why not do some spring-cleaning by going green! Think asparagus, spinach, artichokes, scallions, peas, lettuce, fennel, avocado, leeks and fresh herbs.  Here is what Sarah Jones, the nutrition counselor at the Mountainside Fitness Carefree club, has to say about Healthy Spring Meals.
BREAKFAST: Egg & Spinach Frittata Muffins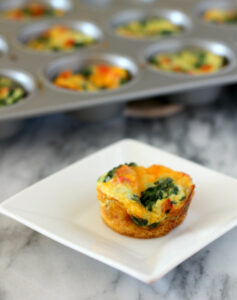 Spinach packs the punch here and is a good source of vitamins A and C, folate, fiber and antioxidants– maybe Popeye was actually on to something? Lately, I've been obsessed with egg frittata muffins– they are high in protein and it's a great way to add veggies at breakfast. Pair these with some fresh berries and you are good to go. Here's a basic recipe where you can add your favorite veggies– if you are lactose intolerant, try subbing the cheese with chopped turkey bacon and/or extra veggies (I also leave out the milk and just use another egg or two): http://www.rachelcooks.com/2013/09/25/mini-frittatas-spinach-red-pepper/.
LUNCH: Steamed Artichoke with Fennel, Citrus & Avocado Salad: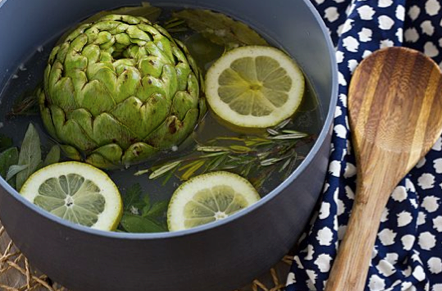 Artichokes are edible thistles that contain a compound called cynarin, which stimulates taste bud receptors and enhances the taste of bland food. They contain small amounts of potassium and vitamin A and are rich in inulin, a prebiotic that promotes the growth of healthy bacteria in your gut.  If you haven't mastered the art of cooking the artichoke yet, start with this simple steamed artichoke recipe: http://www.foodnetwork.com/recipes/tyler-florence/steamed-whole-artichokes-recipe.html.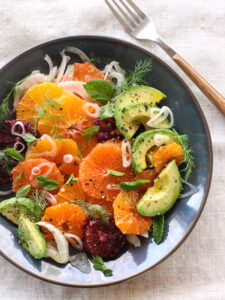 Pair your artichoke with this aromatic fennel salad that's filled with delicate flavors, refreshing mint and a dose of healthy fats (omega-3 fatty acids) from the avocado. Try topping it with some tangy sheep's milk feta cheese– the salt will balance the flavors of the sweet citrus and honey dressing: http://www.foodiecrush.com/2014/03/citrus-fennel-and-avocado-salad/.
DINNER:
Lemony Baked Salmon, Asparagus & Bulgur Wheat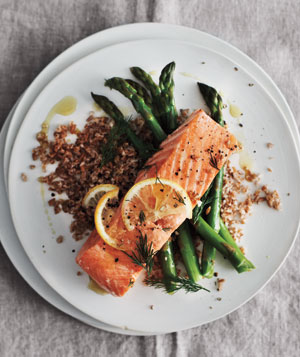 Asparagus highlights this meal, as it's naturally low in calories, rich in antioxidants and high in vitamin K, which helps transport calcium to your bones to keep them strong.  Fun fact: did you know that asparagus plants are available in green, white and purple?! Finish off your spring cleaning day with this one pot dish that's full of nutrients, healthy fats and fiber: http://www.realsimple.com/food-recipes/browse-all-recipes/lemon-baked-salmon-asparagus-bulgur-00000000054253/index.html