Wonderspaces' new immersive art show "Elsewhere" is now open at Scottsdale Fashion Square. The funky attraction challenges guests' perceptions and views of reality through 13 interactive art installations from different artists around the world. The new show follows up the successful debut of its first show in the spring, "Point of View."
"This is a completely new, interactive and moving art experience," said Jason Shin. 'Elsewhere' features scenes from our everyday world, and then tilts them in a way that challenges your perceptions."

Jason Shin, Co-Founder and President, Wonderspaces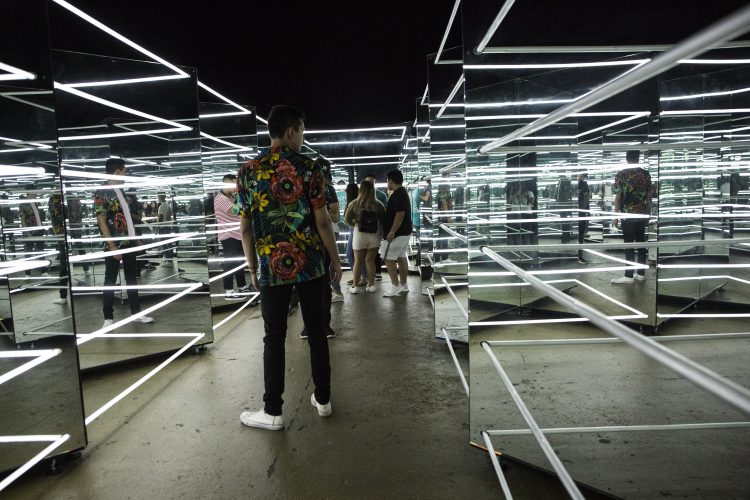 Each installation interacts with individuals sensory perceptions, so each participant's experience is unique. Varying installations include Hoshi, a trippy room of lights, mirrors and sound; Soil, a plane of modular squares for guests to walk on that shifts shape with each step; Old Friend, a quirky VR experience of joyful cartoon characters; Experiment 2.C, a calming viewing experience reminiscent of standing above the clouds; Akousmaflore, musical plants that sound off when its leaves are touched; Confessions, a wall of written confessions that guests can contribute to in secret; The Corridor, a simultaneous loop of four different videos that appear unrelated yet connected; and more.
The popular installation Submergence, from "Point of View," has returned. The mesmerizing room is filled with 8,064 lights that change colors with music.
Wonderspaces usually takes about an hour to complete, however guests may stay as long as they like. A bar near the end invites guests to linger and relax.
Elsewhere will be open through March 2020.
For tickets and more information, visit: arizona.wonderspaces.com