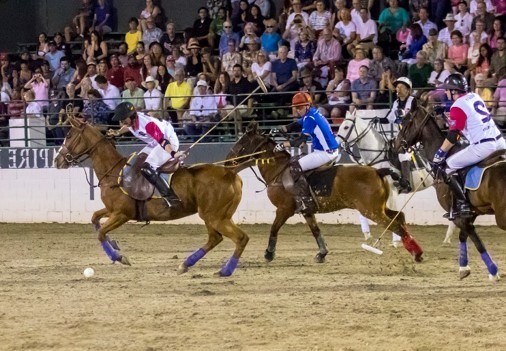 Horses and horsepower unite at WestWorld of Scottsdale. The Townsend Cup, a two-day polo event, will take place January 14-15, at WestWorld's Equidome during the first weekend of 46th Annual Barrett-Jackson Collector Car Auction.
This year, Barrett-Jackson will take place from January 14-22. Founded in 1971, Barrett-Jackson, a leader in collector car auctions and automotive lifestyle events, attracts 350,000 people annually to Scottsdale and routinely sells over $100 million in collector cars.
Organized by the founders of The Bentley Scottsdale Polo Championships, "The World's Greatest Polo Party," The Townsend Cup is adding an exciting new element to "The World's Greatest Collector Car Auctions."
If you want a primer on the rules and regulations of arena polo, look no further! Arena polo, known as "America's polo"—because it originated in the armories of Chicago and New York City—is similar to outdoor polo in concept and in excitement, but the regulations governing the two sports are quite different. Arena polo rules are uniquely American.
In an arena polo competition, three players per team fiercely battle it out in a closed setting on a smaller regulation size field that measures approximately 300 feet in length and 150 feet in width. On the other hand, outdoor polo covers more space with four players per team competing against one another on an expansive field that is 300 yards long and 160 yards wide.
A single arena polo match consists of four chukkers of seven and one-half minutes each, while a single outdoor polo match has six chukkers of seven and one-half minutes each. In an arena event, the boards are four feet in height, confining the playing surface, but in outdoor polo, boards are a mere eleven inches in height. Fans taking in the action will see that the arena polo ball is soft, easier to hit, and looks like a mini soccer ball. The outdoor polo ball is made of plastic and is harder and smaller than an arena polo ball.
In the title match, the best of the best in arena polo will challenge one another. The United States' only 10-goal arena polo player, Tommy Biddle Jr., will lead the U.S. squad and will be joined by American polo superstars Shane Rice and Team USPA member Jared Sheldon. Crossing the pond for the United Kingdom is their own 10-goaler, Chris Hyde, along with two of his best teammates, Max Charlton and Ed Banner-Eve.
The event will also feature the International Intercollegiate Challenge Cup featuring American and British teams as well as a USA vs U.K. military arena polo match.
Saturday, January 14
12:00pm: U.S. Military Arena Polo Team vs United Kingdom Military Polo Team
2:00pm: The Townsend Cup: USA vs England
Sunday, January 15
11:30am: International Intercollegiate Challenge Cup: USA vs Britain
1:30pm: The U.S. Sherman Cup Final
Tickets to Barrett-Jackson provide general admission to the Townsend Cup and other matches. Tickets may be purchased for the individual games Saturday (January 14) and Sunday (January 15) for $20 ($17 in advance). Tickets for VIP seating in the first two rows or in sections mid-arena cost $50.
To purchase tickets, visit: Barrett-Jackson.com