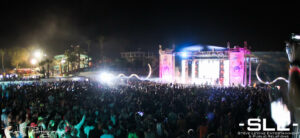 Some are calling Steve LeVine's Sound Wave Music Festival the biggest electronic music extravaganza in Arizona history. The best dance music massive since the Electric Daisy Carnival in Las Vegas this past June. With thousands in attendance, this years Sound Wave was definitely huge, however even with the "all-star" line-up who was lead by no other than superstar DJ Calvin Harris, the fest still left many groups of EDM fans wanting more, asking if the volume could be turned up, and wondering why Felix Cartel seemed more interested in running his hands through his hair then dropping the epic set everyone was hoping he would play. It's not a bad thing by any means. What it does mean though… is next time… We go bigger. 
Last year, Kaskade rocked the souls of everyone in attendance at the 2011 Sound Wave. So naturally, dance music fans attended this year's Sound Wave with lofty expectations. But even as electronic dance music festival king Pasquale Rotella of Insomniac knows, there's absolutely no possible way to make everyone happy. No way at all. Not even a little bit. However, having 3 solid hours of dubstep/hardstyle playing on both main stage and the Redbull Thre3style stage was shocking, and left a large number of fest goers trying to find a way out.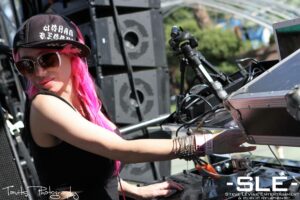 Let me make something clear. I like dubstep and hardstyle. And the younger generation of electronic music lovers are obsessed with it, and that makes me happy. However, as I walked around the venue with my friends who all happen to be EDM festival pro's and dance music extremest, one thing was clear, there was entirely way too much dubstep, and we had no where to go.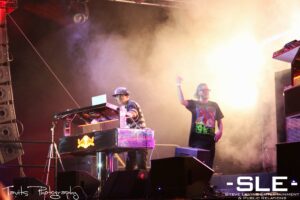 Identity Festival, the last EDM massive in AZ which was thrown in August by corporate monster Live Nation, at the Ashley Homestore Pavilion in Phoenix, was on a much larger scale, making it incomparable to Sound Wave. Obviously people naturally want to compare the two, but you can't. The line-up consisted of some of the best DJs in the world such as, Adrian Lux, Showtek, Bingo Players, Arty, Excision, Paul van Dyk, and Eric Prydz. Was there a lack of diversity? No way. Oh ya… And if you wanted to listen to dubstep or hard style, there was a stage for that.
There were four mind blowing sets of the evening; local DJ and Axis Radius resident DJ Soloman, British DJ/producer Burns,  Z-Trip, and of course the superstar himself Calvin Harris.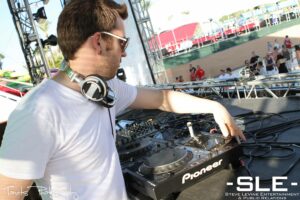 Although his computer was nowhere insight, DJ Soloman rocked it out beautifully as always. With his amazing ability to mix house, progressive and tech house smoothly and effortlessly together, he had everyone in place dancing. Unfortunately, he played too early and therefore to an almost empty crowd.
Burns who was hand picked by Deadmau5 to open on his last 30 date American tour, kept the energy alive while people started to slowly fill into Waikiki Beach (the Big Surf wave pool, which is emptied each year for Sound Wave). With his awesome glasses and amazing ability to read the crowd, Burns who's set time was from 5:30PM-6:30PM sadly played to an almost empty crowd as well. For those of you that missed it… Hopefully he will post it to his SoundCloud.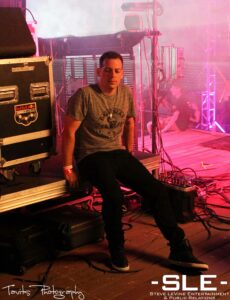 Former local DJ and mashup king, Z-Trip (aka Zach Sciacca), who headlined the Red Bull Thre3style stage, as usual didn't disappoint and reminded everyone why he's amazing. Definitely happy to be back in his home state, Z-Trip took control of the crowd in the first 20 seconds of his set and with a smile on his face, and kept the mind blowing tracks coming. Just when you thought he couldn't get any more awesome, he introduced special guest, onetime member of Blackstar, rapper Talib Kweli, who began performing some of his most well known tracks, such as "Gutter Rainbows", while Z-Trip did his thing. It was sick, epic, and unbeatably the highlight of the night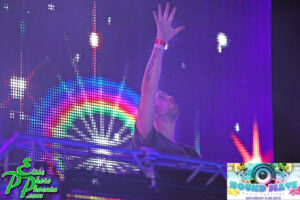 And then there was Calvin Harris (aka Adam Wiles)…..Harris, who's a claims to be anti-social due to spending months and months in the studio at a young age, is strangely enough the latest EDM artist to jump on the "Superstar DJ Bandwagon". You want to hate him for it, but you can't because he really IS a pretty awesome DJ. With his heavy vocal tracks, and ability to always play something unique and fun, Calvin definitely knows how to throw a good party, and Sound Wave was no exception. With the lasers, out of this world visuals, and everyone (seriously everyone) in the park singing along to his most admired tracks, like "Bounce" and "Feel So Close", I seriously hope someone was able to give him a high five when he exited the stage, because he owned the crowd.  
Besides the volume not being loud enough, Dubstep being played for 3 hours straight, having to wait 30 min or longer to get a drink (which was horrific given we were asked to listen to Dubstep for such an extremely long period of time, and was by no means the fault of the bartenders), underage children running around acting like their parents had never let them out of the house before (it was an all ages event by the way), I do have to say it's not very often that you see security guards dancing along with the crowd, and not because they know the track or the DJ. The security guards were dancing because the DJ was dropping an epic set with a sick beat. I know… Because I asked them.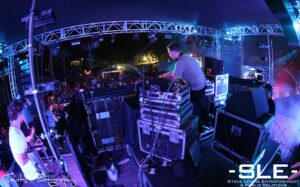 Towards the end of the night, I decided to use my media credentials and go into the "media pit". As a DJ publicist and EDM writer, it's always a little strange for me to go into the pit, mostly due to the fact that I'm not a photographer, but I wanted a closer look at what was going on. The security guard who was blocking/checking credentials and granting access to the pit was on of the guys I had seen dancing. So I asked him… "Are you a fan? It's not very often you see security dancing and enjoying themselves on the job". He replied with "No, but I am now! I love the beat!", and then danced as he moved away to let me through. As I walked away from him and into the pit, I started to smile. This all occurred during Z-Trip's set. And that's awesome.
So maybe after all, with putting all the"dance music politics" aside, we ARE in fact making some progress in our quest to educate the Arizona EDM scene on good music…. Only time will tell. But one thing is certain, we can only go up from here.