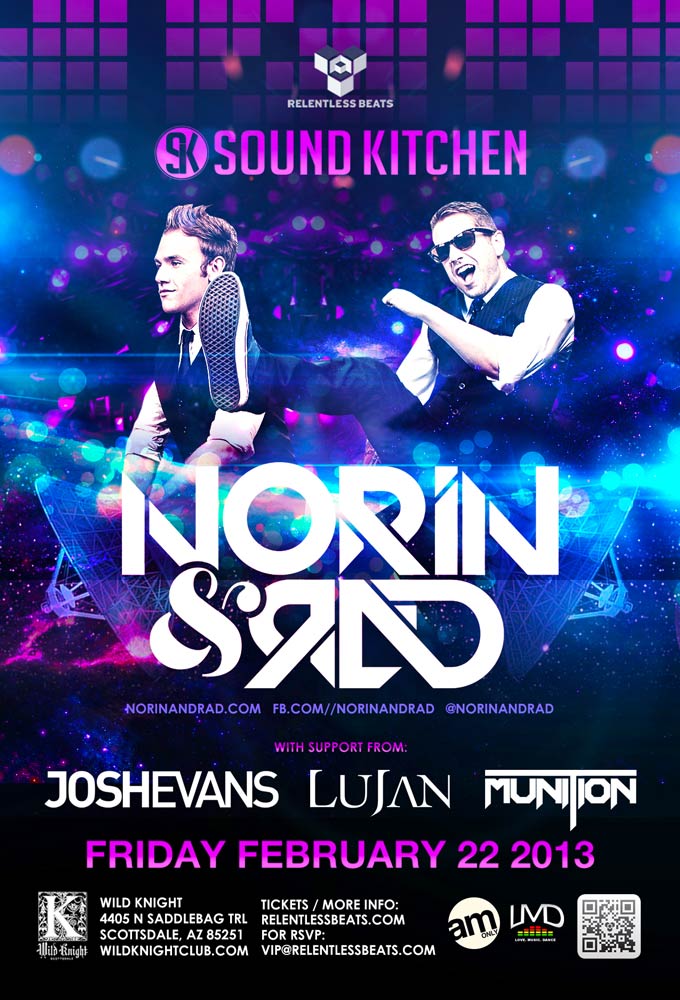 Relentless Beats presents Sound Kitchen featuring Norin & Rad at Wild Knight in Old Town Scottsdale on Friday, February 22, 2013 with local support from Josh Evans, Lujan, and Munition.
When Bruce and Nick met in 2007 they found a mutual interest in Electronic Dance Music and how it was made. After talking and learning each others backgrounds it seemed obvious a collaboration was in order. Shortly after, Norin & Rad was created. Bruce started learning music production programs shortly after graduating high school. He quickly caught on; creating his own techniques along the way that have helped identify Norin & Rad's sound. Nick's musical interest began when he learned how to play guitar among other instruments from his father. He bought his first set of vinyl turntables in high school where he started mixing hip hop, but easily progressed to dance music when he met Bruce.
Norin & Rad have remixed some of the top names in trance such as Above & Beyond, Andy Moor, Armin Van Buuren and more. Taking every project to new heights, Norin & Rad are setting the curve for the music industry. They've just started working on their debut artist album and one thing's for sure: fans are in for a surprise. Touching every realm of EDM they can, and even outside genres, the album will be sure to create a stepping stone to a new sound completely.
Tickets are currently $10.
Purchase your tickets here.
http://www.norinandrad.com
http://www.twitter.com/norinandrad
http://www.facebook.com/norinandrad