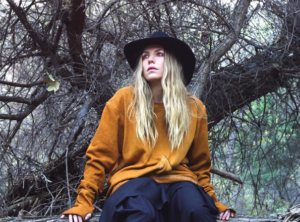 Skylar Grey might be most recognized for her Grammy nominated song "Love the Way You Lie" which she co-wrote with Rihanna and Eminem, but she's officially added rapper to her list of talents in her upcoming album, "Natural Causes". The album is due out on September 23rd and Skylar will embark on a 12 city tour in response to many loyal and long awaiting fans. Check out her single Come Up For Air here. We spoke about the new album and the creation process:
BW: You mentioned this album is the first that captures your essence and feels more like a debut, can you elaborate?
SG: Well, I come from a very eclectic musical background so it's made it difficult for me to choose just one genre, I love pushing boundaries, but I also knew I had to think about marketing and wanted to find a sound that was unique to me. Even though the songs are eclectic, there is a mood that runs throughout the album. "Picture Perfect" is my personal favorite song; there's a hip hop vibe, drums, a Bon Iver sound with vocal layering: It feels the most like what I've been trying to accomplish.
BW: I know your dream collaboration would be with Kendrick Lamar. What do you envision that would look like?
SG: I think there would be a lot of chord changes and harmony on my part, it would be moody and have a darker side and be very unique. I would love for that to happen one day.
BW: You rapped for the first time on this album in Lemonade. Knowing that you sent your initial raps to Eminem for feedback, were you nervous or totally open to potential criticism?
SG: (Without hesitation) YES! I was nervous, but I also knew there was no one better to send my work to in order to receive honest feedback. I knew if he listened and told me I was off, I'd at least trust his opinion. He was very encouraging and gave me a lot of confidence in my raps, so it helped me to keep working at it. I love to write rap, I like the word play of it and how much you can say. I'm glad that even though it was scary, I discovered that side of myself because otherwise I would have never known I was capable of it.
BW: Do you feel that song writing is a sense of emotional therapy for you?
SG: Absolutely. I feel like my songs are me psychoanalyzing my emotions and putting them down on paper. It's like my narration of fighting all of my internal demons. I think everyone's an animal in some way; I'm a deer, so there's this imagery in the songs. Writing has a way of releasing all my thoughts and feelings in a way that people use therapists. I have to write mine down in order to sort them out.
BW: Does that leave you feeling vulnerable to people's opinions of your work knowing that those are your innermost emotions out in the world?
SG: Not at all, judgement doesn't affect me. I think growing up has taught me to not care what other people think. If they don't like it, F them (laughs). Song writing helped me with that process in learning not to care. I want to be in a place of taking action of constantly bettering myself and being happy, being present. Living in the mountains in Utah helps with that. Nature sort of forces you to be present. I can wake up and have something negative going on, but look out at the beautiful mountains, or be near my dog Scout, and instantly I'm in a better place. I've also learned that success is different now. Performing at the Grammy awards was such a high, but the next week it was all over, that type of success is fleeting. I prefer to be present now; you never know what the future is.
BW: What are you most looking forward to on this tour?
SG: I'm really excited to see if the fans sing along with me on these new songs. I played them live on my last tour, but the album wasn't out so they were brand new and no one knew the words. Now that the album is out, I can't wait to hear them sing with me.
BW: When not on tour or writing, what can we find you doing?
SG: I love to watch movies, I'm obsessed with my dog, and I'm always doing something creative. Right now I'm working on a little book of illustrations to go along with the songs from the album, so I do a lot of drawing at night. I'm also writing a screenplay and creating a fashion line: "Woodrat". I love to be comfortable and I live in the mountains, but want to wear something that translates for hip-hop, so it's a unisex line that can be both on trend and comfortable. I don't have a ton of time for it right now with this tour and new album, but I'm always adding pieces and ideas to the collection.
Skylar Grey will be performing on September 28th, 2016 in Phoenix, AZ at Crescent Ballroom. Purchase tickets here on ticketfly.
Pre-order "Natural Causes" now. Out 9/23.
iTunes: http://smarturl.it/NC_SkylarGrey
Google Play: http://smarturl.it/NC_SkylarGrey.gp