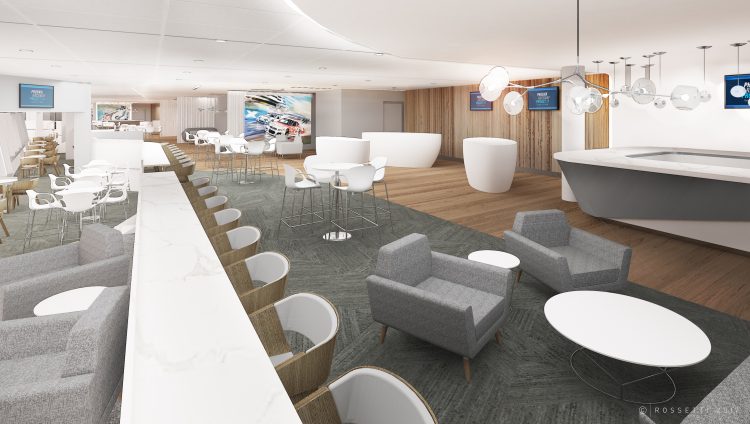 You may not associate NASCAR racing with sophisticated lounges, upscale cuisine and modern amenities that will make you swoon, but Phoenix Raceway (soon to be ISM Raceway) is changing that with its recent unveiling of its luxury suite experience Curve.
The unique fan hospitality club is perched six stories above the track and is loaded with a designer interior with lounge-style plush seating and a breathtaking 200-ft. long panoramic view of the entire one-mile oval with the Estrella Mountains in the background. Not only can guests cheer on their favorite driver in comfort, but an exclusive menu will offer unique beverage creations from mixologists and chef-inspired food. Think delicious southwest items like beef chimichurri, chicken posole salad, potato poblano corn gratin, Gila monster nachos and more, all from Chef Bobby and Chef Sam from Levy Restaurants, world-renowned leaders in sporting cuisine. A Chef's Table will also be available with irresistible eats like Agave-glazed chicken, carnitas street tacos and more.
"Curve will set a whole new standard of luxury for sports venues," said Phoenix Raceway President Bryan R. Sperber. "Our guests will be treated to an incredible atmosphere, an unparalleled view and a delicious array of enticing food and beverage selections."
The new Curve suite is the first element available to fans as part of the Phoenix Raceway Project Powered by DC Solar, a modernization project that will transform the raceway into a more fan-centered experience with new amenities including new grandstands, a new infield and fan zone, a reconfigured DC Solar Power Pavilion, technology upgrades and more.
Curve is on sale for the March 2018 NASCAR weekend as well as the April 2018 INDYCAR event.
For more information, visit: phoenixraceway.com