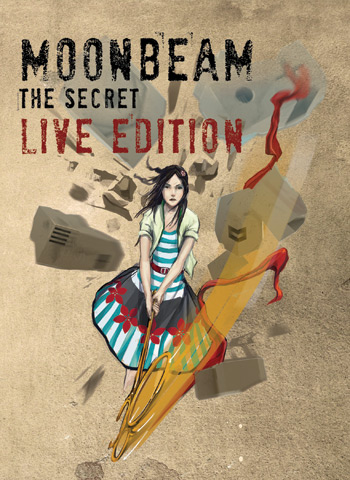 Two brothers driven by one united sound vision, such is the origin of Russia's illustrious Moonbeam. Powered by their industrious production ethic, Pavel & Vitaly Khvaleev's unique diversion of trance has found them swiftly in favour with EDM's DJ glitterati. Underlining their inimitable spin on the sound, their studio ware is as regularly supported by the likes of van Buuren, van Dyk, Schulz and Corsten, as it is Axwell, Tiësto and Digweed. Having created floor uproar through 100s of DJ sets and live Moonbeam shows, they've soundtracked hundreds of thousands of EDM nights for clubbers around the world. In 2009, through a combined force of productions & performances, they entered DJ Magazine's annual list of the world's best DJs. There they have remained for the last four years, most recently re-entering the Top 100 in 2012. With 3 official full-length artist albums already marking waypoints in their career, early 2013 will herald their fourth long-player – the widely anticipated OST 'The Random'.
AFM: Growing up who was the greatest musical influence for each of you?  Did you both like electronic music in your youth?  Can you give us some insight to how Moonbeam was formed and or what the catalyst was for teaming up musically?
We were influenced by Daft Punk, Bjork and by many others. And yes, we both fall in love with electronic music and realized that EDM will be part of our live. After some time we start working on Russian radio stations, produce tracks on amateur level under other aliases. And only in 2003 we launched Moonbeam.
 AFM: What's in store for Moonbeam in 2013?  Are there any specific goals Moonbeam would like to achieve in the future?
It's a big tour with our new album which has already begun, and in some cities it will be in format of big live concerts, with several vocalists. Also, we have already made a few new singles; also we will release a few new music videos, and of course getting ready to release the film The Random.
AFM: Can you tell us a little bit about the creative process when working with a vocalist?  Any vocalists you would like to work with in the future?
Nothing difficult here. First of all, our vocalists record a vocal part in his studio. Then they send us a demo and we working on a new track, trying to use this vocals as much as it possible.
Yes, it will be perfect to work with Lana Del Rey, Bjork and 30 Seconds To Mars.
AFM: The Random is your first original film score and fourth album: a huge accomplishment!  Can you tell us a little bit about the origins of this project and the approach you took making music for it?
For the first time, we release 2CDs edition. CD#1 includes soundtracks for our "The Random" movie. As always, we were trying to experiment and find something new in electronic music. We worked with many artists from around the world, including Andrea Roma, Jacob A, A*S*Y*S and others. This allowed us to use virtually all styles of music in the album. Since we set ourselves a task to dive into the creative process and to transmit mood of each track, as the result of it we got a very deep, but at the same time relevant and interesting "music book", consisting of two volumes. "The Random" has a cinematic approach. But, only those who will watch our film can fully understand it. First of all, it's a soundtrack, so it's necessary to listen it as soundtrack directly in "The Random" movie.
AFM: I've read that you both create all the artwork for your music and even direct and write your own music videos!  Is their one brother that prefers the visual side of your art or is it an equal endeavor?  And conversely, when you begin to create music do you see imagery attached to your beats? Or do you create artwork for your tracks and albums when they are a finished project?
It's question for Pavel, because he is engaged in this process. As you said, we are working on our videos from scenario to youtube uploading. And Pavel do this all. And usually, all artworks and music video makes after music is done.
AFM: Any up and coming Russian producers that have caught your attention recently?
Now there are a lot of Russian artists which becoming more and more popular from day to day. We can pick out a few names which have really unique features. For example ARCHNGL. Their style of music is difficult to attribute to the dance, but the depth and incredible vocals is mesmerizing. We can also mark Matvey Emerson, Blackfeel Wite, J-soul, Loolacoma, Eximinds …
AFM: It is very admirable that both you are involved with every single step of the creative process with your music, artwork and videos – any advice you would give to aspiring artists?
Be original. It's the most important thing.
AFM: What are a few tracks that have been on repeat for you both?
Jamie Woon "Night Air", The XX "Angels", James Blake "Limit To Your Love"
AFM: Can we expect a visit from you in America in the future?
Probably this autumn 🙂
AFM:  Any last words for your fans?
Be the best in everything and may the force be with you 🙂
Moonbeam The DJs: Emanating from the major east Russian metropolis of Nizhny Novgorod, as both DJs and a live act, Pavel and Vitaly have built up a formidable reputation. Their entrancing stage performances have resulted in a committed bedrock fanbase in their home country. To date they have smashed many a mainline event, tent-pole festival and iconic club. In 2010 they supported Tiësto on his tour of the Ukraine and last year rocked the goliath Kazantip festival. As their music's begun to proliferate worldwide, demand to see the brothers themselves perform abroad intensified. They've subsequently played countries as contrasting as China and France, Japan, the Czech Republic and South Korea.
The Music: much has been made of Moonbeam's singular take on dance music. At once harmonic and heartfelt, it is also effecting, consciously filmic and emotively poignant. A direct by-product of their shared musical influences (Röyksopp, Radiohead, Massive Attack and Björk are among regularly cited Moonbeam stimuli), it notably stands apart from the rest of post-millennial trance.
"Music that has no limits, no borders. This inspires us to make experiments with our own music", says Pavel. Tracks like 'See The Difference Inside', 'Cocoon', '7 Seconds' and 'Eclipse', as well as remix work like their rewire of Rachael Starr's 'To Forever'put their career into orbit. More recently tracks like 'Daydream' and 'I Love Your Face' have found favour with the dance press. Rating 'Daydream' a rare 9.5 out of 10, DJ Mag hailed it was "intoxicating" and "incredible". 'I Love Your Face' meanwhile was a Single of the Month in the magazine, with a floor effect that was "little short of atomic".
Equal in impact have been their artist albums: 2008's 'Consumption' (Soundz Recordings), 'Around The World' (through Black Hole in 2010) and 2011's 'The Secret' (Moonbeam Digital). Without doubt Russia's most prodigious electronic dance music export, Moonbeam's music has been brought to dancefloors through a host of world-class imprints over the course of the last decade. Black Hole, Armada Music, Ultra, Coldharbour, Kickin', Spinnin', High Contrast and the esteemed German label, Traum Schallplatten have all seen releases of the brother's music.
In 2012 Pavel and Vitaly passed their 200th Moonbeam production milestone. In November of 2012 they released 'You Win Me', which featured the vocals of Aelyn. The track was the first to be taken from their forthcoming album 'The Random' and was also the landmark 500th release on Black Hole Recordings.
The Moonbeam Film Studio: Moonbeam are every bit as much dedicates of vision as they are sound, regularly synergizing the two. The video production and graphics studio of their creative organization has thus far produced 30 of the group's music videos, as well as others for acts like A*S*Y*S* and Sol Noir. Their bespoke visuals are now acknowledged as being a major contributing factor to their on-stage appeal – all part of the Moonbeam experience.
2013's 'The Random' represents the studio's first feature length film, with an original soundtrack written, composed and performed by Moonbeam.
Moonbeam Digital: Exhibiting their go-getting musical approach, the Khvaleev brothers established the Moonbeam Digital label in 2005. This formed a platform through which they could take full creative control of their highly original music output. Subsequently it also offered an outlet for other talented and likeminded producers. Thus far this has generated many a key release in their own career and that of others. Included among them are 'Hate Is The Killer' (which was remixed by fellow Russian EDM emissary Arty), regular vocal muse Avis Vox's, 'Doors Opened Inside', Matvey Emerson's debut album, and Moonbeam feat Blackfeel Wite's own 'Your Wind Is In My Hands'.
The Moon Magic Agency: in order to further the cause of those artists, in 2012 Moonbeam opened the Moon Magic. A management and bookings agency for their regular vocal collaborators (inc. Blackfeel Wite, Matvey Emerson), other artists recently signed include Russians on the rise, Eximinds and Ruslan Nigmatullin.
 Connect With Moonbeam