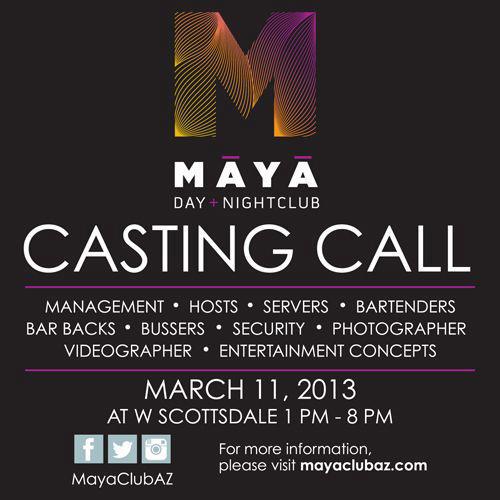 The new Maya Day and Nightclub, located in Old Town Scottsdale, will be hosting a casting call for all positions on March, 11th from 1 PM to 8 PM at W Scottsdale located at 7277 East Camelback Road.
Maya Day and Nightclub is scheduled to open in April and will be casting for, bar backs, bartenders, bussers, hosts, management, photographers, security, servers, videographers and other entertainment concepts such as bands, dancers and DJs. All applicants are required to apply in-person and bring a resume to the audition. Potential hires must be 19 years or older to audition.
Maya is a high-end, indoor-outdoor beach club that will offer guests entertainment, music and food. Maya will feature a 17,600 square foot pool, a taco bar, daybeds and lounges, VIP cabanas and more to give guests the ultimate resort-style experience. At night the venue will turn into a high-energy nightclub with state-of-the-art sound, lighting, Arizona's largest LED video screens and a floating stage overlooking the pool for live entertainment. The venue plans to bring some of the world's top DJ's to play both day and night parties.
For more information on Maya Day and Nightclub, please visit www.MayaClubAz.com
Keep up-to-date with Maya Day and Nightclub by following the latest news on facebook.com/MayaClubAz or twitter.com/MayaClubAz.
For VIP table reservations, please call 602.810.0736 or contact VIP@MayaClubAz.com