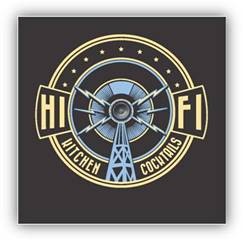 Old Town Scottsdale's world-class nightlife and entertainment district is preparing to welcome its newest destination, Hi-Fi Kitchen & Cocktails, on Wednesday, March 27, 2013.  Located on the Northeast corner of the Triyar-developed Scottsdale Beach Club complex, Hi-Fi Kitchen & Cocktails (4420 N. Saddlebag Trail #110, Scottsdale, AZ 85251) is the creation of Nightlife impresarios Les Corieri, Diane Corieri and Dean Slover, whose development company Evening Entertainment Group also owns and operates The Mint Ultralounge & Restaurant, RnR Gastropub, Axis/Radius and Sandbar Mexican Grill. Hi-Fi Kitchen & Cocktails will be a part of the Maya Day & Night Club in Old Town Scottsdale, make sure you get your tickets to the Club's grand opening and Best of Our Valley Finale Party taking place April 25th! Tickets are selling quickly so you need to get them now!
As the name might suggest, Hi-Fi is a music-centric, retro haunt with a full menu served late into the night, and a cocktail menu to match.  Housed inside a ground-up new build with stone, steel and concrete bones, Hi-Fi will be a fully indoor/outdoor space lined with garage doors overlooking Indian Plaza and Saddlebag Trail, with a square island bar, an elevated lounge-style seating area, plus two community tables, outdoor hightops and resort-style lounge furniture.
Two centerpiece design features will dominate the visuals, but they won't disappoint.  A vintage speaker wall has been erected with wood framed speakers and throwback black and white televisions, giving way to the showstopper – a $100,000 digital graffiti wall that will show an ever evolving array of 3D images that will morph the mood throughout the night.  During the day, the wall will feature three 15' projector screens showing traditional sports as well as high dollar boxing and UFC matches.  For heavy sports days, not to worry – Hi-Fi also has 35 additional HDTV's to keep your fandom well-fed.

After your sensory overload has been quelled, guests can settle into a menu of salads ($9-$11), sandwiches & burgers ($11-$14), and a trove of small plates ($5-$10) designed for the late night diner.
"With a retro concept like HiFi, I wanted the menu to reflect that era of food. I wanted to take the cuisine back to a time when it was about the taste," states Chef Matt Carvalho. "I achieved this on our menu by using simple ingredients that result in pure flavors for each dish".  Sandwiches include a classic Reuben on pretzel bread, a timeless Cuban sandwich and four different burgers including the signature Brussels Sprout burger.  The small plates steal the show featuring traditional meatballs, served as sliders or in a sizzling skillet.  What's more, HiFi will have over 10 types of custom ice cream milkshakes, each available in "adult" form with a boozy component like the "What's a S'more?" with Bacardi 151, graham cracker and a flaming marshmallow.
Hi-Fi Kitchen & Cocktails opens March 27th and offers hours of Monday – Friday, 4pm – 2am, and Saturday and Sunday from 11am – 2am.  For more information, visit www.hifiscottsdale.com or call 480-970-5000.