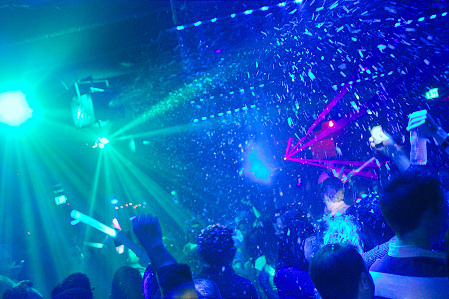 Electronic Dance Music (EDM) has taken hold in the American dance music scene, bumping it from the underground's fringes to its place in the mainstream sun.
EDM's unofficial central command post is none other than Sin City itself, Las Vegas. No stranger to cutting-edge music, Vegas is home to the Electric Daisy Carnival and a storm of superstar disc jockey club residencies. The genre also gets a boon from casino and nightclub bigwigs who book an international crop of DJs into their venues think Los Angeles' Steve Aoki, David Guetta of France and Dutch mega DJs Tiesto and Afrojack. Steve Wynn, owner of Wynn Resorts, recently locked down residencies from some of the world's most famous EDM DJs, including hard-hitters like Skrillex and Deadmau5.
To further witness electro's grasp on the current state of entertainment, turn on the TV or radio. Commercials hawking everything from toothpaste to car insurance feature female vocals over fun, new wave-y, electro-pop beats. Skrillex and the dubstep invasion got a nod in a recent episode of Family Guy. Flo Rida is sampling Avicii, Rihanna is collaborating with Calvin Harris and Aoki is making hits with everyone from Lil Jon to Weezer and Duran Duran. EDM is everywhere.
Even Web businesses are taking advantage of the re-emerging rave culture, including consumer storefronts peddling ravewear and streaming radio and download sites such as Nu-Rave. There's an all-out incorporation of Electronic Dance Music into the mainstream.
From Daft Punk to Aqua: A Techno Trip Down Memory Lane
Anybody remember when Daft Punk's string of sonorous, French-filtered singles of the late 1990s poured out of club speakers? At first, everyone was robot-singing Around The World and getting their bubblegum on to Aqua's Barbie Girl. The phase lasted long enough to send ripples of electro-pop several miles ahead into the mainstream music ocean, but then the Euro house thing settled down and station directors resorted back to playlists filled with Christina Aguilera and Sugar Ray.
Soon enough, another dance hiccup was felt: Eiffel 65's Blue threatened to bring back the previous energy, but with a subtle Italian twist. People started to recognize this new Euro-U.S. electro-pop thing slowly bubbling up from the underground, but unfortunately, the sensation produced mostly one-hit wonders. Crossover artists couldn't quite hold the electronica torch long enough to hand it off to underground DJs and producers, and it seemed the world wasn't quite ready for Top 40 to spin into all-out dance.
The EDM-Fueled Economy
Flash-forward to 2012: The music industry's empire expands through Internet exposure and explodes with a new wave of music festivals and new opportunities in TV, film and lifestyle branding. New software and production tools have phased out the need for multi-million-dollar album production, making way for bedroom electronica and laptop beats.
At the same time, social networking and its marketing tools have enabled international dance artists to spread their fan base across oceans without leaving their homes, and EDM gained a foothold.
Tiesto Rocks Vegas, Forbes List; Electric Daisy Carnival Pops Off
Las Vegas as EDM's capital was realized when Electric Daisy Carnival (EDC) made the city its home in 2011 and again in 2012. The country's largest electronic music festival boasted a colorful lineup including Kaskade, Guetta, Calvin Harris, Dirty South, Angello, Ingrosso and Carl Cox, along with a slew of other once-underground DJs. More than 100,000 people attended, cementing EDM as a major cultural player.
These DJs aren't making chump change, either. CNN reported that the world-renowned and charismatic DJ Tiesto pulled in $23 million in 2011, putting him on the Forbes 2012 list of most powerful celebrities. Tiesto, who's held residencies in Vegas' The Joint and XS, has an estimated net worth of $65 million, according to CelebrityNetworth.com. Another Vegas regular, the crowd-pleasing Deadmau5, is rumored to have made $100,000 in one night after his six-hour DJ set at XS, according to Discotreats.com.
U.S. Finally Catches On, Europe Sighs
The "umpt-sss-umpt-sss" noises your friends used to make aren't just references to Geico commercials or the Blue Man Group anymore. The technotronic style has become an international norm on radio and at festivals and nightclubs. Europe slowly applauded as the U.S. caught on.
Of course, throughout the early-mid 2000s, many artists from Outkast to Justin Timberlake began injecting disco, drum and bass and tech-house styles into their hit singles. However, the real bar just may have been set when Swedish producer RedOne had the idea to get a rising but label-dropped artist named Lady Gaga to croon over German industrial synths and slamming drum machines. Neither Red nor Gaga could have predicted the wild response and pop sensation that followed.
Now, airwaves, clubs and festivals are freely flowing with the European dance sound.
Reaching Into the Underground for Platinum
More and more now, the major labels and big-time producers are seeking and recruiting obscure electronica acts to add a unique color and style to the album-creation process. According to Gigwise.com, the sixth studio album by Kelis will feature a collaboration with British dubstep producer Skream. "I just had a record for Kelis, a UK garage record. It's getting a UK release so I guess it'll get an American release," Skream told's gigwise's David Renshaw.
The techno takeover has arrived, and Las Vegas is its main ally. It's no longer about EDM producers and DJs trying to get work in the pop world. The tables are turning. Electronic music legends like Aphex Twin, Daft Punk, Underworld and Deep Dish are highly sought after for production work and remixes, and their styles and techniques are often utilized when new acts are produced.