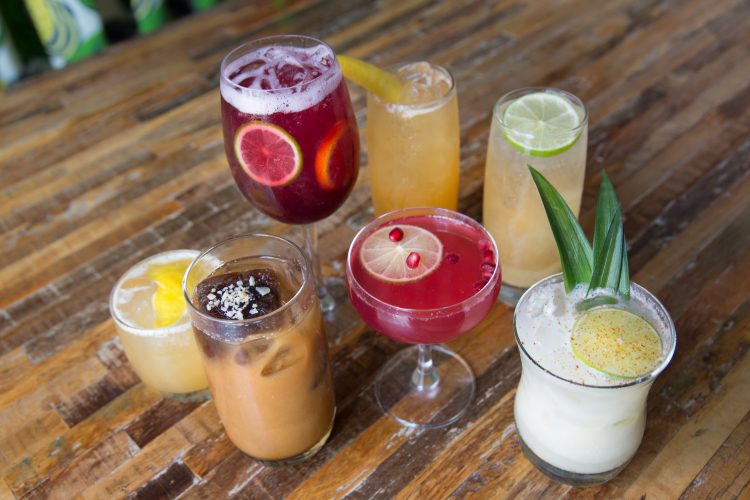 Fall is here and so are new cocktails at True Foods Kitchen! Packed with the cozy, spicy flavors of the season, the new cocktails are the perfect accompaniment to a cool fall evening.
Made with apple juice, cinnamon, vanilla, lemon and bourbon, the Apple Jack cocktail is Autumn in a glass. Not a bourbon fan? Other new cocktails include the Forbidden Root, made with lemon-infused organic vodka, apple, red beet and rosemary; and the Lime & Coconut Colada with lime-infused rum, golden falernum, pineapple and cinnamon. Order the new sips at any of the True Food locations throughout the Valley. Or whip up your own Apple Jack at home using the recipe below.
Apple Jack Cocktail
.75 oz. Lemon juice
.5 oz. Cinnamon vanilla syrup (recipe below)
.75 oz. Apple juice
1.5 oz. Old Forester Bourbon
Lemon peel for garnish
Cinnamon Vanilla Syrup
Approx. 2 vanilla beans
Approx. 5 cinnamon sticks
2 1/4 cups Sugar
2 cups Water
Directions: First, make the cinnamon vanilla syrup by combining the vanilla beans, cinnamon sticks, sugar and water in a large pot. Bring to a boil and then let simmer for 20 minutes. Next, combine lemon juice, cinnamon vanilla syrup, apple juice and bourbon with ice. Shake vigorously and strain over new ice. Garnish with crisscrossed lemon peel.
For more information or to find a location, visit: truefoodkitchen.com