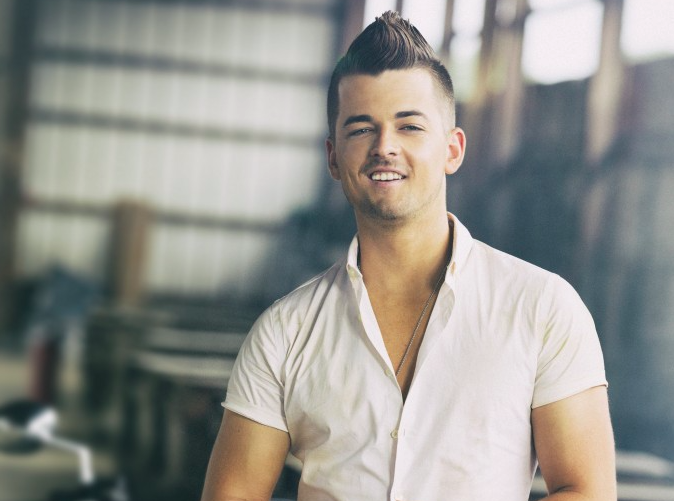 April brings with it the four-day festival, Country Thunder which brings together a slew of artists, both established, popular favorites and those new to the scene. Among them is rising country star Chase Bryant who's had an exciting year, playing next to the likes of Tim Mcgraw, Brantley Gilbert and Kip Moore. The 23-year old singer co-produces and co-writes all of his songs including his most recent single "Little Bit Of You" off his debut EP that has put him on the country music radar map. The "Take It On Back" singer was named one of the "10 New Country Artists You Need To Know Now" by Rolling Stone and was one of only two male solo artists to earn a Top 10 hit in 2015 with a debut single. We recently had the chance to catch up with Chase on his day off in Nashville to talk about his upcoming album, what goes into writing a song and what he's looking forward to the most at this year's Country Thunder.
Listen to "Little Bit of You" here and catch Chase on the Country Thunder stage on Thursday, April 7 at 6:30 p.m. For more information, visit: arizona.countrythunder.com
AFM: You had an exciting 2015! Tell me how 2016 has been going so far for you.
CB: It's been great. We got a first top 5 with "Little Bit of You," and we've come back with a good start for the year. As of right now we're doing a bunch of headlining shows and then going to hop into some fairs and festivals this summer. It's been a great start to the year so far so I can't complain at all.
AFM: Last year you toured with Tim Mcgraw and Brantley Gilbert. Tell me what that was like.
CB: It was a learning curve and a lot of firsts. For me, it was just a blast to get out there and do these things I've been wanting to do for so long and finally seeing it happen was really a neat thing to be a part of. Watching Tim and Brantley get to do their thing every night you get to learn a lot of what to do and what not to do. It was a blast though, it was a really good time.
AFM: Can you tell me a little bit about your recent single, "Little Bit of You?"
CB: It is a song that I wrote about a girl that I was dating for a long while from California and kind of just about that angst of wanting to see that person that's 3,200 miles away and you can't get there necessarily as fast as you want to. So really for me, it was just kind of writing something that I knew about, and just that person that you'd do anything you can to get there and that's kind of what the song is framed around.
AFM: How does the creative process begin for you with a new song?
CB: Stupidity probably. It starts anywhere. It can start with a song idea, it can start with a guitar lick or a melody, or a hook. It starts all over the place for me. It can involve a lot of different routes but for me it's kind of always one of the same three things: a melody, a hook or a song, or a guitar lick.
AFM: You're getting ready to perform at Country Thunder and I know you've performed in Arizona before. What do you remember the most about performing in Arizona?
CB: Hot. It's always hot. It's always pretty interesting playing out there in that heat. But there are rabid country fans out there and people know their music and people are always ready to come out and hang. It's always a blast to go out and play in Arizona.
AFM: Do you notice any difference in performing in Arizona as opposed to performing in other cities or states?
CB: You got to have stamina. Like I said, if you're playing there in the summer, you've got to have stamina because it is so damn hot. It's like anywhere else though, you try and go out and play the best show that you can. You do what you can to please the crowd but it's always a blast.
AFM: What are you most excited for this year at Country Thunder?
CB: Oh man. I've got to tour with Kip (Moore) for a minute so it's going to be fun to see him and play another show with him. Really, I've heard so many great things about it and I've never got to play there before so I'm really looking forward to all aspects of it.
AFM: Have you ever experienced anything like Country Thunder before, whether it be as a performer or a spectator?
CB: Yeah, I've played places like that and I've done some festivals in the past but this is kind of my first run of really doing a summer full of them. So I haven't really gotten to jump in and do those things but I am going to this year and we'll see what happens. It should be fun.
AFM: If you weren't performing at Country Thunder who would you be most excited to see perform?
CB: Kip's shows are always great. There's this new girl that I believe is playing out there too—Brooke Eden. She's really great and we're on the same level. She's a fantastic, fantastic singer, performer and everything else. I know her new single is out and it's really great and I'm a big fan of her too.
AFM: Can you tell me a little about your upcoming album?
CB: Yeah, we're in the studio now with my first full-length LP and we're really looking forward to getting this record out; it's been a long time coming for us. There's a lot of angst to that record and there's a lot of energy so we're really excited to get it out to everybody.
AFM: What would you say are 3 words that best describe the album?
CB: Energy, relateable, personal.
AFM: Are there a lot of songs on there from personal experiences?
CB: I think everything on that record is pretty personal and something that everyone can relate to and live vicariously through. I think it's something that people can really understand because of how easy it is to relate to.
AFM: Can fans expect to hear any new music from the album at Country Thunder?
CB: Absolutely. We'll definitely be playing some new music.
AFM: Where do you hope to be in 5 years?
CB: In Nashville doing the same thing I'm doing now: playing music. I can't imagine doing anything different.
(Photo: Joseph Llanes)