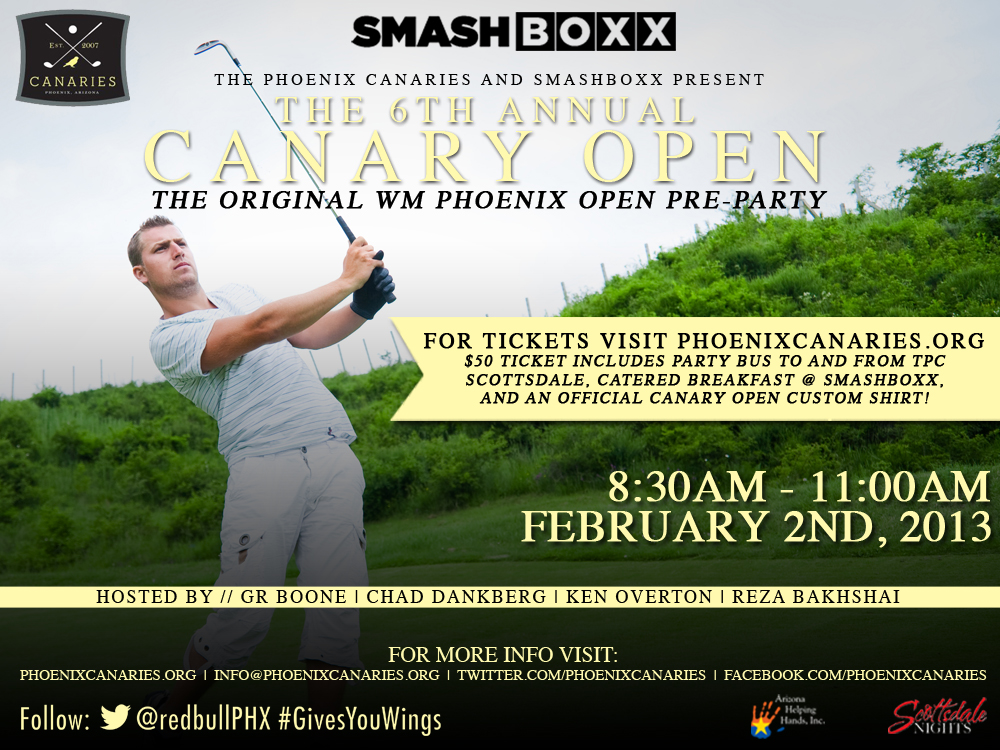 The Original WM Phoenix Open Pre-Party at Smashboxx is Back! So bust out your finest canary yellow golf attire because this year's Canary Open is going to be BIGGER, BETTER and YELLOWER than ever before.
The day starts at 8:30am at Smashboxx with the ULTIMATE WASTE MANAGEMENT PHOENIX OPEN PRE-PARTY with $25 bottomless bloody mary's and mimosas! At 11:00am they will continue the party from Old Town to the TPC Scottsdale on a herd of party buses. Buses will return from the TPC to Smashboxx at 4:30pm.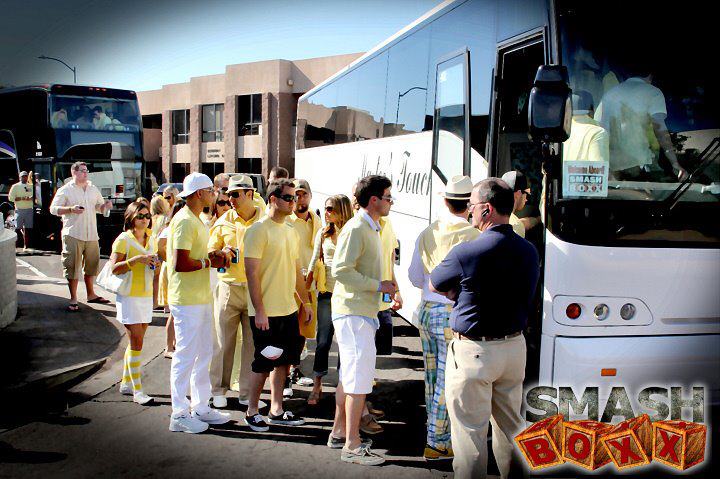 Music by DJ Doc Mamy inside, live band in the morning outside and then a huge RedBull DJ event at night at Smashboxx.
Tickets include party bus to and from the TPC Scottsdale, catered breakfast at Smashboxx and an official Canary Open shirt. Tickets do not include passes into the WM Phoenix Open. Also included is admission into the RedBull event at Smashboxx that night.
The cost DOES NOT include a pass into the WM Phoenix Open. General admission passes can be purchased at the gate before we walk in or go to the following website: http://wmphoenixopen.com/tickets/general-admission/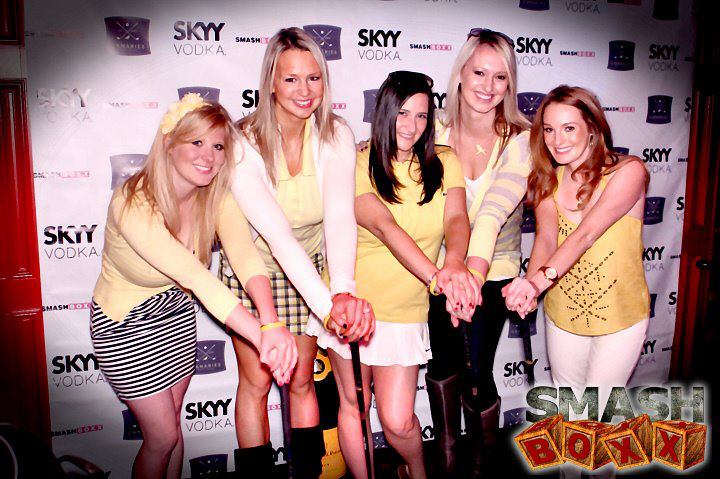 A portion of the proceeds will benefit Arizona Helping Hands, Inc (AHH). Believing in the intrinsic value of all children, AHH works to empower Arizona families in order to help them make their children's dreams come true. Through volunteer-based services, they assist underprivileged and struggling families by means of mentoring, healthcare, nutritional, holiday and emergency programs. They strive to improve the quality of life in Arizona by making a difference one child, one dream, and one family at a time.
To register please visit www.phoenixcanaries.org.
To purchase tickets click HERE.
Follow @PhoenixCanaries on Twitter and like their Facebook page, Phoenix Canaries, for the latest updates.
For questions please contact:
Chad Dankberg: chad@phoenixcanaries.org
Kenny Overton: kenny@phoenixcanaries.org
GR Boone: gr@phoenixcanaries.org
Reza Bakhshai.: reza@phoenixcanaries.org
OR
Contact:
Gem Ray at 480.772.7613
gemray23@yahoo.com / Gem.Ray@ScottsdaleNights.com
www.ScottsdaleNights.com