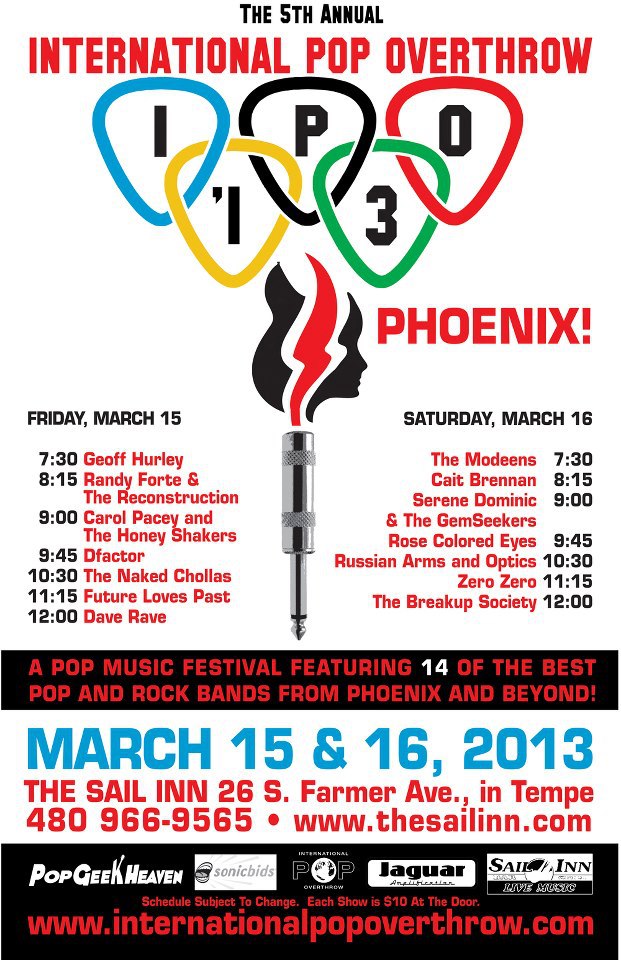 For those of you looking to have fun this weekend while avoiding Old Town Scottsdale, we have something a little more Rock n'Roll for you happening down in Tempe!  The 5th Annual International Pop Overthrow will be taking place March 15-16 at the Sail Inn in Tempe.
International Pop Overthrow
When: 7:30 p.m. Friday and Saturday, March 15 and 16.
Where: The Sail Inn, 26 S. Farmer Ave., Tempe.
Admission: $10.
Details: Call 480-966-9565 or check out the website here: International Pop Overthrow 
Some of the featured artists will include: 
Dfactor – Combining quirkily clever lyrics with classic pop melodies, Dfactor will appeal to fans of The Jam, The Beatles, and Cheap Trick, to name but a few! Check out his brand new four-song EP, Big Blue Bridge, and you'll hear what we mean!
The Breakup Society – The quintessential Phoenix garage-powerpop outfit (by way of Pittsburgh), these guys just keep getting better and better. Their new album, So Much Unhappiness, So Little Time, will appeal to fans of Elvis Costello, The Kinks, and Big Star, to name but a few, and is definitely their best yet!
Zero Zero – An electro-fuzz project created by singer/keyboardist Nicole Laurenne (of the awesome Phoenix garage band, The Love Me Nots!), guitarist Michael Johnny Walker, and drummer Nick Ramirez. Their debut album, MAYDAY, will appeal to fans of The Love Me Nots, The B-52s and The Ting Tings, to name but a few!
Future Loves Past – "Future Loves Past somehow combines indie rock, psychedelia, Americana, outright folk music, country embellishments, a touch of British Invasion and hints of 1970s classic rock with flourishes of 80s synth work […] the aural amazement at their shows can't be denied in any capacity." (Mitchell L. Hillman – soundsaroundtown.net) They're in the studio working on a new concept album, which we can hardly wait to hear!