I admit it, sometimes I wonder what it would be like to be Kate Bosworth… totally gorgeous, absolutely stylish and seemingly delightful. Maybe she had me at hello in Blue Crush because her surfing skills allowed me to l ive vicariously… I mean really, I know I will never surf quite that well…. And her personal style always seems effortless whether she is hanging at Cochella, taking the dog for a walk or on the red carpet. With all the fashion do's and don'ts that I have documented over the last couple of years…. She notoriously lands in the do list every time.
And of course there is Jewelmint which Bosworth launched with her talented stylist Cher Coulter to peddle chic and affordable jewelry online. Their wares have done so well (A-lister even love them including Gwyneth and Rachel Bilson) that others are following suit like the Olsen Twins.
In fact even the girls at Who What Wear heart her so much that made her a guest editor. Check out Kate's picks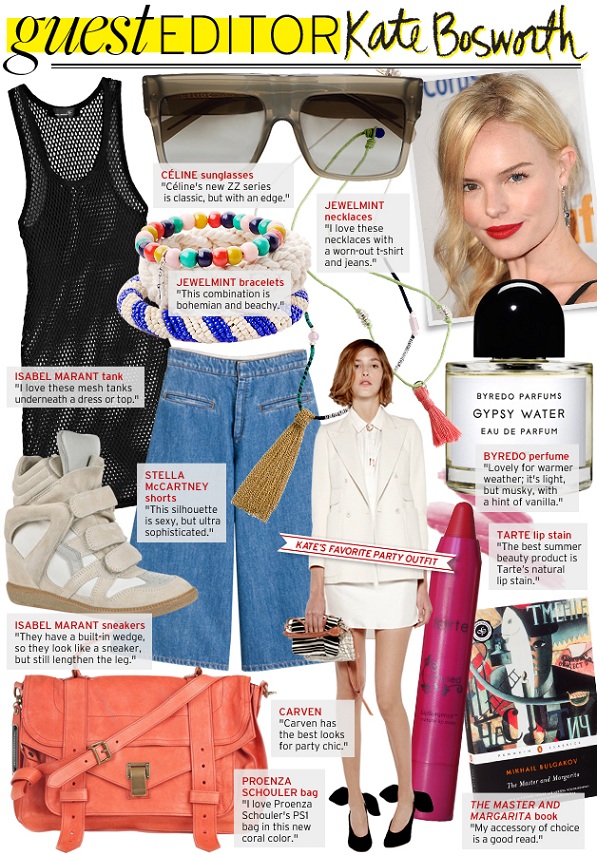 Celine ZZ Sunglasses ($350, 212.753.7300) in Olive
Bosworth hearts these Celine sunglasses—they are the most coveted shades around—but we were pleased that she picked one of the brand's newest styles for today's story. The bold ZZ frames are "classic, but with an edge," in our Guest Editor's own words and come in a few colors, including this very versatile olive hue!
JewelMint Tulum Bracelet Set ($29.99)
There are so many great JewelMint pieces each month—trust us, we buy them all the time!—but these bracelets are at the top of Bosworth's list. "This combination is bohemian and beachy with a little bit of a tough edge," she says. We personally love the contrast of the nautical rope with the assorted colorful beads—it's ideal for a summer vacation! Though the bracelets won't be available until June 1st, WhoWhatWear.com readers can pre-order them now!
JewelMint Encore Necklaces ($29.99)
In addition to the bracelets, Bosworth also adores these necklaces (they come as a set), which she wore to Coachella. "I love these necklaces paired with a worn-out t-shirt and jeans," she says. The result is "a little bit grunge," she promises—perfect for a casual summer day! Just like the aforementioned bracelet set, the necklaces aren't technically available until June, but WhoWhatWear.com readers can pre-order them now, so make sure you do!
Byredo Eau de Parfum ($210) in Gypsy Water
Of all the scents out there, it's a Byredo perfume that captures Bosworth's nose and heart: Gypsy Water. She says it's "lovely for warmer weather" because it's light, yet musky, and has a hint of vanilla.
The Master and Margarita by Mikhail Bulgakov ($11.20)
Of all Bosworth's brilliant picks, we were most delighted to learn that her accessory of choice is "a good read. Even better, she gave us a short list of fiction and non-fiction books that have piqued her interest lately, including this Russian satire, which was written in the '30s and originally published in 1967. Also on Bosworth's radar: Colum McCann's Let The Great World Spin ($9), Fitzgerald's classic The Beautiful and Damned ($8), and "anything by Thomas Friedman," she says. "You owe it to yourself and the world to get into him."
Tarte LipSurgence Natural Lip Tint ($24) in Amused
While Bosworth certainly isn't afraid to work some turquoise eye shadow or a fuchsia lip on the red carpet—not together, of course—she also knows how to execute a perfectly natural face too. One of her necessities for a fresh look comes from the green beauty gurus at Tarte. "The best summer beauty product is Tarte's natural lip stain," she says. "I'm loving the colors Lust and Amused and will also apply a little to my cheeks for a quick and natural flush."
Carven S/S 11: Look 32
When asked what she was excited about for S/S 11, Bosworth was very direct, noting her appreciation for the season's "bold, fresh, and modern approach to line, proportion, and color blocking." She specifically called out Alexander Wang ("Uber-white, deconstructed layers and purposefully oversized/lengthened proportions feel so fresh."), Jil Sander ("Raf Simons, the master of oh-so-modern sophistication, clearly thought about what will excite a woman. His bright color blocking is just stunning. To me, this was the boldest collection of the season."), and Proenza Schouler ("I love that Jack and Lazaro brought us ladylike silhouettes in untraditional colors like neon yellows, pinks, and oranges."). Also on Bosworth's radar: Carven, the Guillaume Henry-helmed line that's a fashion-insider favorite. "Carven has the best looks for party chic," Bosworth says. "A little flirty, but in a tomboy kind of way
Proenza Schouler PS1 Medium Leather Satchel ($1595) in Coral
Much like your Who What Wear editors, Bosworth is a big fan of Proenza Schouler's PS1 bag and calls out the satchel in coral as her favorite spring bag. We totally approve, as the nonchalant bag looks amazing in such an of-the-moment color.
Isabel Marant Perkins Suede and Leather Wedge Sneakers ($660)
As we mentioned in our Fashion Scene: Coachella story last month, Bosworth wore a pair of Isabel Marant sneakers to the shows one day and she wanted to include that style in today's story. "These shoes are brilliant, as they have a built-in wedge," she says. "They look like a sneaker, but they still lengthen the leg." While her exact kicks—the Bekett Basket Sneakers won't be available until September, you can pick up the Perkins Suede and Leather Wedge Sneakers, shown above, in the meantime. They have a similar look and concealed heel, much like Bosworth's exact pick!
Stella McCartney Mid-Rise Wide-Leg Denim Shorts ($515)
At Coachella, Bosworth opted for Current/Elliott's fantastic, abbreviated The Girlfriend Shorts ($167) in Cream, but that's not the only pair our Guest Editor adores. She's also partial to the silhouette of Stella McCartney's knee-grazing, wide-leg, mid-blue denim shorts. "Stella is so brilliant at knowing just how to design for women," she says.
Isabel Marant Kara Open-Knit Tank ($235) in Black
In addition to loving designers like Olivier Theyskens and Raf Simons, Bosworth also adores all things Isabel Marant. She cites a number of Marant's pieces as must-haves, including this mesh tank. "I love to layer it underneath a dress or top," she says. "That hint of texture is super cool." We couldn't agree more!
Photo of Kate Bosworth, courtesy of Getty