This is it, if you haven't already attended a costume or Halloween party yet there is no doubt you'll probably be attending one this weekend or maybe even on Monday. We've done quite a few blogs over the past week and half to help you get ready for the spooky day, but maybe you still haven't decided on exactly what or whom you are going to dress up as. But who says that you have to be anything specific?
Here are a few crazy beauty looks from the runway that are creepy enough for any Halloween party.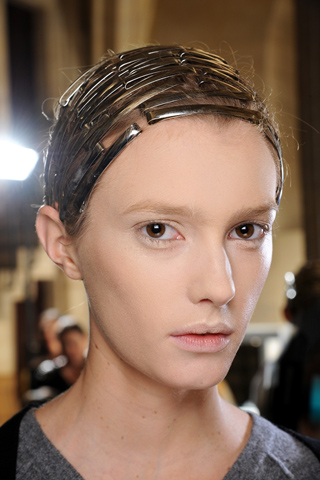 Alxander McQueen Fall 2011 RTW
You can never put it past the Alexander McQueen crew to give us bizarre beauty looks each season. This one is extra simple to accomplish all you need is a bag or two of hair barrettes, foundation a few shades lighter than your natural color, and for a pale lip you can dab a small bit of concealer on your lips.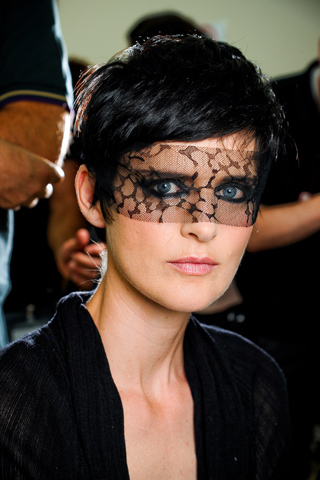 Chanel Fall 2011 Couture
This Chanel look is perfect for a masquerade. Keep lips and cheeks simple with a soft pink palette. The eyes are the focal point of this look with dark, smoky eye in a metallic charcoal. Finish the look with a sheer black piece of lace or tulle for a sexy and mysteries veil.
As wild and crazy as these bright hair colors may be there is something quite beautiful about this look, or at least I think so. This is another easy look to replicate, all you need to do is double French braid your hair and apply spray-on color. This look is slightly disheveled so don't worry too much about fly-aways or spraying the color perfectly. Instead spend extra time on your makeup, it should be neutral with warm browns, yellows, and tans.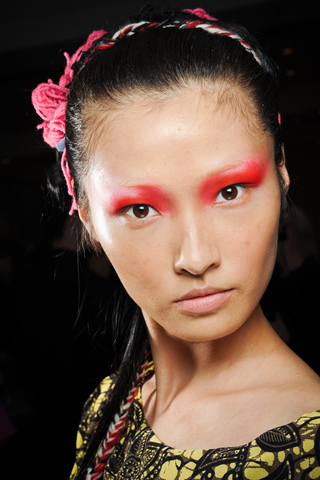 Thakoon Fall 2011 RTW
Thakoon's makeup artists and hair stylists have done such an excellent job this year I couldn't help but add this look too. The models on the runway had to have their eyebrows bleached, but seeing as that would be an exceptional amount of commitment, instead use an eyebrow pencil that is several shades lighter than your brow color. For the eyes use bright pinks, oranges, and reds and extend the color well past the eye. For the lips use a nude or pink matte color.
With the right attire and accessories you can be anything from a literal runway model to a modern Marie Antoinette (hint: Thaokoon's spring look).
BY Kristianne Young
Photos: Style.com