Epazote Kitchen & Cocktails, the deliciously unique new dining concept at the Hilton Tucson El Conquistador Golf & Tennis Resort, will be hosting four specialty-dining events throughout the next few months. These events are the perfect way to spend a night out and fall in love with Epazote!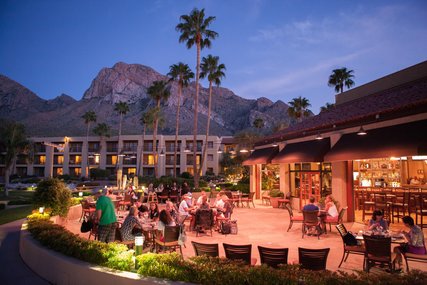 Each event will highlight a local vendor of food or wine. The restaurant, which specializes in fresh, regional eats, brings locally sourced delicacies like Arizona grass fed beef and locally-produced cheeses to its customers. These top-notch ingredients add to the already delicious Southwestern flavors that Epazote creates in each dish.
Epazote's specialty events celebrate these local vendors and their help in creating the unique dishes that the restaurant boasts. The first event will be March 20, and will feature a tasting menu that is centered on the restaurant's partnership with Lazy J2 Ranch, purveyor of San Rafael Valley natural grass-fed beef. The menu offers four courses that focus on items sourced from the ranch.
Guests will enjoy Southwestern beef Carpaccio with fried Poblano, Wilcox tomato salad with mesquite smoked bacon and white and yellow corn relish, braised short ribs with goat cheese mashed potatoes and roasted vegetables, and a caramel Tres Leches torte for the ultimate final touch. Guests of the event will also be able to socialize with Sidney Spencer, owner of Lazy J2 Ranch located in the center of the rolling grasslands of the San Rafael Valley.
The second specialty event is set for April 17 and will focus on Arizona wines. May and June events will be announced at a later date. Tasting menus featured at the event will be $50 per person. Guests may also choose from dining options on the regular menu. The event will be held during normal dining hours from 5 p.m. to 10 p.m.