Finding the perfect presents for friends and family can sure work up an appetite. Whether you're craving a sit-down meal or a bite to go, stop by one of these Scottsdale Fashion Square restaurants to refuel.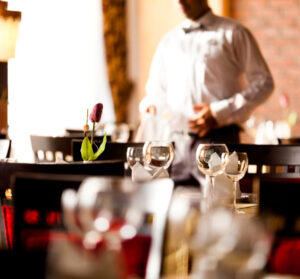 Nordstrom Marketplace Café – The Nordstrom Marketplace Café provides customers with the imagery of a contemporary food marketplace. Shoppers are invited to take a unique journey through signature menu selections including soups, made-to-order salads, sandwiches, pasta, pizza, daily specials and tempting desserts, all on visual display. The staff provides attentive service, as well as a warm and relaxed environment with the touches of Old World charm. 480.429.1610.
Neiman Marcus Café – Experience delightful cuisine in a casual, contemporary atmosphere at NM Café Scottsdale. Enjoy muted colors, unique greenery, and ample windows in the dining room. Or choose to dine at the sleek bar or on the eatery's cozy, shaded patio. Whether lunching with a group or simply ordering upscale take-out for yourself, expect delectable dishes and exceptional service that are synonymous with Neiman Marcus. 480.425.1454.
Yard House – This award-winning, extensive menu of American fusion cuisine features more than 130 items including appetizers, salads, pastas, sandwiches, grilled burgers, individual-size pizzas, seafood, steaks and ribs. The lively environment is created by colorful abstract artwork, classic rock music and flat screens in every direction showcasing the day's news and sporting events. 480.675.9273.
Kona Grill – Kona Grill offers diners freshly prepared food, personalized service, and a warm contemporary ambience that creates an exceptional, yet affordable dining experience. The diverse menu includes a wide selection of mainstream American dishes, as well as a variety of entrees and appetizers with an international influence. 480.429.1100.
Z'Tejas – Z'Tejas Southwestern Grill's fresh, flavorful and innovative menu showcases the bold and robust flavors of Arizona, California, Louisiana, New Mexico, and Texas. Traditional ingredients, spices and cooking techniques from around the South create a taste without borders. 480.946.4171.