It just makes sense to assume that "organic"-labeled foods are the best for you, right? Well, according to this recent New York Times article, there's a lot more to be read under that "organic" sticker.
"As soon as a value-added aspect was established, it didn't take long before corporate America came knocking," Michael J. Potter, CEO of Eden Foods, told the Times about how America's food economy has transformed from mom-and-pop shops to big business.
So before you think you're completely avoiding pesticides, growth hormones and industrial solvents in an organic-branded label, read on for some major takeaways from the article to consider next time you're out grocery shopping.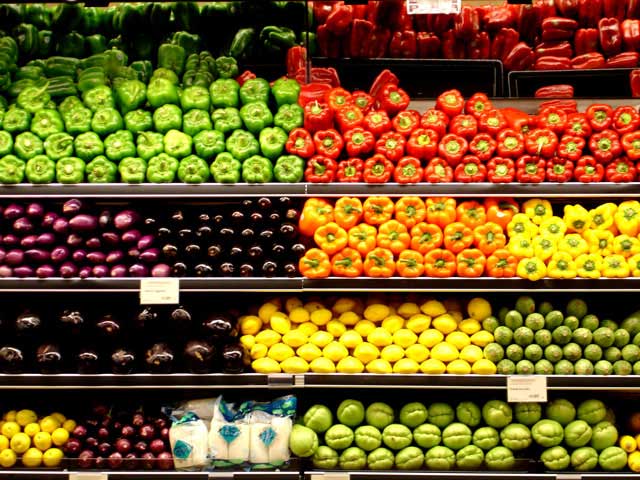 1. Not All Food At The Farmer's Market Is Organic
Some farmers are tiny producers who cannot afford the organic certification fees, but still grow according the organic standards. Some have the USDA seal hanging from their booths, signaling that they are a certified grower, while others say they are organic but do not have the USDA seal to prove it.

If you want to check on a specific farm, contact the National Organic Program (NOP) for verification, suggests Jody Mason of NewHope360, the industry source for the organic and naturals market.
2. Some Organic Brands Are Owned By Large, Non-Organic Corporations
Mega-food corporations see profit in establishing smaller companies, since the organics market is profitable to $30 billion a year. Health-marketed brands such as Bear Naked, Wholesome & Hearty, and Kashi are owned by Kellogg, the food conglomerate that produces sugar-high Pop-Tarts and Eggo waffles. Naked Juice is owned by PepsiCo and Walnut Acres and Health Valley belong to Hain Celestial, which used to be affiliated with Heinz.

Instead, good independent organic brands to keep in mind include Clif Bar & Company, Amy's Kitchen, Lundberg Family Farms, Earthbound Farm, Rudi's Organic Bakery and Eden Foods.
3. GMOs Are Prohibited In Organic Food
"Genetically modified organisms, sometimes referred to as genetically engineered, are any agricultural product that has been altered (notably in the seed) with the insertion of a gene from a separate organism or chemical," says Mason.

For women, this comes as a concern, because some independent studies suggest that GMOs impact human fertility and contribute to a rise in food allergies. In addition, the FDA does not require labeling of GMOs, so most consumers are eating GMO foods and are not aware of it. "Buying organic is the surest way to avoid GMOs because they are never allowed in a scrutinized organic farming system or food processing."
4. More than 250+ Non-Organic Ingredients Are Allowed In Organic Foods
"The NOP is extremely transparent with this list, which includes food processing ingredients such as oxygen, citric acid, diatomaceous earth, and the baking agent agar- agar," says Mason. "All ingredients are deemed safe for human consumption if used in food, and are regularly scrutinized by the National Organic Standards Board."

Though organic-food purists, like Potter, oppose the list, others find value in it. "There are many un-harmful ingredients that we use in our foods every day that are intrinsically non-organic," says Mason. "For example, a small amount of baking soda is needed for otherwise entirely organic cookies and baked goods, but because all ingredients in a baked item must be accounted for, it has to be considered for the National List."
5. The Controversy Surrounding Labels & Regulating
The Organic Foods Act calls for a board to help set the standards for organic foods, comprised of four farmers, three conservationists, three consumer representatives, a scientist, a retailer, a certification agent and two organic food processing company reps. However, the Times article revealed that farmer and consumer voices are being filled with agricultural academics and corporate executives. 

While the board's personnel makeup leaves much to be desired, it does welcome public comment and recommendations which go directly to the Agriculture Department, says Mason. "From what I've witnessed, no one on the Board is jockeying for control, even when they are often tasked with difficult decisions that are not black and white."