Dr. Remus Repta, Board Certified Plastic and Reconstructive Surgeon of Scottsdale, answers the questions that you, the public, have submitted. Dr. Repta and Arizona Foothills Magazine are excited to help bridge the void between the curious public and the expert for safe, informative, and real answers.
If you want your plastic surgery questions answered next, contact us at askthesurgeon@azfoothills.com.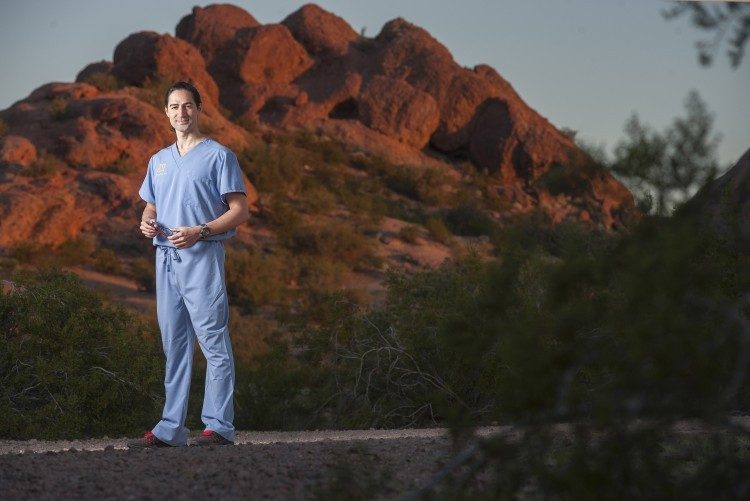 Q.) I've been looking up and am interested in Kybella. What type of doctors do the treatments, how many are needed, and does insurance cover any of the cost? 
A.) Thank you for the question. There has been an increased interest in Kybella recently. It is an FDA approved treatment for fat reduction under the chin. The medication is injected in the office under topical or no anesthesia. 10-15 injections are usually performed in one session depending on the amount of fat present and size of the area. Several treatments are needed and usually most achieve the intended result in 2-3 sessions.  The injection is usually performed by a doctor.  I am unaware of insurance covering this treatment.
Q.) What damaged skin because of my poor sun skin when I was younger, my skin isn't only sun damaged but wrinkling and sagging. What procedures do should i get to help both my skin damage and wrinkled skin?
A.)  Thank you for the question. You are not alone. Especially in Arizona, sun damage resulting in spots, winkles, and loose skin is relatively common. The damage that can result from sun exposure can be treated in one of two ways: 1) laser or chemical resurfacing for fine lines and spots 2) surgery to tighten the loose skin. There are many procedures available depending on the area of the face or body involved. Seek consultation with a board certified plastic surgeon to get an idea of what options you have.
Q.) My neck now has a lot of extra skin and I want the safest way to get rid of it to make me look younger and not as large in my neck area. What is the safest option?
A.) Great question. The neck is one of the most common and powerful areas that shows signs of aging. Therefore, it's also an area that can provide tremendous benefit for rejuvenation. When there is a lot of skin present under the chin and jawline, the neck contour is often best rejuvenated through a neck lift. When done properly, a neck lift is both the best and safest way to rejuvenate the neck. I recommend seeking several consultations with board certified plastic surgeons in your area to discuss your goals and options.
All the best,
For more information on Dr. Repta at AAA Plastic Surgery, click here.
For more information on Dr. Repta's tummy tuck and body contouring procedures, click here.
To 'Ask the Surgeon' yourself, email askthesurgeon@azfoothills.com (all inquiries will remain confidential). The top questions will be featured in each month's "Q&A Ask The Plastic Surgeon" featured blog.